Applicant Tracking System
SmartRecruiters is the Talent Acquisition Suite for companies of all sizes
What is an Applicant Tracking System?
The Applicant Tracking System (or ATS software) is a software application that enables the electronic handling of a company's recruitment needs. As the name implies, an ATS allows an organization to collect and store candidate and job related data and track and monitor the process of candidates through all stages of the hiring process. Applicant Tracking Systems are also used to post job openings on a corporate website or job board, screen resumes, and generate interview requests to potential candidates by email. Other features of an Applicant Tracking Systems include pre-screening questions, source tracking, and source effectiveness reports and resume process tools.
Applicant Tracking gives way to the Talent Acquisition Suite
Legacy recruiting software and applicant tracking systems fall short when faced with the demands of the modern hiring process. A new generation of technology improves upon the traditional applicant tracking system and turns complex and tedious manual tasks into streamlined talent acquisition. The complete Talent Acquisition Suite combines functionality with scalability and ease of use for an all-in-one hiring solution. A true Talent Acquisition Suite supports not only applicant tracking, but also recruitment marketing and hiring team collaboration, as well as provides actionable insight via recruiting metrics.
The SmartRecruiters Talent Acquisition Suite
Finding and hiring the best talent can be frustrating if you're consistently losing promising candidates to the competition. Advanced technology creates a more productive and intuitive experience. Who wants complex tools? We make it simple. The SmartRecruiters Talent Acquisition Suite was designed for the way people actually work. Recruiters value the streamlined workflow. Hiring managers appreciate the intuitive experience. Candidates are delighted with how easy it is to apply.
Complete end-to-end functionality Support recruiting teamwork as never before. Recruiters, hiring managers, and others in your organization team up far more effectively through advanced and intuitive tools that create a more natural collaborative experience across all processes. Whether working from laptops or mobile devices, everyone can work together more productively. Learn more about increasing recruiter productivity.
Marketplace of pre-integrated apps An operating system and ecosystem built for recruiting. Leading HRIT professionals are surprised at how easy it is to integrate SmartRecruiters and its set of pre-built customizable integrations into the world's top HRIS providers. And with a Marketplace of third-party recruitment services, it's easy to see why SmartRecruiters has been chosen to replace all major ATS vendors. Learn more about the recruiting apps marketplace.
Mobile access anytime, anywhere Screen, engage, and hire - all on the go. Designed with mobile access in mind, SmartRecruiters helps you build beautifully designed mobile-optimized career sites. Candidates are delighted with a one-click application experience. And our Mobile app gives hiring managers and recruiters powerful tools to screen, engage, and hire candidates - anytime, anywhere. Learn more about candidate experience and hiring manager engagement.
Replacing your Applicant Tracking System
Are you looking to replace an existing ATS? It may be easier than you think. Many customers move to SmartRecruiters after their legacy applicant tracking systems and HCM Suites fail to support their hiring goals. Learn more about why you should consider
replacing your ATS
.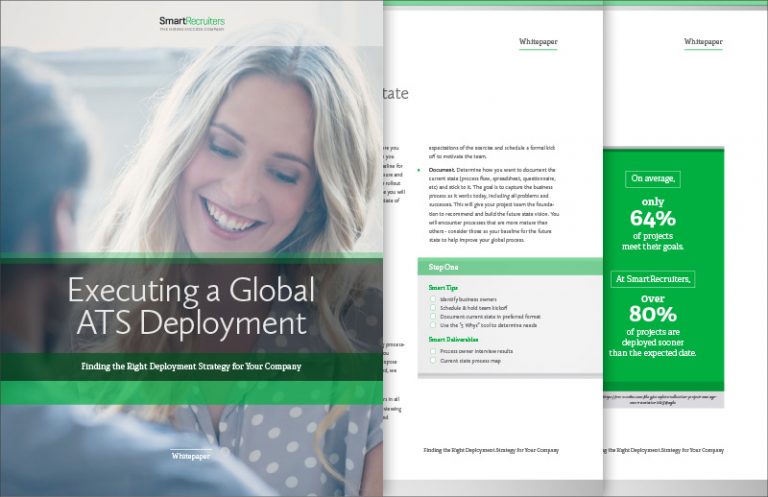 Global ATS Deployment Guide
It is very important to select an applicant tracking system that can support global processes in a flexible way, but is also critical to approach the global deployment in the right way. Learn how other companies have deployed their global ATS.
Download the white paper