Marketing job boards! As far as job postings go there are larger job boards that promise a plethora of candidates and jobs from all industries and walks of life, but sometimes that is not what you need. There are many communities where marketers hang out.
SmartRecruiters found that 62% of open jobs are posted to niche job sites. Niche job boards are great to target candidate in a specific field.
(See the 10 Best Marketing Job Boards of 2017)
Here are the 10 Best Marketing Job Sites for the Best Marketing Jobs:
VentureBeat.com
Never miss a beat with this job board. VentureBeat Job Board is great for finding talent in tech marketing, advertising, product management, IT, and business development. VentureBeat allows the employer to cast a wide net into a deep talent pool.
AdRants.com
AdRants is the go-to for marketing and advertising news, they also spend their time advertising jobs from your favorite advertising and marketing websites. Users can stay on the up and up of marketing and advertising trends while finding the best candidates possible.
CrunchBoard
You may be seeing a theme here, advertise where advertiser's eyes are. TechCrunch's Job Board, CrunchBoard gives you access to millions of candidates all interested and savvy in business and technology. CrunchBoard provides marketing professionals that are technology and internet enthusiasts.
TalentZoo.com
Founded in 1996 as an executive search firm catering to the advertising industry, TalentZoo has continues to evolve its job board capabilities and is now regarded as one of the premier locations for talent in advertising, marketing, creative, design, new media and digital industries.
Krop.com
Krop.com promises, "the brightest minds at the best companies." This is the place to look if you are looking to fill creative marketing postions. Krop.com allows the employer to view candidate profiles to see if they will meet their company's needs.
FlexJobs
FlexJobs is an award-winning job site for part-time or full-time flexible jobs, such as telecommuting or flextime, in 50+ categories, entry-level to executive. In some situations you will not need a full time marketing professional, or perhaps you'll need a contract marketer. If your needs aren't full time this is where to start your candidate search.
Mashable.com
With an Alexa Rank of 327, your odds of finding a qualified candidate increase significantly. Mashable is a go to news source for Social Media, Tech, and more. The Mashable job board is great for finding bloggers, consultants, designers, developers, executives, marketers, and mobile programmers.
RecruiterMedia.com
RecruiterMedia has 27 regional job boards to attract the highest quality candidates in your area. "RecruiterMedia believes in a holistic job seeking and recruiting approach." In addition to job boards they offer recruitment search engine marketing and sourcing services.
MediaBistro.com
Mediabistro.com has more to offer than just job postings, they also provide news, resources, community events, and courses for both employers and jobseekers. Look to MediaBistro for jobs in social media and traditional media professionals covering journalism, social media marketing, and much more.
PaidContent.org
As a member of the GigaOM network, paidContent.org provides global coverage of business and digital content. PaidContent.org describes themselves as "the digital world's most highly targeted recruitment center," connecting the best digital media and marketing professionals to the best jobs.
The benefits of posting to a niche job board are clear, you narrow down your talent pool to a dedicated, unique and engaged audience. If you're looking for marketing professionals give these ten job boards a try, and prepared to be wow'ed by talent.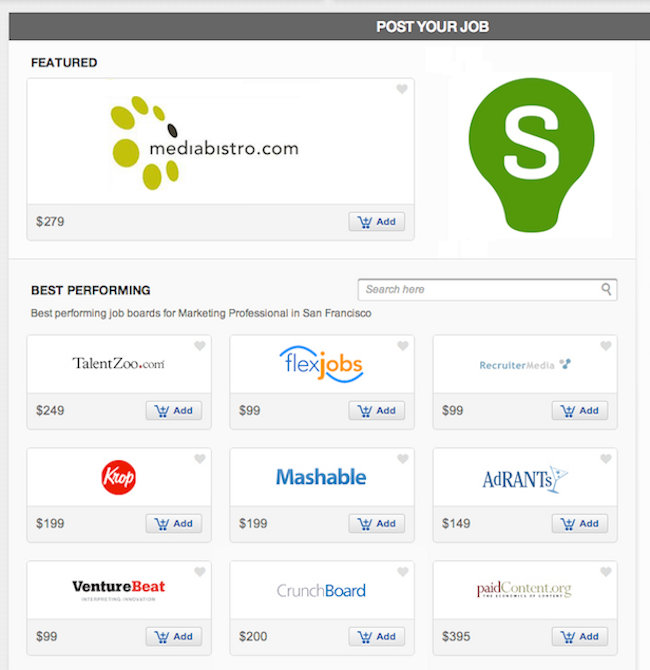 Download our new White Paper to learn about "The Evolution of Job Posting." Want to add your job board to the SmartRecruiters Store? Express Interest Here.