You've spent all this time crafting your job listings and it's published live on the web. Congratulations. How do you begin promoting it? Driving traffic to your job listings begins with a strategy because, let's face it, your job listings are not going to engage great candidates if no candidates can find it. You can't have a party if you don't send invitations. Here are 11 free and paid sources from 5 different acquisition channels to get you started.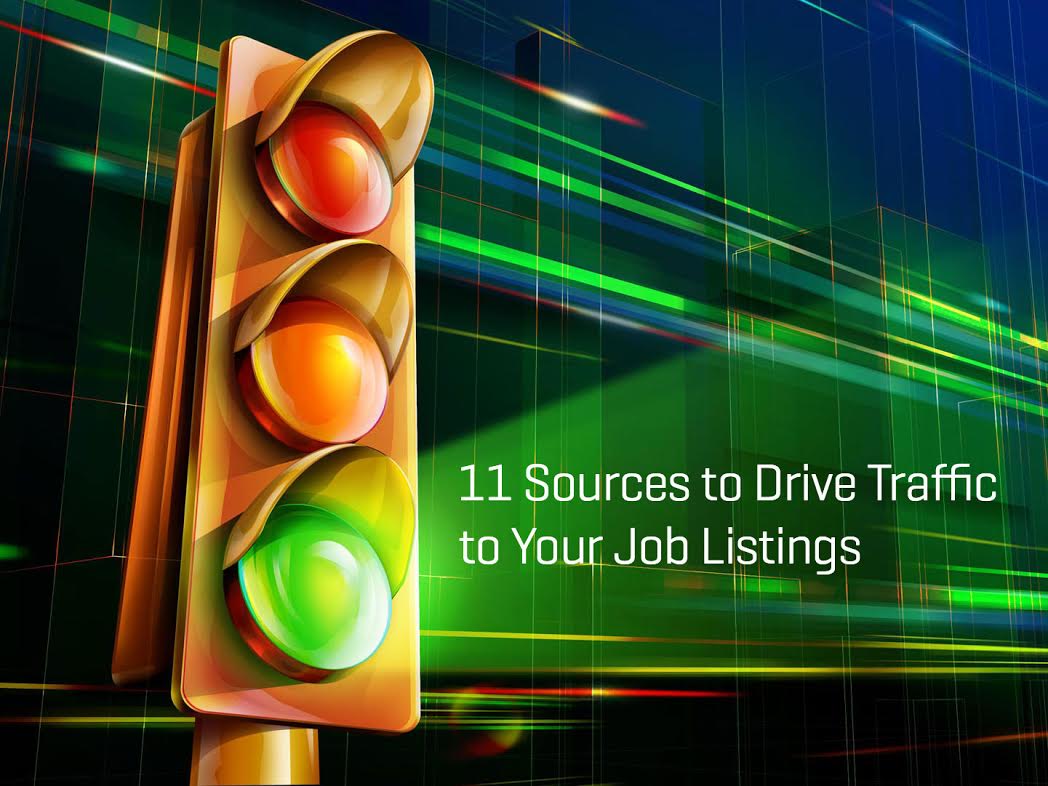 Referral Traffic
1. Your own online properties. Do you have a your own career website? Finding great talent in your industry can be easy by sending your company or blog's traffic to your job listings. A career website should have a mission statement, some rich media, and an up to date listing of your open jobs.
2. Social Bookmarking sites allow users to bookmark their favorite websites or pages that other people can publicly view and vote up or down. If you bookmark useful content other people will find it, share it, and vote it up so others can enjoy it. Oh yeah, and it only takes about 20 seconds to bookmark your site. One popular social bookmarking site is Reddit, and guess what, they have a section dedicated to job listings. Visit http://www.reddit.com/r/jobopenings/ to post your job now.
3. Free job boards like Indeed and SimplyHired, also known as job aggregators, are places to start driving free targeted traffic to your job listings. If done manually, it's a bit more time consuming than social bookmarking, but it is well worth it. To save time you can try using a service to post a job to hundreds of job boards with one click.
4. Free Press Releases. You probably want to partner with your marketing team on this one. To get more exposure, you can write a press release announcing your new open position/s and submit to a free PR distribution site like PRlog.com. Press releases can trigger Google Alerts for people subscribing to your company or the open job position.
5. Forum/Community posting: Modern recruitment marketing campaigns require posting to relevant forums and communities. There are community forums setup online for virtually every niche, industry, or topic you can imagine. Some forums may even have board on solely to post open jobs. Try searching for "(Your Industry) forum" or (Your Industry) "powered by phpBB" or (Your Industry) "powered by vBulletin" on Google, don't forget the quotes.
Organic Search Traffic
6. Search Engine Optimization. This may seem like an obvious one, and I've discussed this in the past, but it can't be overlooked. Make sure your job listings are optimized for search engines. SEO optimized job posting requires page titles, heading, and META tags to ensure they target the keywords for your job opening you're looking to rank highest for.
Social Media Traffic
7. Social Sharing. Start with Twitter and Facebook. On Twitter, tweet your job listings out with the hashtag relevant to the job opening, such as #sales to hire a salesperson or #tchat to hire a talent acquisition role. On Facebook you should post a job to your network of friends and create your own Facebook careers page to your company page.  Also make sure to add a "Like button" on your site to entice visitors to like your Facebook fan page. As you gain more likes, you'll gain more candidates.
"Social broadcasting can be useful, it lets your entire audience know that your company is growing and hiring," says SmartRecruiters Content Marketing Director David Smooke, "but the future of social media recruiting lies in targeted one to one communication from trusted source to prospective hire." Learn More about Employee Referrals via Social Media.
Paid Traffic
8. Paid Search. Although Google Adwords and BingAds are typically utilized to entice consumers, PPC has a place in recruiting. Recruitment pay-per-click programs can be easily done using your job listings as landing pages. Assuming your job listings are optimized for organic search, your quality score for your job listings will be high and costs will be down.
9. Paid Social. TweetMyJobs is a great option to leverage paid search on Twitter, which is great for targeting people based on what they like to talk about. Another 3rd party service I recommend is Candarine, not only do they provide paid social traffic, but they also target the niche communities and forums mentioned above. Additionally, Advertising on Facebook brings you powerful location, demographic and interest targeting allowing you to reach the right hires.
10. Job Boards. Did you think I forgot about the most reliable way to drive traffic to your job listing? Heck no! Success is about picking the right job board. Here are the best job boards for tech, marketing, internships, healthcare, startups, and more specific niches.
Email Traffic
11. Email. Consider adding links to your job listings or careers site in your weekly/monthly newsletters. If you have customers who love your product, why not have them work for you? I've heard many cases where customers become employees. If you want to be more targeted campaign, you can send out an email to the relevant members of your talent community.
Using a few of of the sources I cited will get traffic flowing almost instantly. Outline a strategy, execute and do it all over again.