If your new year energy has been dulled by a couple weeks back at work it's time to find some inspiration. Here are 13 HR thought leaders that will spur you to action on your work resolutions with strategies, advice, information, and gifs… a whole lot of gifs.
According to a Pew Research Center survey, sixty-two percent of adults in the U.S. now get their news from social media, so if you're reading this article that number probably includes you. Twitter gets 59% of that traffic and here's why: with Twitter, you have to keep it snappy and you're way less likely to run into baby photos and the banal family updates with which Facebook has become synonymous (sorry Mark). 
So we thought we would help with the mid-January slump with 13 top picks for HR Twitters belonging to thought leaders from all levels of the industry. They've all got plenty of things to say about tech, strategy, diversity, pain points, and everything else TA to keep you inspired well into 2018.
#1 – Maisha Cannon: The One to Watch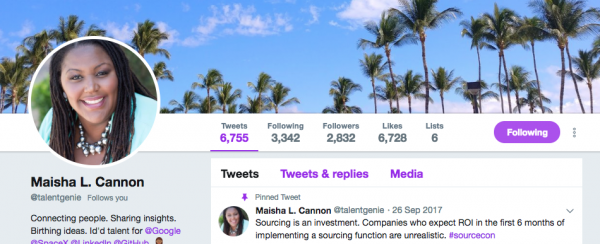 Sourcing Leader for Procore Technologies, Maisha Cannon doesn't just look for ways for recruiting to be faster, she looks for ways to make it better. That's why her Twitter is such an interesting combination of strategies on how tech, data, and process reflection can bolster hiring managers and make recruiting more human. And it certainly doesn't hurt to have a few cheeky gifs to illustrate the exasperations everyone in the industry feels at some point.
#SRtweetpick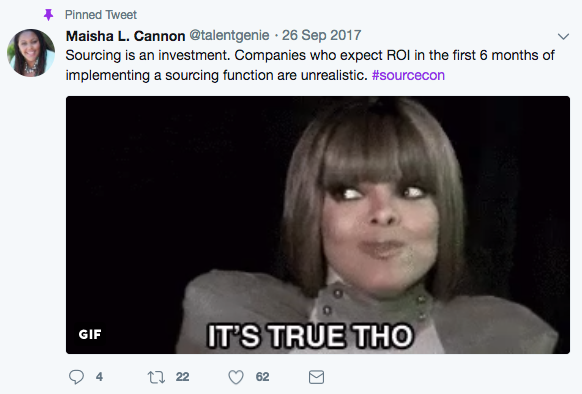 #2 William Tincup: The Straight Shooter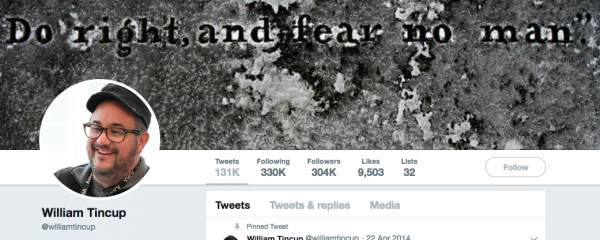 Writer, speaker, RecruitingDaily President, and Texas native, William Tincup is all about the 'dater'. As in 'you can try anything but you better have the dater to back it up'. His Twitter is a great mix of interesting news shares and humorous takes on the pain points of HR. For some live and in person sass/insight from William register for Hire18, here! Happing March 12-14 in San Francisco.
#SRtweetpick
"I can't wait to read your new white paper." Said no one ever. Like ever ever. No really, no one has ever said or thought that.

— William Tincup (@williamtincup) April 22, 2014
#3 Lisa Wang: The Motivator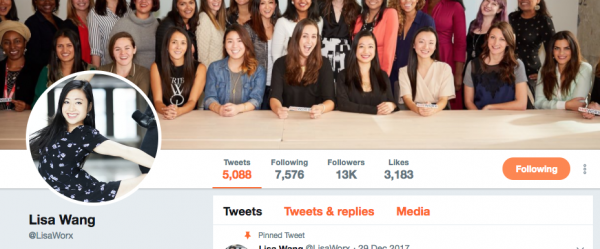 Take a big breath now if you're going to read the following list aloud because Lisa Wang is more accomplished at 29 than most of us will ever be: founder/CEO of SheWorx, Forbes 30 Under 30, USA Hall of Fame Gymnast, Forbes columnist, host of her own podcast #Enoughness, motivational speaker, and Yale Alumna. Lisa's Twitter is a great resource for information on women in tech, the future of AI, and management strategies all broken up with a light sprinkle of motivational messages. To catch her in person March 12-14 in San Francisco register for Hire18 here!
#SRtweetpick
In a study by the US Department of Commerce, women in STEM jobs earn 33 percent more money than women in non-STEM positions. #womeninSTEM #startups https://t.co/CFeZ98iiKy pic.twitter.com/4AYqOp6VMH

— Lisa Wang (@LisaWorx) January 10, 2018
#4 Kathryn Minshew: The Culture Cultivator

Founder TheMuse, author of TheNewRules of Work, Forbes 30-under-30, and INC 15 women to watch in tech – if Kathryn Minshew isn't in the office she's probably checking off another country off of her bucket list with 60 down so far. Her Twitter focuses on enriching company culture and making your office a place top-candidates want to be.
#SRtweetpick
An interesting idea via @FortuneMagazine: "The best way for companies to fight sexual harassment? Let someone else handle it." https://t.co/DWyNzkzqcG

— Kathryn Minshew (@kmin) January 5, 2018
#5 Lou Adler: The Veteran

The original headhunter, Lou Adler is the CEO and founder of the Adler Group, which has trained over 40,000 recruiters and hiring managers. His books, The Essential Guide for Hiring and Getting Hired and Hire With Your Head have been on Amazon's bestseller list and he's been around, well… forever. He knows his stuff. His Twitter is full of tips for hiring smarter with data backed articles on evaluating and improving your recruiting methods. Lou will be joining us for Hire18 in San Francisco March 12-14, register here!
#SRtweetpick
Here Are the Best (and Worst) Predictors of Quality of Hire https://t.co/KlQU14DOpU via @hireonlinkedin

— Lou Adler (@LouA) January 11, 2018
#6 Gemma Jamieson: The Wonderkins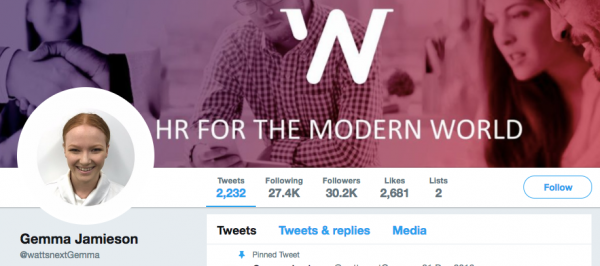 HR Coordinator at Wattsnexthr, Gemma Jamieson tackles contemporary HR issues like mental health, diversity, and media distraction at work. She's a newbie to the business but her thoughtfully curated Twitter, that's both sleek and informative, as well as her 30k followers, say she's got a future here.
#SRtweetpick
It Takes 23 Minutes to Recover from a Distraction at Work. Here's How to Minimize Calls, Emails, and Alerts https://t.co/4ltmkP0ZWi

— Gemma Jamieson (@wattsnextGemma) January 12, 2018
#7  Angela Bortolussi: The Techsplainer
Angela Bortolussi is the Partner & Recruiting Manager at Recruiting Social specializing in engineering, product and data roles. That means she's right at the intersection of tech and HR and can see how one will be affected by the other. Follow her Twitter to learn about the latest tech concepts that everyone's talking about but no one seems to understand. Blockchain? She's got you. Cryptoassets? That too.
#SRtweetpick
"Beginner's guide series on cryptoassets" by @ljxie https://t.co/LJJAAreT5t #crypto #bitcoin

— Angela Bortolussi (@ABortolusssi) December 15, 2017
#8 Soumyasanto Sen: The Sentinal

Management consultant and blogger, Soumyasanto Sen is always on the lookout for the next tech breakthrough that will change the way we work. As a founder and partner of the brand new management consulting startup, People Conscious, he has to stay up to date on the latest in HRIT and you get to benefit. His Twitter is a journal of what matters now in information systems so take advantage.
#SRtweetpick
What the #futureofwork will mean for jobs, skills, and wages https://t.co/iw8jjnnKtt via @McKinsey_MGI #HR #recruitment #Hiring #talent #Workforce #HRTech >> impact of #automation varies by a country.. Germany's workforce will decline by 3 million people by 2030

— Soumyasanto Sen (@soumyasanto) January 12, 2018
#9  Jannis Tsalikis: The Sass Master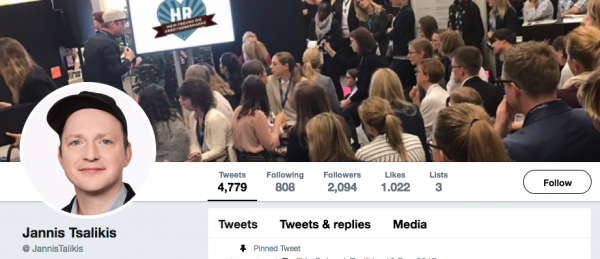 You would expect any employee of Vice to equipped with quips, and their HR Director for Germany, Jannis Tsalikis, is no exception. He's an expert on employer branding and his Twitter perfectly toes the line between humorous personal angst and HR best practice. Just a heads up, it's all in Deutsch but the gifs alone are worth the translation.
#SRtweetpick
Und? Bist du bereit? Teste dich: Bist du HR-XMAS ready? Jetzt auf "Mein Freund, die Arbeitgebermarke!" #HumanResources #testing#christmas https://t.co/jkHWTj3uu0 pic.twitter.com/mXQMbPlN12

— Jannis Tsalikis (@JannisTsalikis) December 8, 2017
#10 Josh Bersin: The Architect

HR analyst and founder of the research and advisory firm Bersin by Deloitte, Josh Bersin focuses on bolstering companies through strengthening their workforce. His Twitter explores management, leadership, and HR tech strategies to help employers attract and retain the best people, as well as exploring the wider political trends that affect the job market. He sees the moving pieces that contribute to the design of employment trends today. To hear more from Josh in person join us March 12-14 in San Francisco for Hire18, register here!
#SRtweetpick
Health care just became the U.S.'s largest employer. Note that the biggest segments are in clinical (nursing) and administration, many of which are not subject to automation. https://t.co/9OlqKBeJF8

— Josh Bersin (@Josh_Bersin) January 11, 2018

#11 Kasia Borowicz: Voice of the People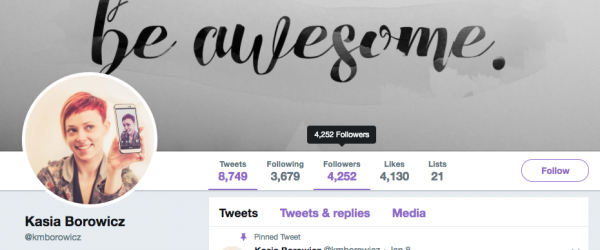 Social recruiting and sourcing trainer, Kasia Borowicz is all about getting your systems aligned but she knows how hard it can be when the small things get in the way –especially tech that's supposed to help you be faster! Her Twitter makes light of all the common pain points recruiters experience, so if you need some reassurance that you aren't the only one who gets locked out of LinkedIn, turn to Kasia.
#SRtweetpick
Wow. A fair few people getting blocked on @LinkedIn pic.twitter.com/RxUm7Um7Ld

— Ben Gledhill (@recruiterguynw) January 10, 2018
#12 Anna Ott: The Scout

Anna Ott spends her days trying out new HR systems with startups at the Deutsche Telekom incubator Hub:raum. She wants to recruit faster, with less fuss, so don't talk CVs with Anna, she's already left those relics behind. Her Twitter is a great news source for the latest systems innovations so follow to be on the avant-garde.
#SRtweetpick
The Top Sourcing Tools to Download in 2018 https://t.co/tA03d0gbaS

— anna ott (@frauott) January 12, 2018
#13 David Green: The Big Picture Guy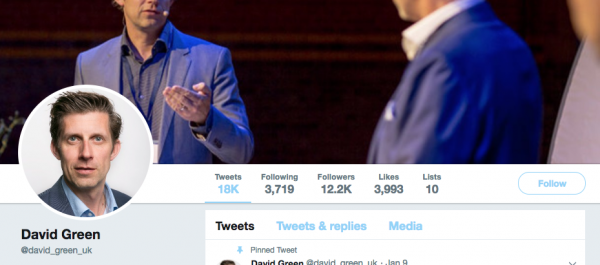 David Green is the Global Director of People Analytics Solutions for IBM Watson Talent as well as a writer, speaker, conference chair and consultant. Somewhere in there, he manages to get out a couple hundred characters a day on Twitter to let us know whats happening in recruiting from his global perspective. If you want to understand the larger trends in the world economy and the implications tech has on our work future, this is the twitter for you.
What Will People Do All Day? (when the robots have taken all the jobs) | https://t.co/sAp1MBc7iJ #FutureOfWork #HR

— David Green (@david_green_uk) January 11, 2018