Remember the Before Times? Not just before the pandemic, but before the smartphone, before streaming television, and before email, depending on your age. Any adult alive today has lived through seismic shifts in technology that create new behaviors. It's also happened in talent acquisition.
An ATS worth changing jobs for
Many SmartRecruiters employees have worked at companies that used the "before" applicant tracking systems. Recruiting teams were stuck fitting their processes to the system's requirements rather than using the most efficient processes for hiring. There were often big admin teams; any time someone wanted to make a change, they had to raise a ticket and wait weeks or even months. Recruiting teams struggled with compliance because the systems could not easily adapt to country-specific requirements. When some of these recruiting professionals saw how easy it was to use and configure SmartRecruiters, the light bulbs went off, and they came to work for us.
Where usability meets flexibility
A recent blog discussed what goes into making a usable ATS. Usability is the first piece of the "After" times. When a system is nice to look at and easy to use, people naturally want to use it. But they will not continue to use even the prettiest system if it doesn't do what they want. That's where flexibility comes in.
A flexible ATS addresses the problems mentioned above. Flexibility means the system is easy to configure for multiple hiring workflows, multiple countries and their compliance requirements, and multiple types of users. A flexible system also includes multiple templates for communications and offers. Finally, a flexible system makes it easy to connect with other systems, which we'll cover in a future post on connected systems. 
Benefits of a flexible system 
The foundational elements of flexibility result in the following benefits for enterprises large and small.
Lower admin costs. With usable configuration screens, large-scale changes can be made in minutes or hours rather than days or weeks. With fewer people needed to maintain the system, costs go down. 
Higher system adoption.  When the system fits the individual users' workflows, they are more likely to use it. They only see what they need, not more than they need, so they don't get lost when they log in.
Actionable reporting leads to meaningful improvements. High system usage enables the collection of actionable data that teams can use to improve the quality of hire and deliver exceptional candidate experiences.
Future-proof agility. The pace of change is not likely to slow down. 2020 showed us how business practices can change overnight, and 2023 showed us an explosion of AI tools. In the meantime, countries are rapidly evolving their compliance requirements, and companies have always voluntarily changed internal reporting structures and business activities. Flexibility helps companies shift their processes as the market shifts.
Key components of a flexible ATS
1. Customizable fields
Setting up a recruiting function at a large organization is complex. Job, org, and candidate fields are the key to flexibility and successful configuration when a company is hiring for a variety of roles in a variety of locations. By setting up organizational, job, and candidate fields properly–and being able to change them easily when needed–organizations can configure custom workflows tailored to the needs of specific areas of the business.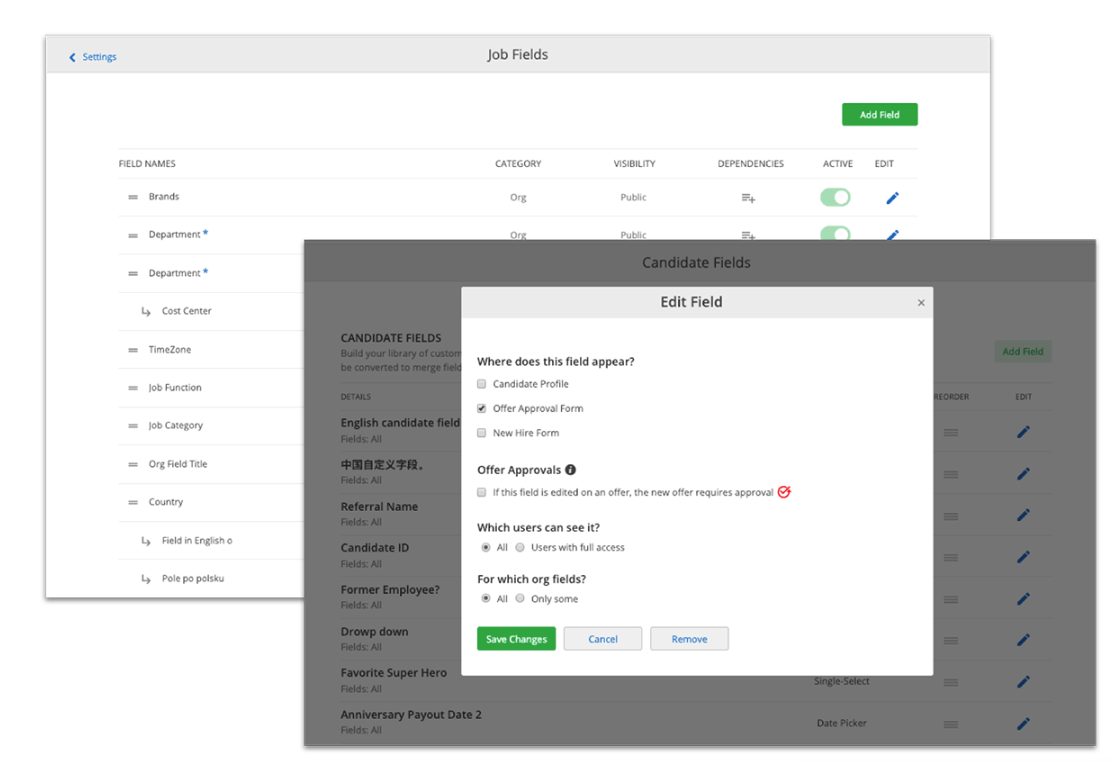 Custom workflows allow the team to deliver a consistent experience to candidates and get a view into how well their hiring processes are working for a given location, job type, department, etc. This flexibility combined with a highly usable system makes it possible to view the accurate reporting necessary to troubleshoot and respond to market conditions.
For example, Frasers Group is a global retail and intellectual property group based in the UK. Their properties include some of the world's most iconic brands, including Sports Direct, House of Fraser, Frasers, FLANNELS, GAME, Jack Wills, Evans Cycles, USC, and Everlast. When Frasers configured SmartRecruiters, they wanted to provide templated branded experiences for each brand. Flexibility in configuring the org and job fields is the start of what makes it possible for Frasers to hire 25,000 candidates per year across more than 1,000 stores across its many brands.
We found it quite appealing that we could configure the system to suit all the different needs of what is, in essence, a sprawling estate: 22 countries, 30,000 employees, and 3,000 users of the system. 

– Adam Reynolds, Head of Talent, Frasers Group
2. Hiring workflow configuration
A single organization can have many different role types with distinct hiring requirements. A hiring workflow for a seasonal retail associate is naturally going to look different than one for a finance analyst. In SmartRecruiters, the administrator can easily go into the system and configure the steps from a drag-and-drop interface.
The hiring workflow covers steps within the following stages: new, in-review, interview, and offer. Within each step, the administrator selects components of the workflow that automate the delivery of tasks to hiring team members and sends out communications to the candidate at pre-configured intervals.
In the example below, an admin opens the workflow for a retail associate role and begins setting up the steps that move a candidate from "resume review" to the "recruiter screen." The steps are based on IFTTT (if this then that) functionality to deliver tailored, automated experiences.
The structure and consistency offered by custom hiring workflows can result in better quality of hire and higher candidate experience ratings. After PACCOR, a global packaging manufacturer with 24 locations, configured SmartRecruters, they said, 
The system creates transparency about how we evaluate candidates in a structured way. With SmartRecruiters, we were able to create an outstanding candidate experience by analyzing every touchpoint in the candidate journey and identifying the bottlenecks.

– Marcel Rütten, former Director of Talent Acquisition & Employer Branding, PACCOR
3. Compliance
Few people love to talk about compliance, but everyone has to take it into account. In today's global economy, hiring teams must adapt practices to each country's requirements–or set their compliance standards to the guidelines of the country with the strictest requirements. 
From the Global Compliance Administration tool within SmartRecruiters, users can set data retention periods and add privacy policies. The system schedules the deletion of personally identifying information (PII) when a candidate is rejected, withdrawn, or removed.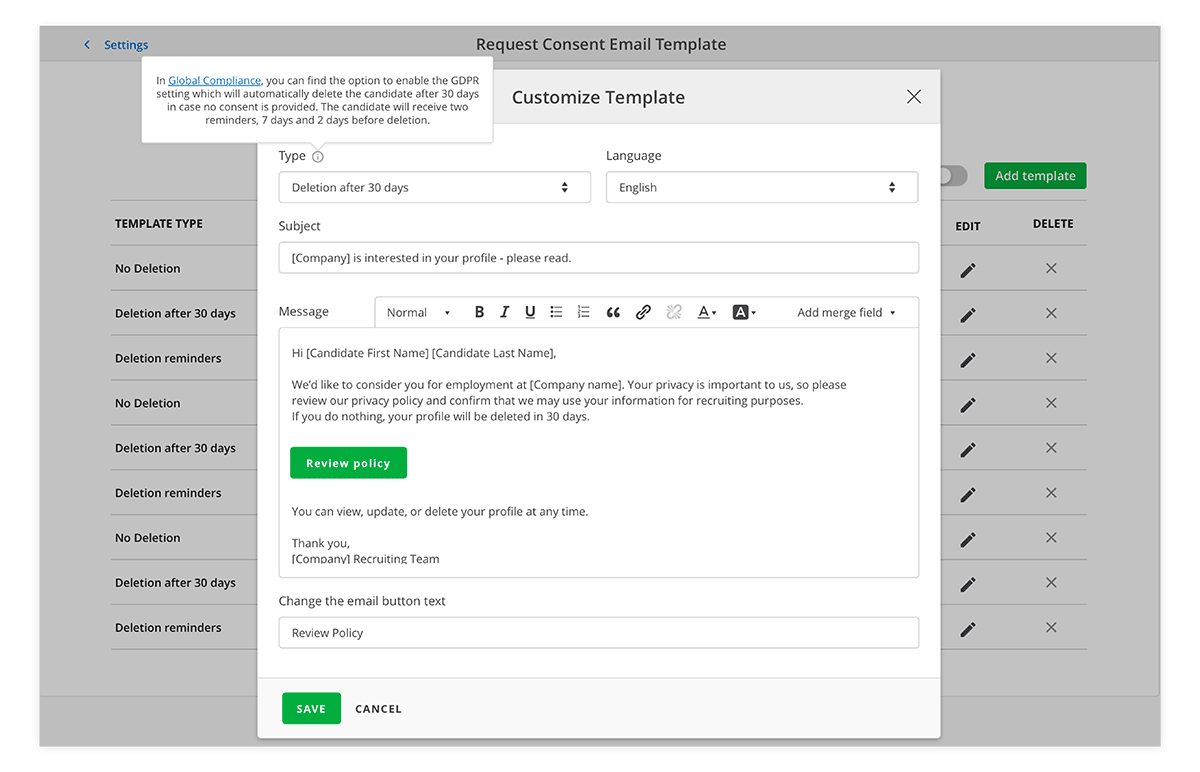 For global firms, flexibility in compliance and workflow configuration is a must. For example, Avery Denison, a global materials science and digital identification solutions company that employs approximately 36,000 employees in more than 50 countries, relies on the flexibility of SmartRecruiters.
SmartRecruiters is our hiring platform for every business and location. Its flexible system allows us to balance the need for an efficient, global standard with the variety of local processes and legal requirements.

-Chassidy Rellinger, VP HR, Materials Group NA & Global HR Solutions, Avery Denison
4. User access
A lot of information is available within an ATS, and not everyone needs to see it all. Flexibility in configuring the accessible information among different role types is paramount for successful hiring. With flexible permission settings, recruiting teams can ensure that the right people have access to the right information, and that their permissions can be changed at the right time. 
5. Template libraries
Successfully hiring at scale requires many types of templates: Job templates, communication templates, scorecard templates, and offer templates. Not only must the templates be specific to the role and line of business, but they may also vary by country and language–and reflect different compliance requirements. A flexible system makes it easy to add and edit templates. In addition, it can streamline offer delivery by using offer clauses that can be swapped out to configure offers on the fly.
The After times in recruiting
Many recruiting teams are being asked to do more with less, yet the human component of hiring is still paramount. With a usable, flexible applicant system in place, teams can hire more efficiently. Customizable hiring workflows, compliance features, straightforward permission setting, and template libraries are the key components of a flexible system. With these features in place, recruiting teams can more easily find and select the top candidates who will build your future organization. After implementing SmartRecruiters, the old system will disappear into memory just as quickly as the fax machine. 
Contact us for a demo today.