Have you ever thought of talent acquisition as an art form? If you can talk about it in an art gallery, it most certainly is! On the 14th of November, 2023, talent leaders will be discussing The Art of Talent: Hiring Without Boundaries at SmartRecruiters Hiring Success APAC hosted in the Art Gallery of New South Wales in Sydney, Australia. 
The action-packed agenda includes the inspirational journalist Nas Campanella and speakers from Qantas, KPMG, and SEEK. Before the event, we gathered insights and accomplishments from Australian leaders to help you stay ahead in the talent economy and master talent transformation.
1. Make accessibility a core aspect of your process
Our keynote speaker, Nas Campanella, is the ABC's National Disability Affairs Reporter. She lost her sight in infancy and was diagnosed with a rare neurological disorder at the age of 10 which prevents her from reading Braille. With the help of voice reading software, she graduated from university and became a journalist and advocate for the disabled. In an interview with The Australian Disability Clearinghouse on Education and Training (ADCET), she said, 
One of the biggest problems is that mainstream society believes people with disabilities can't work. Change the attitude and you'll change the workplace. The best way to do that is to create awareness programs exploring language, policies, and workplace adjustments. 
In her current role at the ABC, she helps other disabled people tell their stories. On the job, she's learned that her subjects often need greater preparation for TV appearances than non-disabled individuals. In a recent interview, she described how the production team sometimes has to make accommodations like learning how to use new speech recognition software or giving questions in advance. She said on ABC Listen,
A lot of people would find it so time-consuming and difficult and wouldn't know who to turn to for support to make that happen. But we do. I'm really proud of that because we've put people to air who have said to us that they'd either had a really bad experience with the media before and never wanted to do it again until they had a beautiful experience with us, or they would just be completely overlooked for interviews altogether.
We can't wait to hear Nas speak about how companies can create inclusive work practices, including an accessible recruitment process. 
2. Pay attention to people and processes as much as technology
Alastair Schirmer, General Manager – Technology & Innovation at TQSolutions, has a wealth of knowledge about recruiting technology. His decades of experience have shown him that intentional experience design is the key for companies to get the most out of their tech investments. The technology by itself isn't enough; people have to adapt it to their processes and use it consistently so that data-driven hiring becomes a reality.
In a recent interview on TAPod, Alastair said, 
Tech is about 10% of the answer when it comes to solving problems and being successful. You really need to be thinking about the processes, capabilities, behaviors, and mindset of the business to successfully adopt something new. Those are the critical elements that will feed into any technology-related change or decision.
In his session, Alastair will discuss how using intentional design principles will set you on the right path to achieving Hiring Success. He'll also share insights on using AI.
3. Get people excited about change
Rob Dunderdale, Head of Talent Attraction and People Analytics at KPMG Australia leads a team that initiated a two-year program called Talent Attraction & Recruitment Reimagined (TARR) which reimagined six key areas of recruitment.
A key to KPMG's success was setting up the TARR initiative as a two-year change management project, which included an implementation of SmartRecruiters. TA Pod went to the launch party, where the KPMG team hosted an event with learning and fun activities. After kicking off the program, KPMG won an Internal Talent Award (ITA) for Innovation of the Year in 2022 and Rob's success has continued with an ITA for Enterprise Talent Leader of the Year in 2023.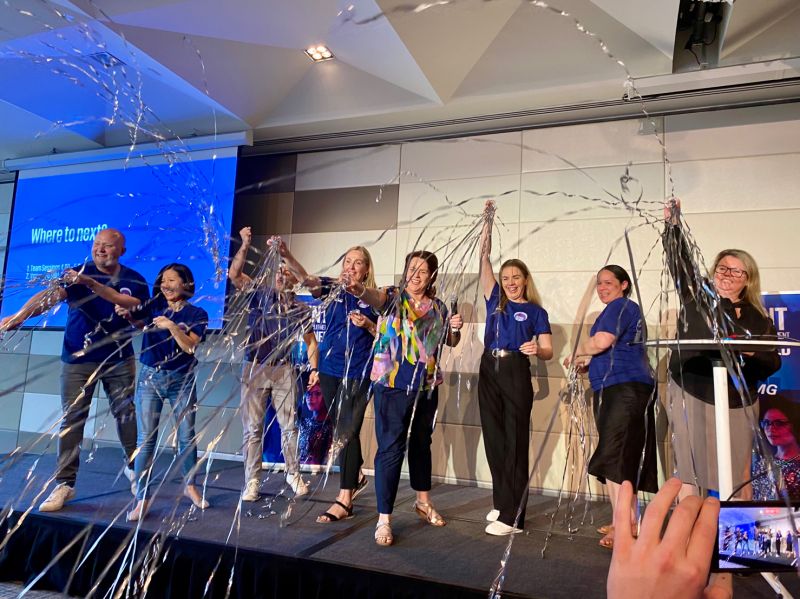 In this podcast episode. Rob described how the recruiting team needed better technology because they were drowning in administrative tasks and struggling to meet KPMG's goal of hiring thousands of candidates a year. At the SmartRecruiters launch day, Rob Dunderdale said, 
It was lovely to see the team wide-eyed and excited by what's coming. As a leader, it's a really beautiful thing to be able to stand up in front of them and say, you told me this wasn't working, and this is what we collectively did about it.
Rob's work behind the scenes to make the TARR program possible goes deep. In his session at Hiring Success APAC, you'll get the inside scoop on his roadmap to transformational success in talent attraction.
4. To deliver a great candidate experience, find out what they want
Speaker Caroline North, Research Manager at SEEK, is an expert in tapping into data about candidates. SEEK's Laws of Attraction research is based on a comprehensive study of 11,000 Australian candidates across a range of industries. It reveals the factors that draw candidates to a role and provides valuable insights to help employers attract the candidates they want and retain the employees they value.
Anyone can access the Laws of Attraction rich data lab to compare candidate segments and address recruitment challenges by drilling down into underlying drivers of factors like work-life balance and compensation.
For example, a query on the Information, Communications & Technology industry reveals work-life balance as a leading concern, and 52% of those said that working from home is a must-have. Last year, 61% of candidates said that they would resign if working from home was not an option.
We can't wait to hear Caroline's insights on what motivates candidates so you can shape stronger recruiting and retention strategies for the evolving talent landscape.
5. Streamline your application process
During a talent shortage, a great candidate experience is a must, particularly in medical and home health care. With an increasing aged population in Australia, the demand for medical and aged care workers is high, but hiring for most of these roles requires more due diligence than competing industries. 
Two SmartRecruiters customers in healthcare revamped their hiring process to solve for the candidate experience. Representatives from KinCare and Catholic Healthcare will be part of the panel discussion "Doing more with less and hiring against adversity." Here are just a few of their accomplishments.
Reduced time-to-fill to 18 days from 40 days

Time to complete application reduced to 3-5 minutes from 17 minutes

60% decrease in candidate drop-off rate

>90% approval rating of the recruitment process in employee survey
Doubled number of hires year-over-year during record-low unemployment

Reduced time-to-hire to 9 days from 51 days

Improved six-month new hire retention by 30%
In this session, you'll also hear the hiring secrets of Mater, a healthcare organization that includes Mater Health, Mater Education, Mater Research and Mater Foundation.
6. Make reference checks a breeze
Reference checks can be a pain point in the hiring process. Just when you've got the right candidate and are ready to welcome them to the team, a game of phone and email tag ensues. Many SmartRecruiters customers in the APAC region take advantage of our Referoo integration, which seamlessly triggers reference and police checks. We caught up with Simon Topper, Director of Partnerships at Referoo:
Referoo is more than an online reference checking tool, it's a productivity powerhouse. Our clients can move fast to secure top talent with the peace of mind that they're getting compliant, secure, and high-quality reference and background checks straight to their ATS. It's a real competitive advantage in today's market.
Referroo is just one of the many integrations SmartRecruiters customers can implement to streamline their hiring process. Simon added, "We can't wait to join talent leaders at HiringSuccess APAC to discuss the challenges and opportunities ahead." 
Mastering the art of talent is the secret to future-proofing
Future-proofing in the age of AI becomes even more exciting to explore against a backdrop of beautiful art, valuable learning sessions, and a party with your peers. 
The future is arriving one day at a time–and we want you to be ready to position your team at the cutting edge of a transformative talent journey. Sign up to attend Hiring Success APAC on the 14th of November 2023 here. 
Can't make the date? Click the image below to get started on your journey to learning the art of Hiring Without Boundaries.