Companies that engage in high-volume hiring know that its unique needs require different processes for moving large numbers of candidates from application to hire. Companies often run into three roadblocks: 
Candidate drop-off: How do they keep interested candidates engaged so that they convert into applicants, and how do they keep applicants engaged as the top ones are converted to hires?
Candidate quality: How do they surface the best candidates from a large applicant pool, and how do they narrow down their choices quickly?
Time constraints. Companies with seasonal hiring needs often run time-bound recruitment periods to fill seasonal roles. In one short period, they will hire hundreds or thousands of people.
SmartRecruiters helps companies like JYSK, Frasers Group, McDonald's, Skechers, and Aspen Skiing Company move hundreds of thousands of candidates through the hiring journey every year. Our software enables them to address all three high-volume hiring concerns: they see reduced candidate drop-off and improved candidate quality while meeting their hiring goals. Here are some of the secrets of how they do it.
1. Pre-screen candidates before inviting them to apply
Pre-screening helps determine if candidates are capable and interested in performing the role before applying. A pre-screening process with knockout questions can include the ability to lift a certain amount, availability during a specific time period, right to work, or interest in working in a particular environment. Companies use a variety of methods to pre-screen:
Chatbot.

The chatbot asks the candidate questions. If they do not meet the requirements, the system automatically rejects them. If they do, the system progresses them to the next stage,

Knockout questions.

An ATS can be configured to ask the appropriate questions and trigger the candidates' progression based on the response.

Pre-hire assessments.

Some companies use aptitude tests to ensure the candidate has the knowledge or aptitudes required to perform in the role.
Here's an example of how users of SmartRecruiters ATS can configure knockout questions for candidates. The recruiter or admin can choose from a drop-down questions library. In the example, the question about the candidate's ability to stand for 5-8 hours has been set as a knockout.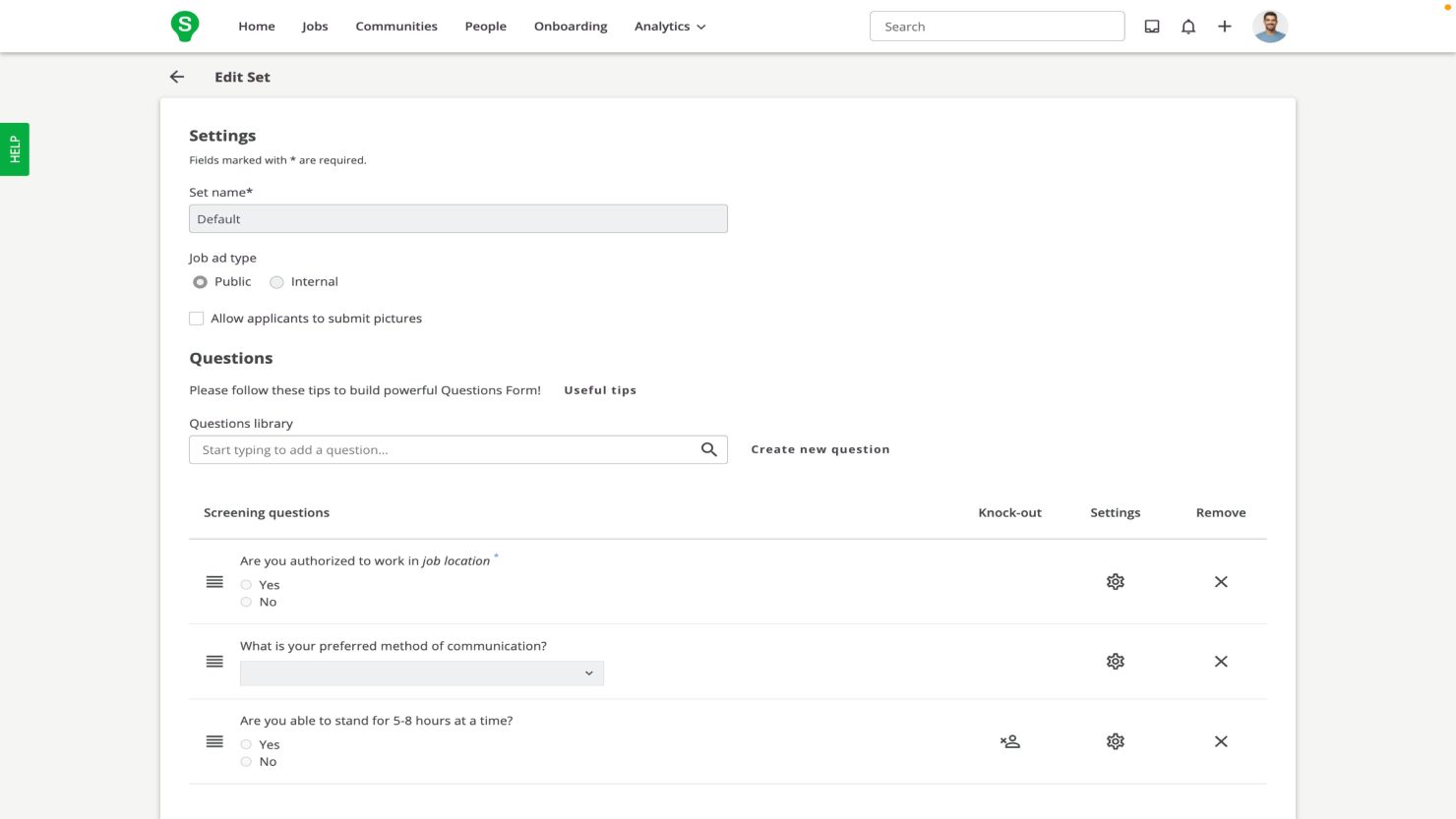 2. Filter candidates with AI screening 
Once candidates fill out their applications, recruiters are often presented with hundreds or even thousands of resumes to review. An AI like SmartAssistant automatically surfaces best-fit candidates that match the job description. Recruiters can then sort and filter candidates by match score, review their applications, select groups of top applicants, and automatically schedule interviews or send them to the hiring manager for review. 
In this example, the recruiter sorts candidates by SmartAssistant match score, selects the top candidates, and invites them to an interview.
3. Enable candidates to self-schedule interviews
Once the candidates are selected, they can be asked to choose from interview timeslots in bulk from the ATS. An ATS that integrates with Microsoft Teams or Google Workspace allows candidates to be sent a variety of options, and the system automatically generates a personalized text or email message with the appropriate options.
The image below shows 1) the email sent to the candidate, 2) the scheduling options screen, and 3) the screen to confirm the interview.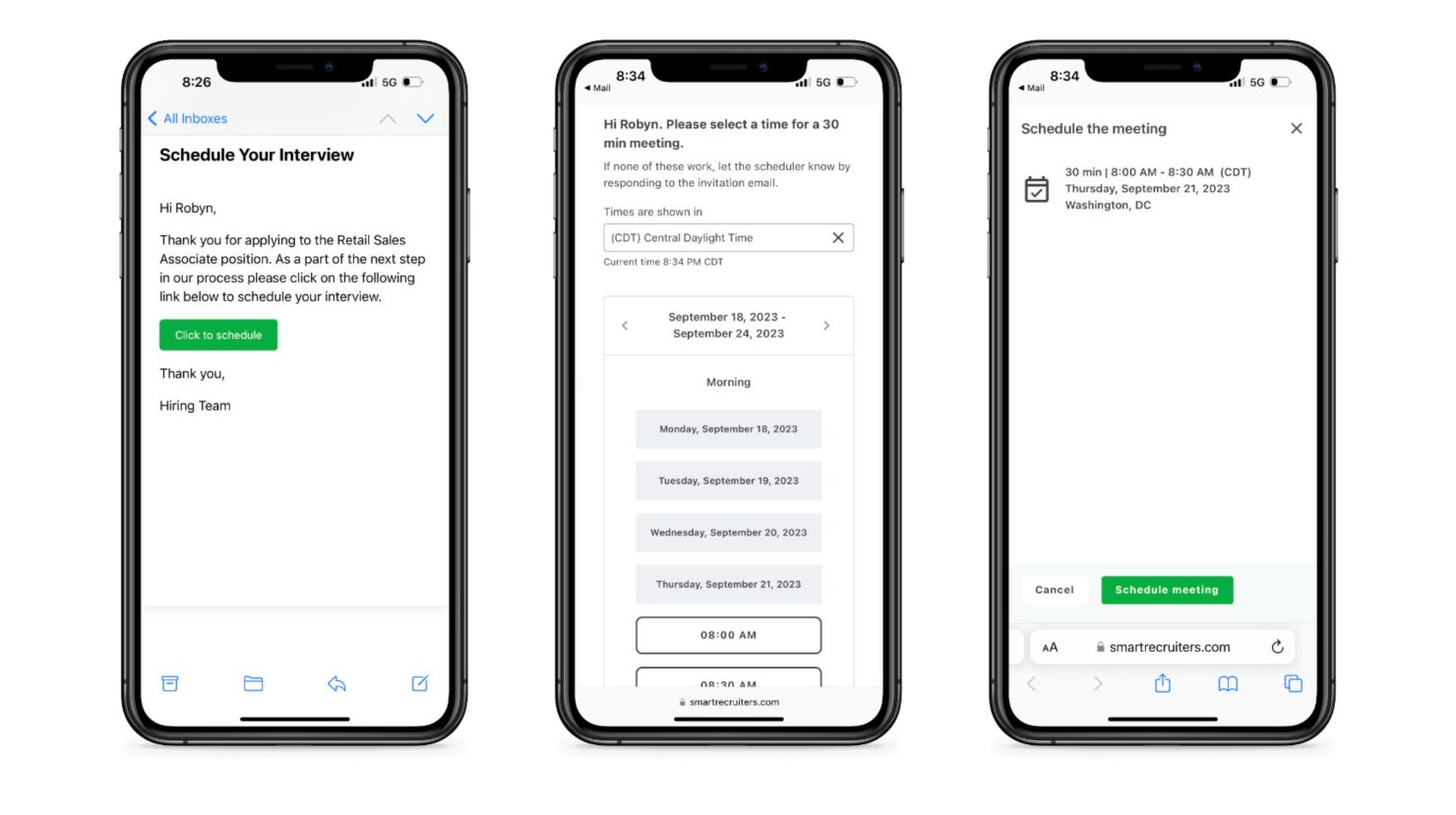 4. Communicate with candidates via text
In high-volume hiring, mobile communications should come first. According to Indeed, 77% of all candidate traffic occurs on mobile, and mobile is the most requested communication preference for high-volume candidates, who are less likely than salaried candidates to conduct their job search from a computer. 
With SmartMessage, SmartRecruiters' text recruiting solution, recruiters can communicate with candidates via WhatsApp and SMS (in addition to email) from a single interface. The solution ensures compliance while speeding up hiring times by enabling recruiters to message candidates in the app they use most. 
The screenshot below shows the recruiter's view of a conversation with a candidate. For each message, the recruiter can choose email, SMS, or WhatsApp. The conversation history is visible to others using the system, enabling transparency among different team members during the candidate journey.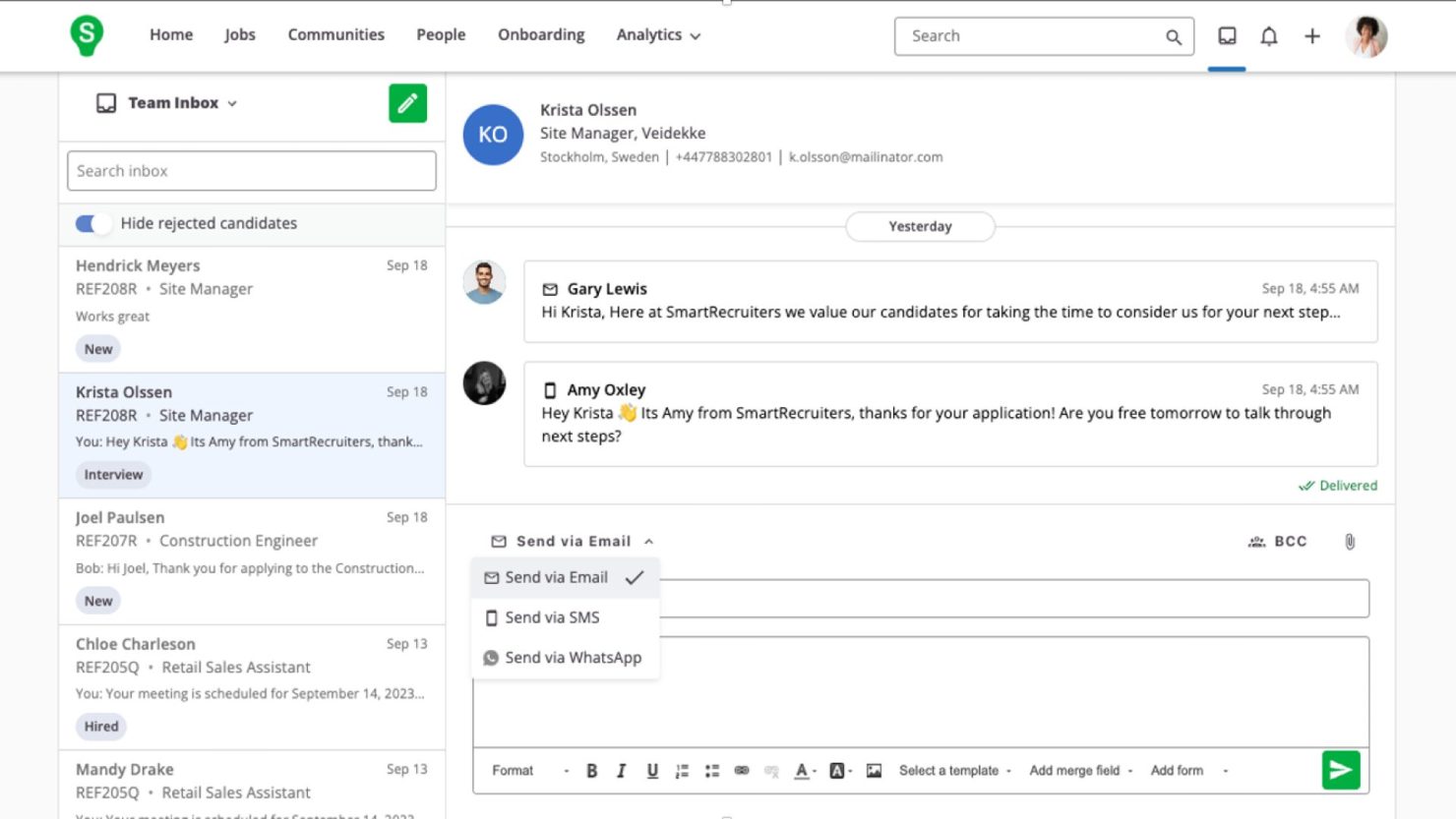 5. Use a system that enables bulk actions
When you're hiring hundreds of candidates at a time, you don't want to waste time repeating the same actions over and over. In #2 and #3 above, we demonstrated how to move multiple candidates at once to the interview stage. Candidates can also be put into workflows that deliver assessments at scale as candidates progress to the next stage. The system should also enable the creation of offers in bulk so you can be sure to have the right number of people show up for day one.
In the example below, the recruiter configures the offer details for selected candidates, and generates the offer letters.
6. Implement structured interviewing
Structured interviewing breaks down questions and hiring criteria so hiring managers can quickly rate candidates on desired skill sets and behaviors. Viewing this data in aggregate enables recruiters to compare candidates based on ratings, speeding up hiring decisions. Bringing external assessment results into the mix gives companies even greater objectivity of candidate fit.
In the view below, a recruiter or hiring manager can compare candidate scores for an engineer intern position across predefined skillsets and view HackerRank scores.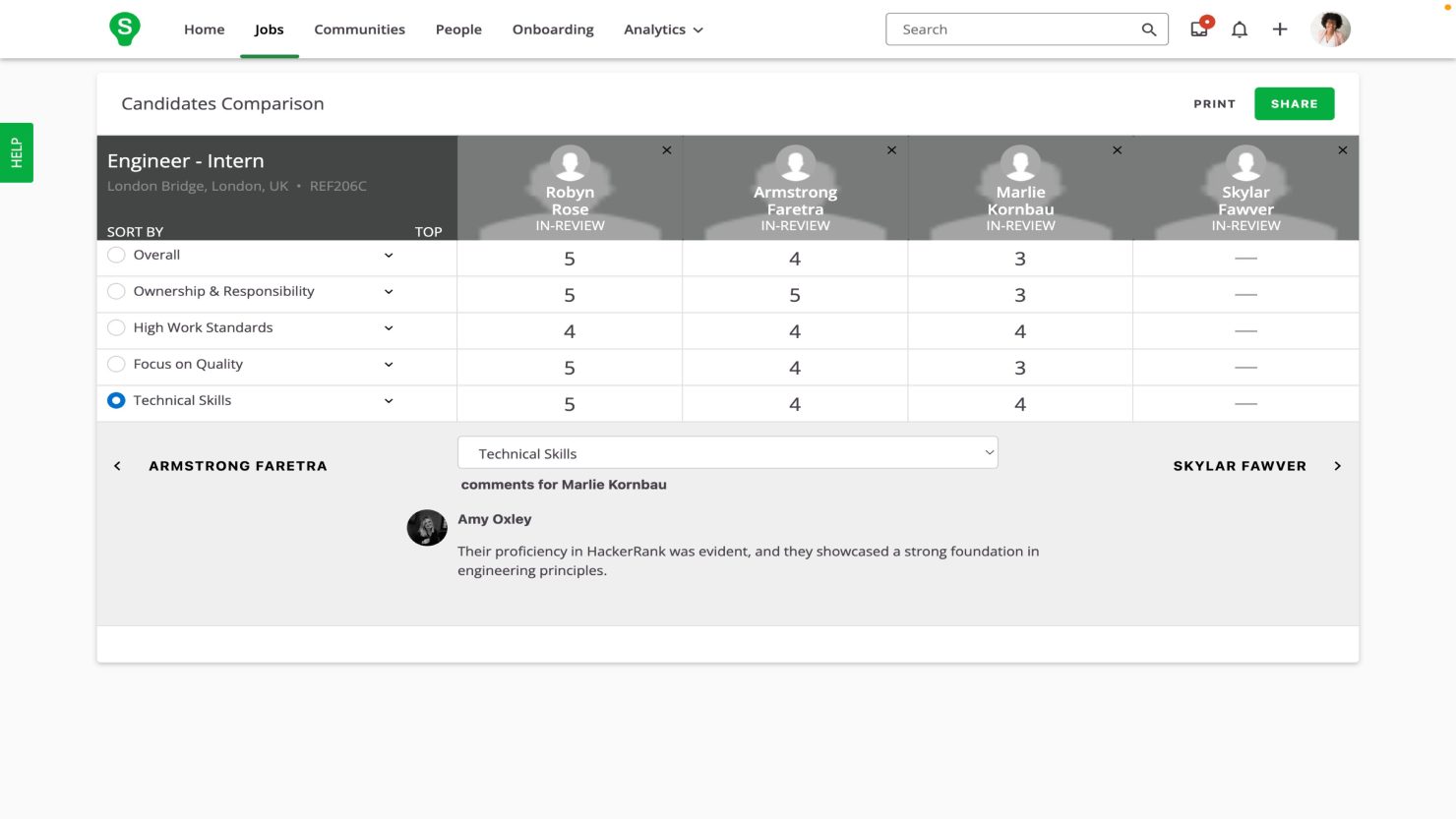 7. Automate onboarding
Getting a large group of new hires everything they need to be ready on day one could require a ton of work if done one person at a time. With an onboarding system, the new hire gets a schedule of tasks and activities within a single system. The system should be able to fill any need, such as collecting the necessary ID and paperwork, bank details, uniform preferences, or picture for a badge. 
In the view of SmartOnboard below, the new hire can track their progress and see due dates for specific onboarding activities. The same view is accessible on mobile devices.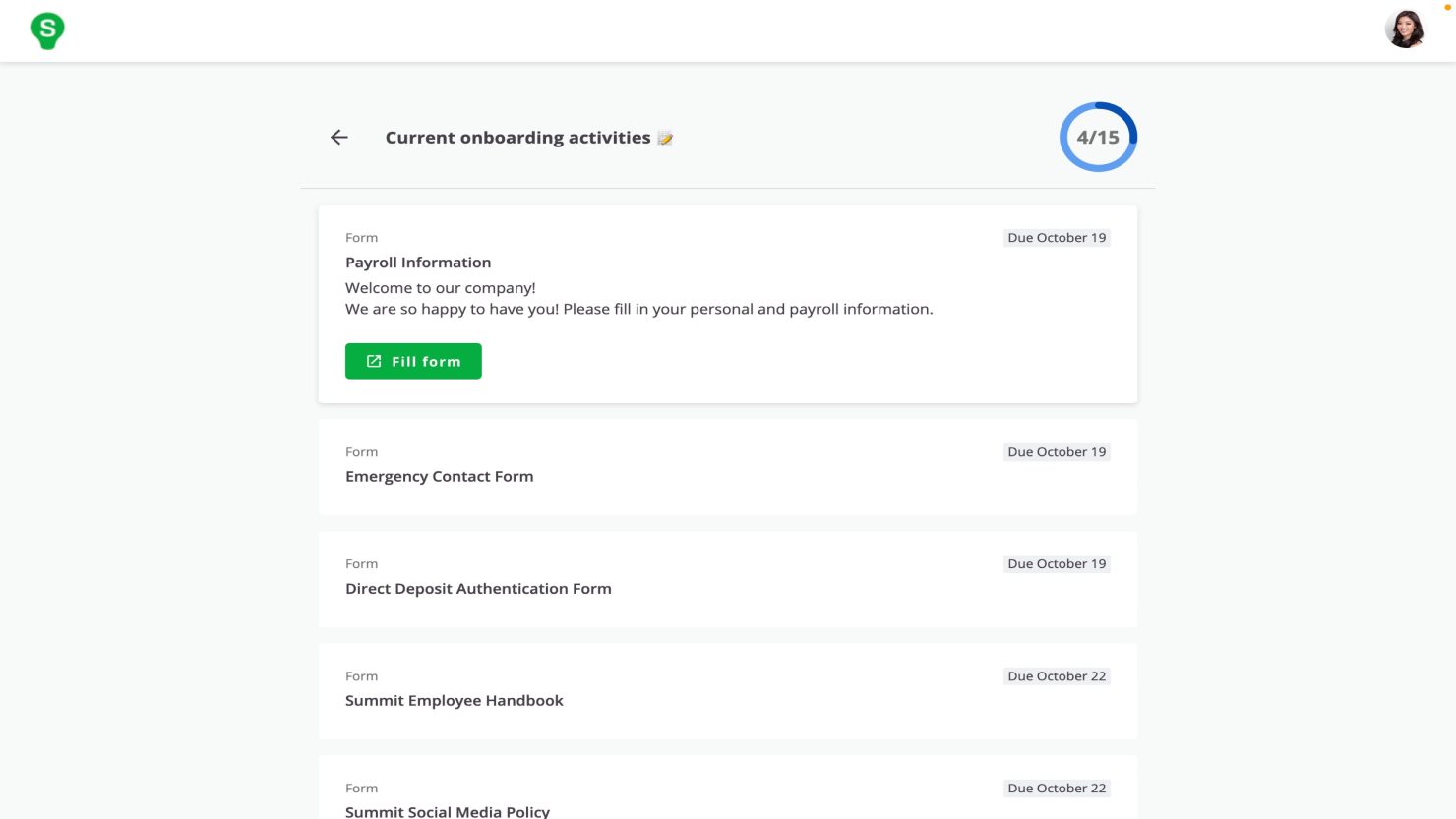 High-volume hiring is a delicate balance of automation & personalization
As you can see, keeping candidates' needs in mind while building automated processes requires careful attention to detail. Candidates want to know they're being evaluated fairly, receive informative and kind communications, and feel optimistic about joining your business. Hiring process workflows in an ATS built for scale is the key to getting new hires in the door – and with ease. 
Want to learn more? Sign up to view our webinar, Removing the Roadblocks from High Volume Hiring. After watching it, we're sure you'll understand why Adam Reynolds, Head of Talent at Frasers Group said, "With SmartRecruiters, we moved through hiring 20,000 people more fluidly at a higher pace, with fewer issues along the way."