"We recognize SmartRecruiters as a leader and we welcome the opportunity to serve joint customers in their efforts to acquire top talent and to help candidates find great opportunities," said Scott Roberts, Head of Enterprise Business Development of LinkedIn.

LinkedIn's flagship product, LinkedIn Recruiter now integrates with SmartRecruiters. We made this integration with the LinkedIn power user in mind. Within SmartRecruiters, your candidates from all sources can already apply with LinkedIn, your hiring managers can already advertise with LinkedIn, and now, your recruiters can source talent with LinkedIn Recruiter. This cross system awareness unites talent sourcing and candidate management.
SmartRecruiters Inside LinkedIn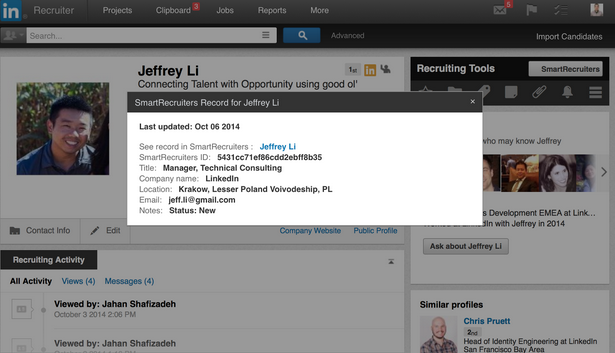 All shared LinkedIn profiles will include a 'SmartRecruiters' button which allows LinkedIn Recruiter users to view a candidate's SmartRecruiters details in LinkedIn. When sourcing for talent in LinkedIn Recruiter, all past candidate interaction via SmartRecruiters, such as status, title, reviews, and communications, will be available in LinkedIn.
LinkedIn Inside SmartRecruiters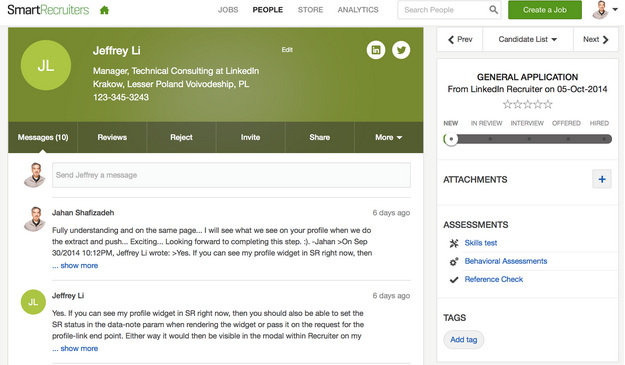 Mutual customers can automatically import InMail messages, keeping all your job conversations up to date. This not only allows a recruiter to communicate with quickly with LinkedIn candidates, but also easily brings their profile and messages into SmartRecruiters for evaluation by the entire hiring team.
"Companies are demanding comprehensive solutions to improve recruiting performance," said Jerome Ternynck, CEO of SmartRecruiters. "Traditional ATS tools are siloed, ineffective tools that prevent recruiters from collaborating to engage the best candidates. Our integration with LinkedIn redefines ATS integration and brings our customers the solutions they need to find the right people to propel their business forward."
LinkedIn is largest professional network on the Internet with more than 313 million members in over 200 countries and territories. LinkedIn Recruiter offers access to this robust talent pool. By using SmartRecruiters with LinkedIn, your hiring team will be more united and the measurement of your recruitment ROI will be easier with all your sourcing analytics in SmartRecruiters.
To learn more, visit www.smartrecruiters.com/linkedin and register for the live webinar "LinkedIn for SmartRecruiters" on October 28 at 10am PT.