Talent Acquisition has changed forever. Rising volatility and competition have dramatically changed the way you source talent. Remote work has transformed the way you hire. The great resignation is reshaping how you manage and retain employees. Job openings have reached record heights, putting recruiters under pressure. Clearly, the first generation ATS hasn't moved fast enough to meet the challenges of the day. What do you need to stay competitive in this new world?
Table of Contents
A traditional ATS is no longer enough
An applicant tracking system, often referred to as an ATS, is a software application that automates the hiring process. Applicant Tracking Systems were originally designed to store job applications and track applicants through the process. Over time, their capabilities expanded to incorporate candidate sourcing and hiring, among other recruitment needs. The problem is that many of these newer functionalities were designed to be process-centric rather than candidate and engagement-centric. Because these new functionalities were bolted on to the legacy solution, and not developed as an integrated tool, the UX is often clunky and not easy for recruiters to use.
Today, organizations need to be agile and engagement-focused to attract, select and hire the best talent at scale. This is achieved when the 3 pillars of Hiring Success are aligned: candidates have a compelling experience, recruiters are productive, and hiring teams are engaged. If you're struggling to achieve this with your ATS, you've come to the right place. Let's explore some of the critical capabilities you should look for to achieve your hiring goals.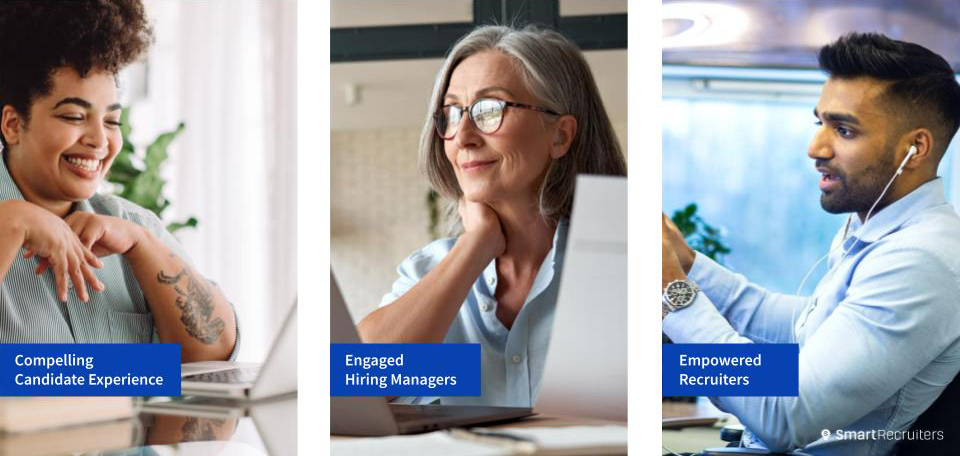 Compelling candidate experience
Qualified candidates are a lot like prospective customers. They have bargaining power and lots of options. Their entire experience matters – from how candidates learn about your company, to how you interact with them, to the tools they use to apply. To find and engage them, recruiters need to think like marketers. An ATS that only addresses the bottom of the funnel (candidates trying to apply for jobs) will not position your team for hiring success. Instead, you need to look for a robust set of recruitment marketing features that will help you attract passive candidates and engage them towards conversion.
A career site that's geared for conversions
Most ATSs offer basic career sites – static job pages with long lists of open positions. This might have worked in the 90s, but in 2022, your career site needs to do a lot more. It should be part of your recruitment marketing tool belt, and it should be used in a more strategic way. Think about this: about 70% of job seekers start their search on Google. They do some high-level research. They want to educate themselves about the market and their specific role, and possibly your company and your product before they decide to apply. A career site that contains high quality, personalized content that's optimized for search helps you attract them. We have seen companies using this strategy increase the number of organic search conversions by 40%.
The success of your career site will also be determined by its ease of use. Candidates want to be able to apply quickly and easily, on the device they choose. Long and drawn out application forms are things of the past.
Besides an optimized career site, you need tools to build a digital marketing funnel. That's where programmatic advertising comes in.
Programmatic job advertising and sourcing
Your talent acquisition team needs tools that will help them discover top talent, understand what they are looking for and attract them with targeted campaigns. A first generation ATS should help you post jobs to your job page. A second generation ATS should post automatically to job boards, LinkedIn and other channels. A third generation ATS goes further: it intelligently places ads on job boards that drive the highest conversion for each job type, and dynamically shifts budget to the highest priority roles. Modern ATSs need to have a sophisticated job advertising capability that is pipeline aware, automated, and dynamically allocates budget to the highest-converting job boards.
Obviously not everyone who lands on your job postings will be ready to apply. But that's ok because you can invite them to subscribe to your newsletter or job alerts. Once candidates make it into this talent pool, you need candidate relationship management (CRM) capabilities to nurture them towards conversion.
Candidate nurturing and talent relationship management
According to Fosway, "Applicant Tracking System vendors without a TRM-offering are at high risk of being replaced." An ATS with CRM or TRM capabilities helps you nurture candidates and match them with the right roles. This critical functionality should also help you track all touchpoints and candidate journeys in one system, just like you track customers.
These recruitment marketing capabilities help you find the right talent and engage them with a compelling experience, so you can ultimately convince them to apply. This brings us to the second pillar of hiring success.
Engaged hiring managers
According to recent findings from Josh Bersin, collaboration between recruiting and hiring managers is the number one indicator of high performance talent acquisition. This is where effective applicant tracking, evaluation and collaboration play a critical role.
Applicant tracking
The original ATS was designed to move a paper or email-based process to a computerized system so that recruiters could scale. A modern ATS is more like a system of record, a single source of truth across the entire talent acquisition process. It should make it easy for recruiters to work with many different candidates and spot an applicant's status quickly, across multiple workflows. It should include advanced candidate search functionalities. It should also help you screen and evaluate candidates faster.
Evaluation
Modern ATSs come with chatbots and automated Q&A or screening tools to help you speed up the evaluation process at the beginning. Some also include AI capabilities that help you screen hundreds of candidates down to dozens, and create a shortlist of potential matches. Once the recruitment team sources the right talent and makes the key connections, it's up to the hiring team to close the YES candidates. With the right data at hand, the hiring team is better positioned to collaborate with their recruiting counterparts.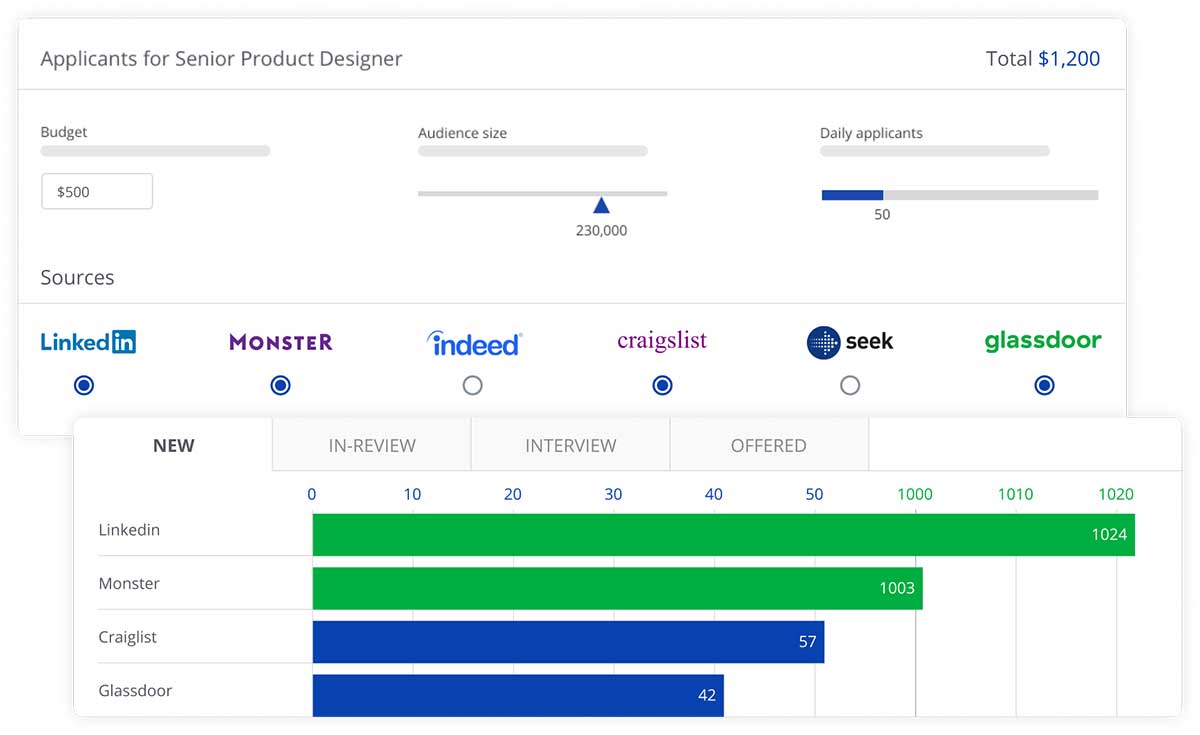 Collaboration
Modern ATSs should foster collaboration with hiring managers so you can make better and more informed decisions. For example, it should enable you to assign focus areas to each interviewer. It should allow interviewers to collaborate on their findings, in a way that minimizes bias and groupthink. It should come with a central messaging engine and let you configure tasks and notifications to keep your team on track.
Productive recruiters
As we discussed above, talent acquisition teams that are highly productive operate more like marketing and sales teams. We talked a lot about the importance of collaboration throughout the process. Recruiter productivity and hiring optimization are just as important, especially at a time when job openings are at an all-time high.
Analytics and AI to improve decision-making
Great recruiting teams know "their numbers" and leverage them to not only prioritize tasks across the hiring spectrum, but also provide accurate hiring forecasts and achieve desired business outcomes. A legacy ATS is not positioned to support this. Legacy solutions don't capture nearly enough data to assess hiring performance. Much less to measure if your hiring process is working for or against the bottom line.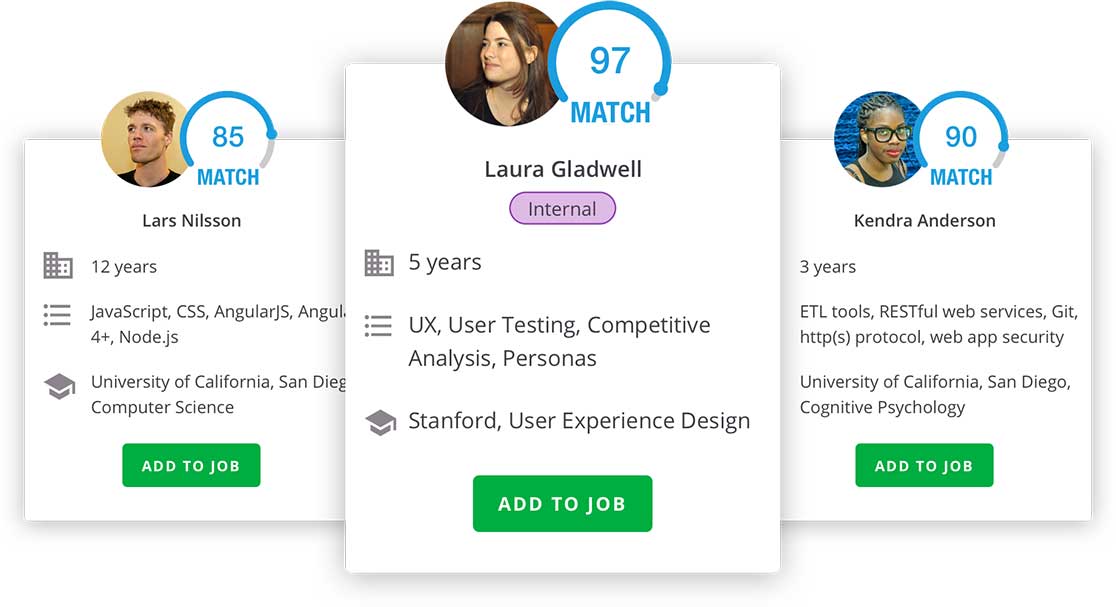 An ATS with robust analytics provides deep insights through trend analyses on historical hiring decisions and dashboards on pipeline performances, with all the data stored in one place. Josh Bersin's latest study on global TA teams reports that high-impact TA teams are 6x more likely to use AI and predictive analytics and see 30% greater profitability compared to those that don't use these tools.
Internal mobility
The great resignation is keeping recruiters and HR teams up at night. But according to a recent Sapient Insights survey, only 22% of companies have an internal mobility program in place. Recruiters should be looking for talent internally and externally. The problem is that they don't have the right tools. Companies are at risk of losing their talent to the competition if they don't compete on an equal footing.
A modern ATS should enable you to build an internal career site and build talent pools of team members who are interested in different career paths. Match people to jobs using AI matching and set up internal interviews the same way you do external interviews.
Onboarding support
Successful recruitment teams also know that the first 3 months of employment are the most vulnerable period. In some industries, a poor onboarding experience can lead to a 22% turnover rate. That's why many are looking for a comprehensive solution that will address this critical part of the journey as well. Your onboarding process should not just be about legal formalities, it should facilitate a smooth transition from applicant to employee.
The final word & our ATS Quiz
As Fosway explains, "standalone ATSs that only cover the lower part of the recruitment funnel are a thing of the past." Your ATS should go beyond workflow automation and candidate tracking. It should incorporate recruitment marketing for active and passive candidates, and career sites that boost your employer brand. It should also facilitate enhanced HR decision making based on your desired business results. Moreover, it should be built for today's complex talent market, offering you a competitive advantage with internal mobility features and a great candidate experience that's optimized down to the onboarding stage.
Take our quiz to find out if you should replace your ATS.