As Hiring Success 18 Europe fast approaches, we bring you the people who are disrupting Talent Acquisition with tough questions and thought-provoking commentary.
Whether it's psychology, technology, social justice, or simply the bottom line – there is no singular path that leads a person to a life in TA. However, there is a common question: How can we make work better for everyone?
This inquiry is what drives the practitioners you will see at Hiring Success 18 EU in Berlin September 19th-20th, and it's what drives us at SmartRecruiters to bring the HR and recruiting community together for two days of seminars, demos, and networking on the scenic banks of the river Spree.
"This is a new era for recruiting," says SmartRecruiters CEO and founder Jerome Ternynck. "Businesses recognize that their Talent Acquisition function is the competitive edge they need to succeed. Hiring Success is here to bring practitioners out of their silos and connect them with the latest in technology, best practice, and strategy."
So let's meet some of the changemakers!
Bill Boorman – Tru Events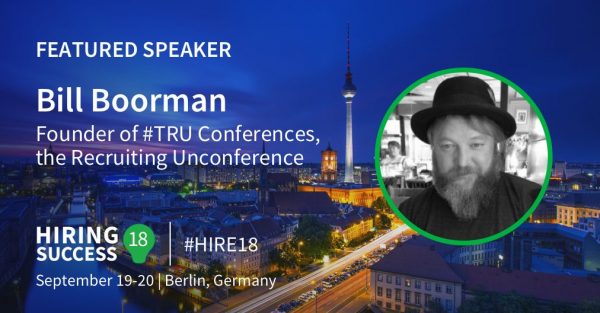 Recruiting's "man in the hat," Bill Boorman is the harbinger of new tech and the creator of recruiting's merriest meetup, known as #TRU un-conferences. He's hosted 100 events in 65 countries and five continents over the last 12 months. As he zigzags the map, he's learning about the latest in grassroots TA – and he's ready to share! Meet Bill on the Innovation track as he hosts Battle of the Bots, a live showdown of recruiting chatbots where the audience asks the questions.
To learn more about Bill and why he was dressed as Father Christmas the first time we met, click here!
Jeri Doris – Delivery Hero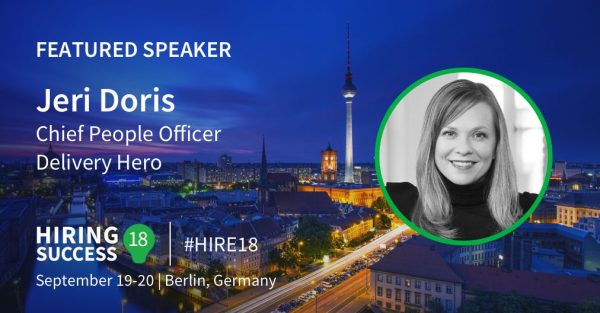 From Silicon Valley to Berlin, Jeri Doris, Chief of People for Delivery Hero, is always thinking about company vibes, like what makes an organization a great place to work, or how can a great employee experience happen at scale? Jeri joins us on the Hiring Success track with the session What Hyper Growth Look Like. A rare peek into a business phenomenon that few people ever get to experience, this TA vet will take us through the systems she used to stay on top of the company's exponential expansion without sacrificing quality or culture.
Noor van Boven – N26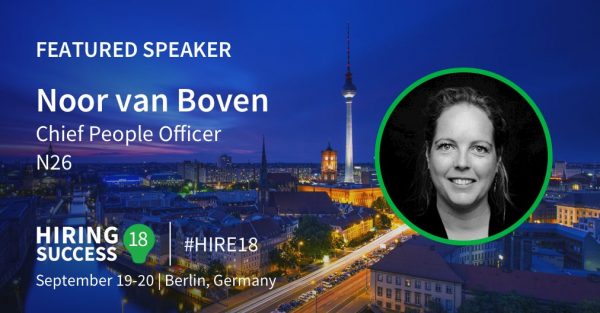 With 15 years of international HumanResources experience, Noor van Boven focuses on building, scaling and transforming companies into successful enterprises. Noor is the Chief People Officer at N26, where she is responsible for building the organization while maintaining a high employee experience and guiding the company through hyper-growth in a healthy way. Her session, What Hyper Growth Looks Like, will explore the instigators for exponential growth, and address key rules and processes needed to scale operations.
Before joining N26, Noor was the VP People at SoundCloud and led the Recruiting, Talent, and Organizational Development initiatives at TomTom worldwide. Her passion for travel, coupled with work opportunities from respected international employers, has allowed Noor to live across the globe, including New York, India, and Germany.
Joanne Lockwood – SEE Change Happen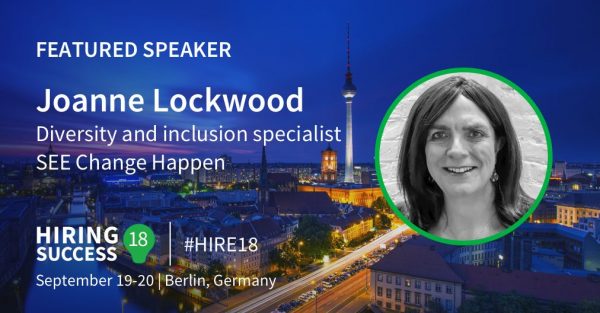 In 2016 Joanne embarked on her personal rebrand, which included selling her IT services company and transitioning to her true gender identity. In the wake of this decision, she discovered the hidden obstacles that many trans candidates face when they search for the right employment opportunity.
In response to her experience as an applicant, Joanne founded SEE Change Happen, a diversity and inclusion practice specializing in supporting Transgender inclusion to businesses and other organizations. She joins us for the Inclusion track for the session A Path to Gender Parity, a candidate discussion of the subtle obstacles that undermine women in the workplace.
Hilary Klassen – Career Ari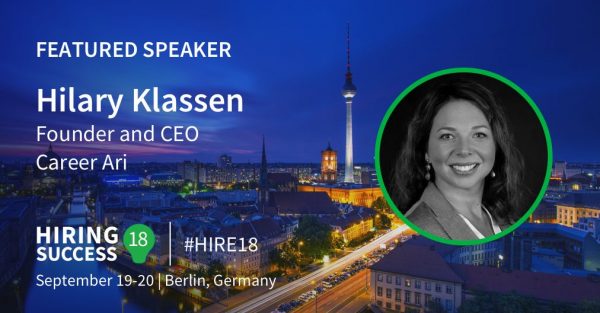 As an HR leader with a decade of experience, Hilary Klassen, the founder of Career Ari, was constantly approached for career advice. So often, in fact, that it became a pattern. Klassen realized that even successful employees at companies that provide career counseling wanted a personal and professional opinion from a third party. "There has to be a way to scale this," she thought, and that's how the idea for the first-ever automated career brand coach came to be.  
Hillary joins us on the Hiring Success track for Internal Career Pathing, where she will discuss how to make lateral and upward mobility a frequent occurrence in your business.
Sergej Zimpel – ProSiebenSat.1 Media SE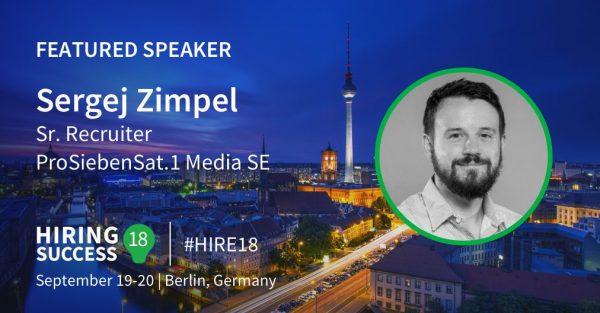 To Sergej Zimpel, Senior Recruiter for ProSiebenSat.1 Media SE and Co-Founder of the HR organization Purple Squirrel Society, buzzwords like "candidate experience" actually mean something. A psychologist by schooling, the ever-evolving world of HR will never cease to fascinate this TA practitioner. Sergej will join us on the Inclusion track for a deep dive into The Art of Community Building, and a step by step guide of how.
Manjuri Sinha – Zalando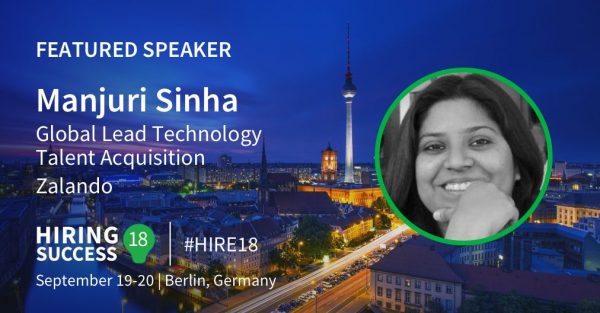 Manjuri Sinha leads the technology talent acquisition team for Europe's ecommerce giant, Zalando. Prior to this, she was lead HR business partner for technology at Accenture. In addition to her professional career, she is also a speaker, mentor, and blogger. For her session at Hiring Success, Manjuri will speak about how to fix problems within organizations "in the battlefield", offering practical advice on course correction that is invaluable to even the most veteran recruiters.
Chris Raw – Zalando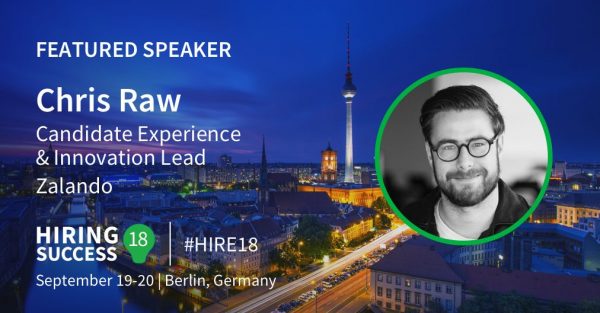 As candidate experience and innovation lead for one of the fastest growing ecommerce sites in Europe, Chris has helped Zalando through a hypergrowth of hiring in the past three years. His whirlwind tenure at Zalando has forced him to get creative, moving faster than the fashion cycle to get the right talent on board at the right time. This recruiter comes on board for the Innovation track to talk Course Correction in the Battlefield.
Juliane Stiller – Humboldt University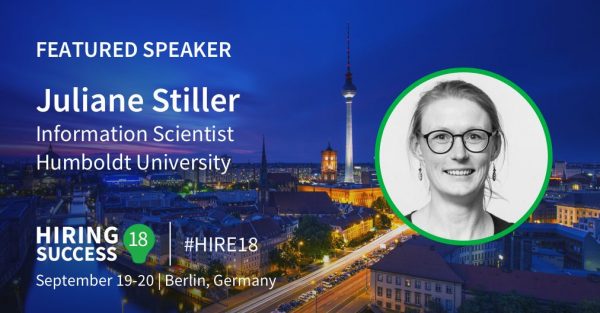 As an informational scientist for Humboldt University in Berlin, Juliane Stiller is in the business of finding, assessing, and applying critical information to the education and work industries. In essence, she looks at how we can take what we know and apply it to real-world scenarios to get a better result. In this case, Julie helps us take on the scenario Have You Hired a Refugee in the conference's Inclusion track so all recruiters and TA leaders can learn how to help support this rich source of talent.
Robindro Ullah –  Deutsche Bahn Fernverkehr AG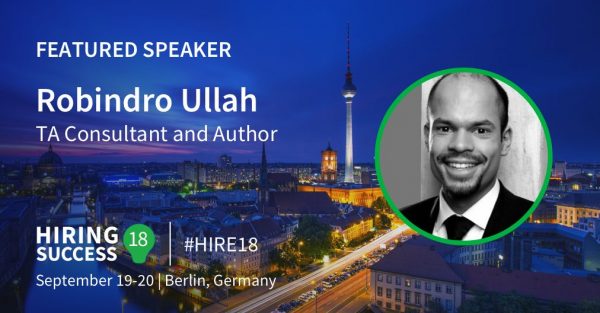 Robindro broke into the Human Resources field in 2005 as a trainee at Deutsche Bahn Fernverkehr AG. Over the next few years he pushed for more social media coverage of talent acquisition at DB, which brought his passion for HR Marketing and Recruiting into focus. Most recently, he served as Head of Employer Branding and HR Communication at VOITH GmbH and oversaw global recruitment. Robindro rounds out his professional profile as an author, blogger, and speaker in the German HR scene. His session talk will look at creative ways to combine recruiting strategies with marketing and social media best practices to amplify TA efforts.
Natalie Mellin – Mellin Consulting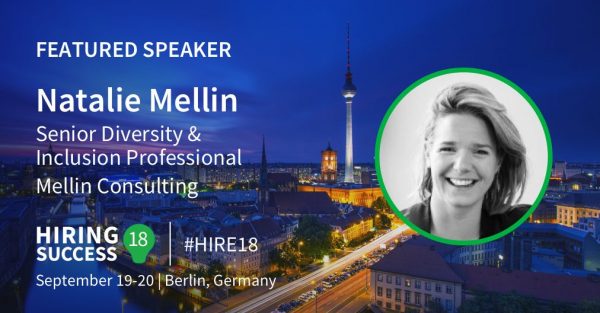 Strategic and hands-on. That's how we would describe Natalie Mellin, a globetrotting diversity and inclusion specialist, and founder of Mellin Consulting, a consultancy that advises global companies how to convert well wishes to real programs. Behavioral economy is her game, and if you are fuzzy on what that means then your attendance at the Path to Gender Parity session is mandatory. As part of our Inclusion track, this panel will delve into femme experiences of the workplace in the wake of movements like #metoo.
Tracey Allison – Avery Dennison Co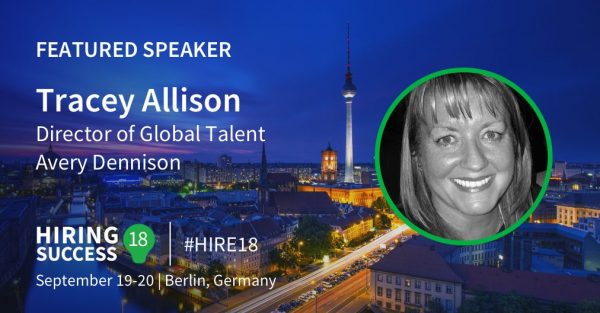 Tracey Allison began her career in recruitment in 1990, and has built a reputation as an HR leader throughout the EMEA region and beyond. She is the Director of Global Talent at Avery Dennison Corporation, where she oversees Talent Acquisition teams covering all of EMEA, as well as head up the leadership program for the largest business division of Avery Dennison. Prior to joining Avery Dennison, Tracey worked at major tech and telecom firms, including Microsoft and Vodafone.
Tracey's session will focus on the fundamental skills that elevate recruiters to "rock star" level, and share insights that only a Hiring Success veteran and a self-made, global TA leader with decades of experience can offer.