A brief recap of the closing day of SmartRecruiters' 2019 European conference for talent acquisition professionals.
The enthusiasm and momentum from day one at Hiring Success carried over to Wednesday morning virtually uninterrupted. Shortly after 8 a.m., the Compagnietheater was once again brimming with conference-goers. The crowd chattered excitedly, their optimism buoyed by the scent of freshly-brewed coffee in the air and the resonating sound of the theme from Mission Impossible, provided by a trio of string musicians in the foyer. It was an auspicious beginning to the day, indeed.
The chorus of voices in the lobby turned to whispers, then gave way to silence as the attendees filed into the venue halls for the morning sessions. The lectures held throughout the day proved to be equally engaging as Tuesday's, ending the conference on a high note. Here's a glimpse at some memorable moments from the final day of Hiring Success EU 2019.
Best of Breed Innovation
SmartRecruiters' Head of Product Management, Natalia Baryshnikova, commenced Wednesday's activities by presenting on the ways that technology enables Hiring Success—particularly compelling candidate and user experiences.
Before unpacking her ideas, Baryshnikova took the opportunity to share an anecdote about the Dutch Impressionist painter Vincent Van Gogh, an apropos reference given the conference's location. In his prime, Van Gogh produced four paintings per week. His productivity, she noted, was marked by regularity and consistency.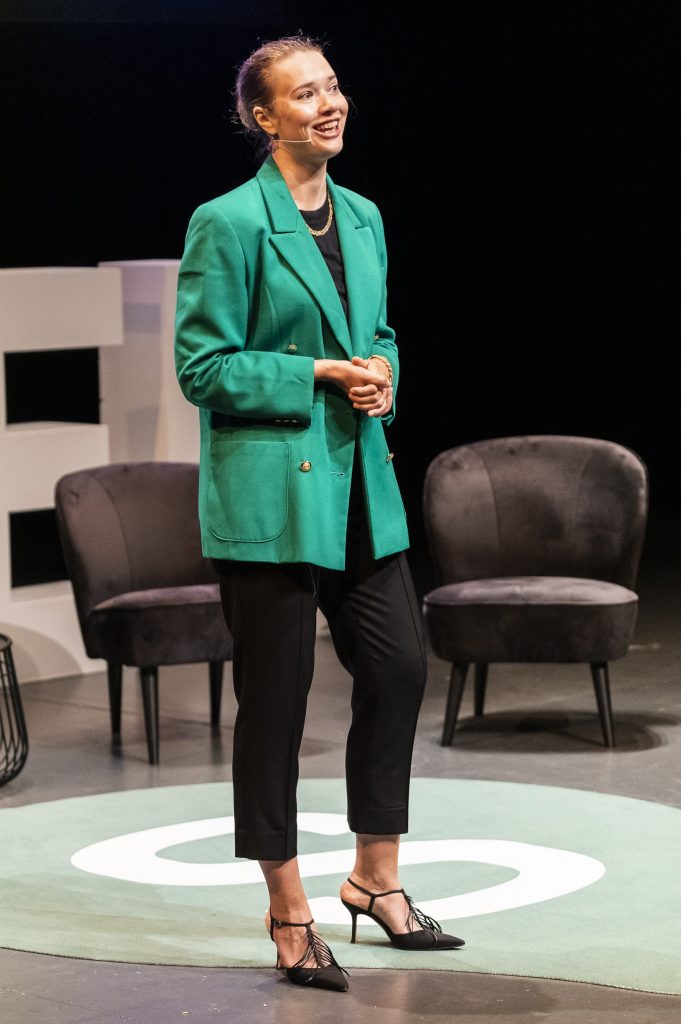 What does that have to do with SmartRecruiters or Baryshnikova? Regular and consistent productivity are instrumental in her approach to product development. Baryshnikova's team strives to release around five product updates every week. This allows for a product that's agile and can quickly adapt to the needs of both customers and candidates, thus providing compelling experiences.
To illustrate her point, Baryshnikova, with the help of colleagues Kelly Fang and Rafal Szczepanski, demoed two upcoming product feature updates:
The addition of multi-language, automated and integrated SMS communication with candidates
The ability for users to forward CVs from their email accounts directly to their SmartRecruiters accounts
These innovations may not be Van Gogh masterpieces, but they're essential in the ongoing process of creating an ATS that doesn't just help people with their hiring needs, but to achieve Hiring Success.
Become an Inclusive Leader
What does an Aikido master, who also happens to be the first ordained meditation master of African-American descent, and is now an advisor to Fortune 50 CEOs have to share? Albeit a rhetorical question, Dr. Steven Jones walked the audience through a captivating session on inclusive leadership, with simple and live exercises that showed how different perspectives, when managed well, yield stronger results.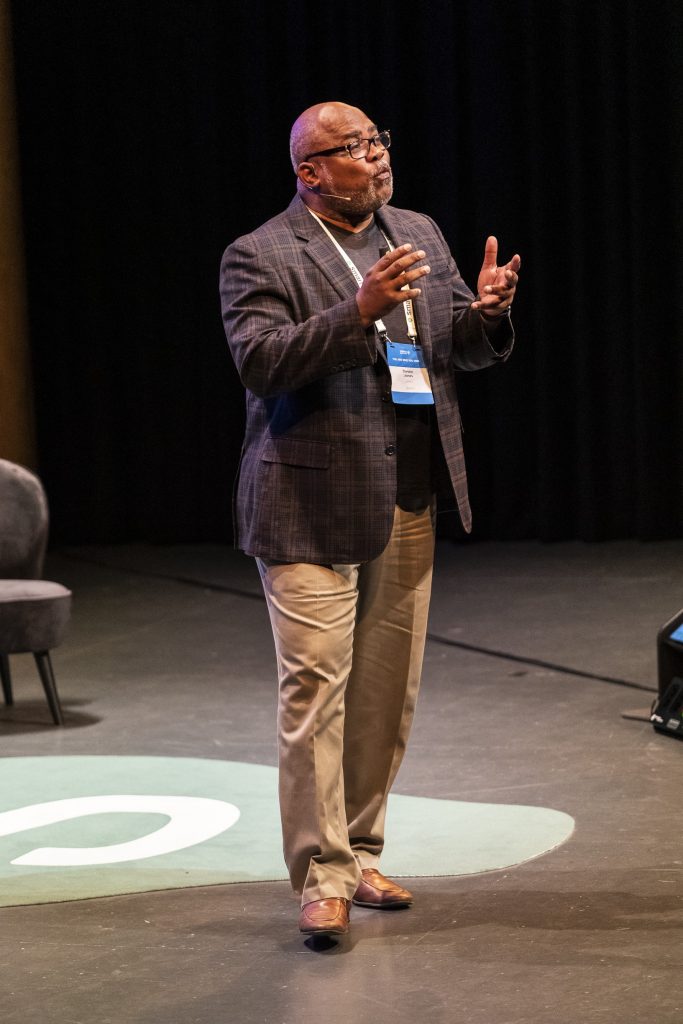 We learned that the human brain isn't wired to see things as they are; we see things as we are. Similarity signifies safety, and as such we naturally gravitate towards perceptions and concepts that we've grown accustomed to. Jones encourages us to constantly remind ourselves to see things from others' perspectives.
"Diversity is about counting heads, inclusion is about making heads count."

Dr. Steven Jones
So on the conference themes of Innovation and Inclusion, approaching work (and relationships in general) with a truly open and inclusive mindset builds trust. This ultimately drives productivity and performance. As Jones thoughtfully put it, "Diversity is about counting heads, inclusion is about making heads count."
Reflecting on Freedom
The final keynote speech for Hiring Success EU 2019 was delivered by Khalil Osiris, a speaker, educator, and activist. Osiris, a one time member of the Black Panther Party for Self-Defense, found himself locked into America's criminal justice system at the age of 17 and wasn't paroled until his 40s.
While in prison, Osiris corresponded through letters with one of Nelson Mandela's daughters. He found liberation through these missives, as well as intense self-reflection. After leaving prison, he began to volunteer for a civil rights organization where he mentored children of incarcerated parents. Soon thereafter he co-authored a book on the psychological experience of inmates, which became a college course, as well as a DVD series.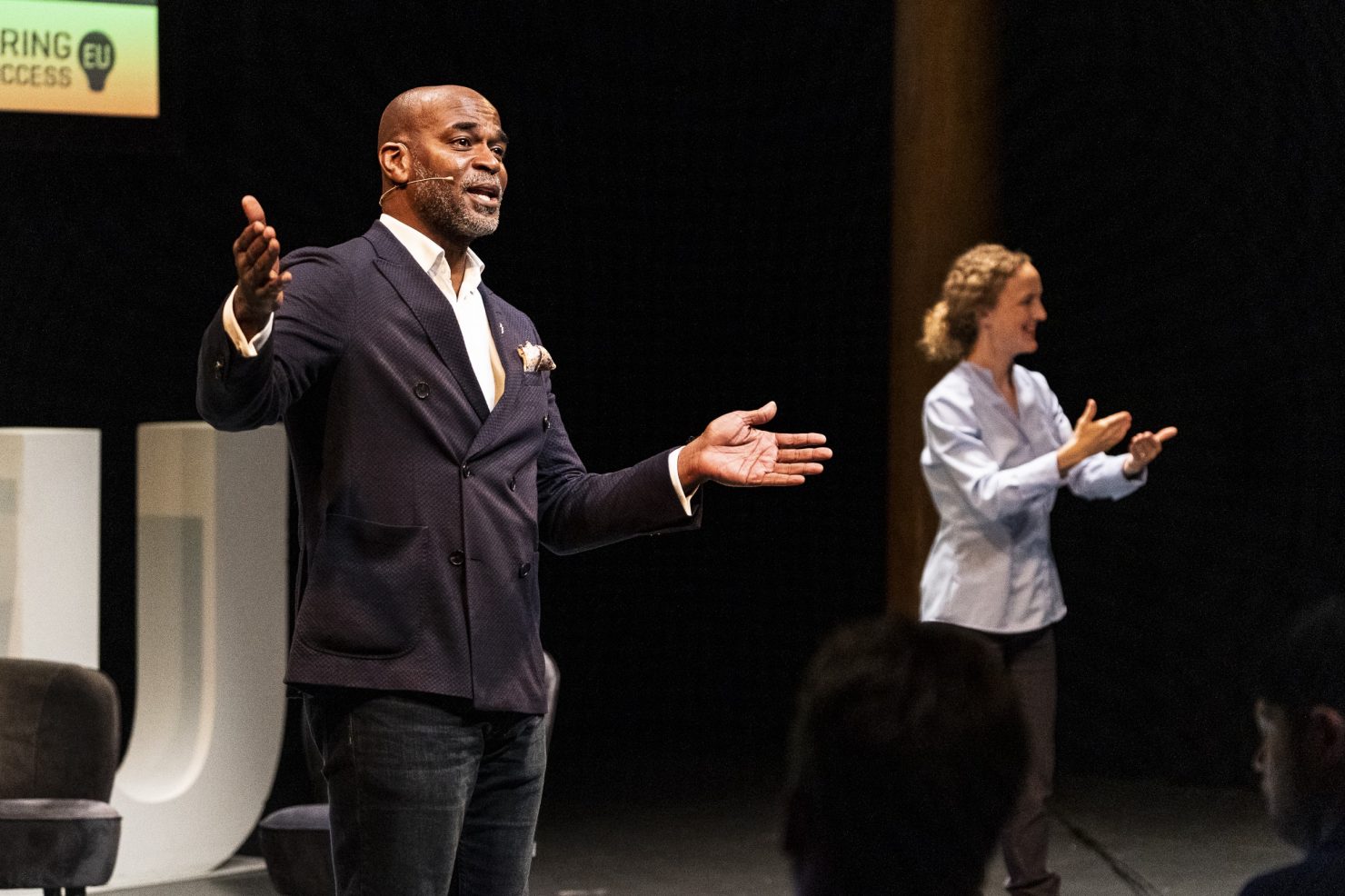 Osiris continues to work as an advocate for those from backgrounds similar to his, and works with them to find inner peace and mental freedom before becoming physically incarcerated. His story is an admirable example of the perseverance of the human spirit and the importance of devoting one's self to purposeful work—whether in the office or the world at large.
The above mentioned sessions only represent the tip of the iceberg that was Hiring Success EU 2019. We would like to thank all of the amazing speakers at this year's event, the entire SmartRecruiters team, the staff at Compagnietheater, and all of our sponsors: