After the whirlwind that was our first European Hiring Success Conference, let's take some time to smell the proverbial roses.
When you left your hotel to join us for the second day of #HIRE18 EU did you think that in a few hours you would be part of a band of 300 people, playing maracas? Likely, not. Yet, at 2 p.m. there you were – holding a shaker that looked like an apple, holding down the rhythm you'd learned only moments before, and killing it!
When an industry comes together in person, amazing things can happen. We learn, solve problems, push our comfort zones, and maybe even discover hidden musical talents, but it's kind of a blur by the end. That's why today, as we all journey back to our day-to-day grind we wanted to remind you of four moments, that challenged, surprised, delighted, and inspired!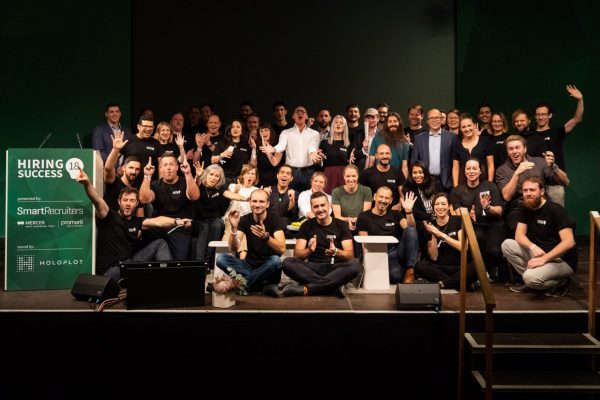 When we learned two strategies for defeating our unconscious biases.
Diversity and inclusion specialists Natalie Mellin and Joanne Lockwood turned a figurative mirror on the audience in a session entitled "A Path to Gender Parity," asking everyone to think about how our inherent prejudice affects how we approach people and situations at work.
"If you think about it, 99.96 percent of our decision-making process is unconscious," says Mellin. "Yes," Lockwood agrees. "It's a very reptilian part of our brain."
But we aren't without hope, two strategies these experts recommend can help you bring your unconscious decision-making process into the light. The first is to flip the situation. If you are having a negative reaction to someone, ask yourself: "Would I feel this way if this person was a different gender, or a different age etc?". The second is to move slow. Take the time to write down three reasons every time you make a personal decision (good or bad), if you can't think of three, that choice is probably a result of unconscious bias.
Equality isn't treating everyone the same. It's giving everyone the tools they need to succeed. Amazing stuff #hire18 pic.twitter.com/aCZyr16sQW

— Kasia Borowicz (@kmborowicz) September 20, 2018
When recruiters hacked Tinder to find programmers.
In Germany they like to call it "convincing existing algorithms," but for the rest of the world, it's known simply as hacking. Recruiting maverick, Robindro Ullah recounts how his team banded together to reverse engineer the algorithm of tinder to fill programming positions. What they found was that the dating app connected to Facebook to glean interests and surface dating matches, so they began building the perfect profile to find the candidates they were after. The cherry? A picture of Ada Lovelace, the mother of programming, as the profile pic. The one question this author has about the experiment is, was the search confined to men seeking women?
Painiting of Ada Lovelace as a recruiting tool? This and other crazy ideas presented by @Robindro #HIRE18 pic.twitter.com/5c66BG7gyU

— Piotr Podolski (@pyortp) September 19, 2018
When we discovered what it means to listen by making music.
M. Baha, a professional percussionist and founder of Solution Folder lead the entire contingency of the Hiring Success Conference in an unexpected journey to inclusion and empathy through music. This instrumental jam session began with the dissemination of shakers, bells, rhythm sticks, and drums until everyone in the audience had a noisemaker of some kind. Instruments in hand, Baha lead the group in layered rhythms that helped each person actively listen. The result? A bonding experience and a lesson in vulnerability.
Explain this without context! #hire18 pic.twitter.com/fSMotlMvjN

— Falko Pleß (@f_pless) September 20, 2018
When we heard first-hand the struggle to find employment as a refugee.
When Nebras Khiata was forced to flee his home and job in Aleppo, he struggled to find a job in Germany despite his advanced degree in finance, years of experience, and command of English. Even international companies required German applications and cover letters, and government job placement programs pushed him towards employment outside his sector – as a postman or security guard.
Khiata eventually found work in his field, as an analyst for Deutsche Bank, but it took years. Now his employer, and other major companies are initiating programs to help refugees, like him, find a place in the labor market – faster – through mentorship that demystifies the unique employment culture of Germany.
Through copious data collection and analysis from experts at Humboldt University a surprising fact emerges: opportunities do exist for refugees, but they are often hard to find. One of the best things an employer can do is to make their applications mobile-friendly, and do away with cover letters and/or accept cover letters in English.
Personal, #HiringSuccess story of the syrian refugee. Great insight into struggles of refugees #HIRE18 pic.twitter.com/iPyB6q0XWr

— Piotr Podolski (@pyortp) September 19, 2018
When Enboarder took the trophy for the Recruiting Startup Awards
One-hundred companies joined the recruiting startup award in hopes of taking home the grand prize of 9,000 euros in media-spend, including a gold sponsorship to the next Hiring Success Conference and an article from Business Insider. From the many, five emerged as the top finalists who, propelled by the voting support of their networks, came to pitch it out live at Hiring Success 18 EU – Berlin Edition.
Enboarder distinguished itself as the only onboarding solution among the pack. This workflow management tool helps companies introduce new employees into their work culture and practices, and alerts department heads to potential flight risks. The user-friendly UX, and customized notification system, where you get to choose the medium of message delivery text/email/slack, make enboarder a true delight.
Check out Enboarder in the SmartRecruiters marketplace.
We were at @SmartRecruiters #HIRE18 and pitched as a finalist for the Recruiting Startup Award…and we won! Awesome work, Steve!
Watch our pitch here: https://t.co/CN9uAnBGVU (it starts at the 31:04 mark). pic.twitter.com/S8DFFYPdin

— Enboarder (@Enboarder) September 21, 2018