Being named a Strategic Leader in the 2022 Fosway 9-Grid™ for Talent Acquisition for the second year in a row means a LOT!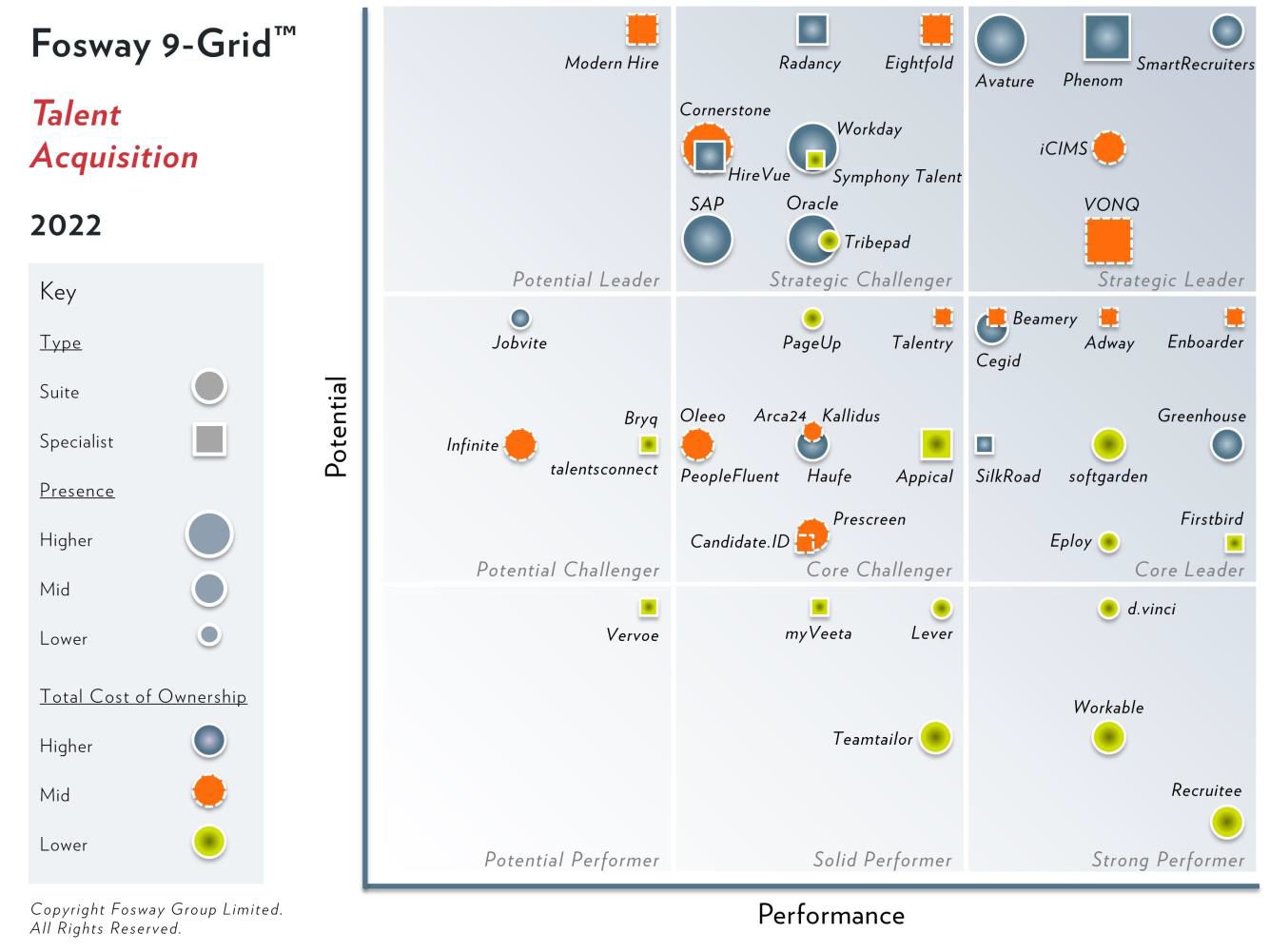 It means we're helping TA leaders successfully evolve and scale their talent functions.
It means our customers are successfully hiring the talent they need using our software.
It means more companies are on the journey to Hiring Success. 
It means great satisfaction for SmartRecruiters employees who are hyper-focused on customer success.
Why It Matters
It's no secret that recruiting has never been more difficult. Recruiters are overworked. It's taking longer to hire. Budgets are stretched. The pandemic has changed the candidate landscape. This is keeping leaders up at night wondering how they will fill crucial roles. 
We also know that recruiting has never been more important. The ability to hire is the biggest challenge most leaders face in growing their business.  It's imperative for companies to attract⁠—and win⁠—the best talent, and fast!  
Because of this pressure, companies are re-evaluating their tech stack and recognizing how critical it is to evolving and scaling their TA functions. As companies level up talent acquisition, they want to partner with a technology provider that helps them improve hiring outcomes. Fosway's report gives customers confidence in their choice of a vendor because they trust the company's rigorous independent research. It provides transparency into the performance, potential, presence, and cost of different providers.
Why SmartRecruiters?
In 2021, we zeroed in on recruitment marketing because we understand how it's SO CRUCIAL it is for achieving Hiring Success. We invested in SmartJobs for next-generation programmatic job advertising, and we added Attrax – known for award-winning career sites – to the SmartRecruiters portfolio. And we added more than 150 additional features and capabilities to our suite.
We continue to lead the industry in data security, privacy, and global compliance, with a growing list of internationally recognized security and privacy standards. We recently earned SOC 2 Type II Certification with a distinguished clean audit, adding that to the list of ISO 27001, GDPR, and CCPA. And we went multi-cloud – with our suite now available on Amazon Web Services and Google Cloud Platform. 
Our ecosystem grew to over 650 partners. This doesn't just make it easier and faster for our customers to build out the tech stack they need, but they also benefit from enhanced innovation driven by our partners.
As for customers, we added 300 new enterprises. And in total, our customer base has been able to accelerate hiring by nearly 400% in one year.
What's Next?
Here at SmartRecruiters, we are relentless about exceeding customer expectations and leading the industry. We will continue to innovate, expand our platform and capabilities globally, and scale our team to deliver world-class customer success. 
As companies work to solve hiring, those best prepared for the future will be those who embrace modern talent acquisition technology.
We continue to believe the winners in this talent market will be those who evolve their talent teams and embrace modern talent acquisition solutions, like SmartRecruiters. 
Want to see SmartRecruiters' talent acquisition suite for yourself? Click here to begin your journey towards Hiring Success.