A recap of the final day at Hiring Success 20 in San Francisco! The best-in-breed conference for all topics and products talent acquisition and Hiring Success.
If you thought day one was full of energy then day two was out of this world. The excitement from day one was brought back with vim and vigor as attendees gathered in to further the discussions and networking they had set in motion on Tuesday.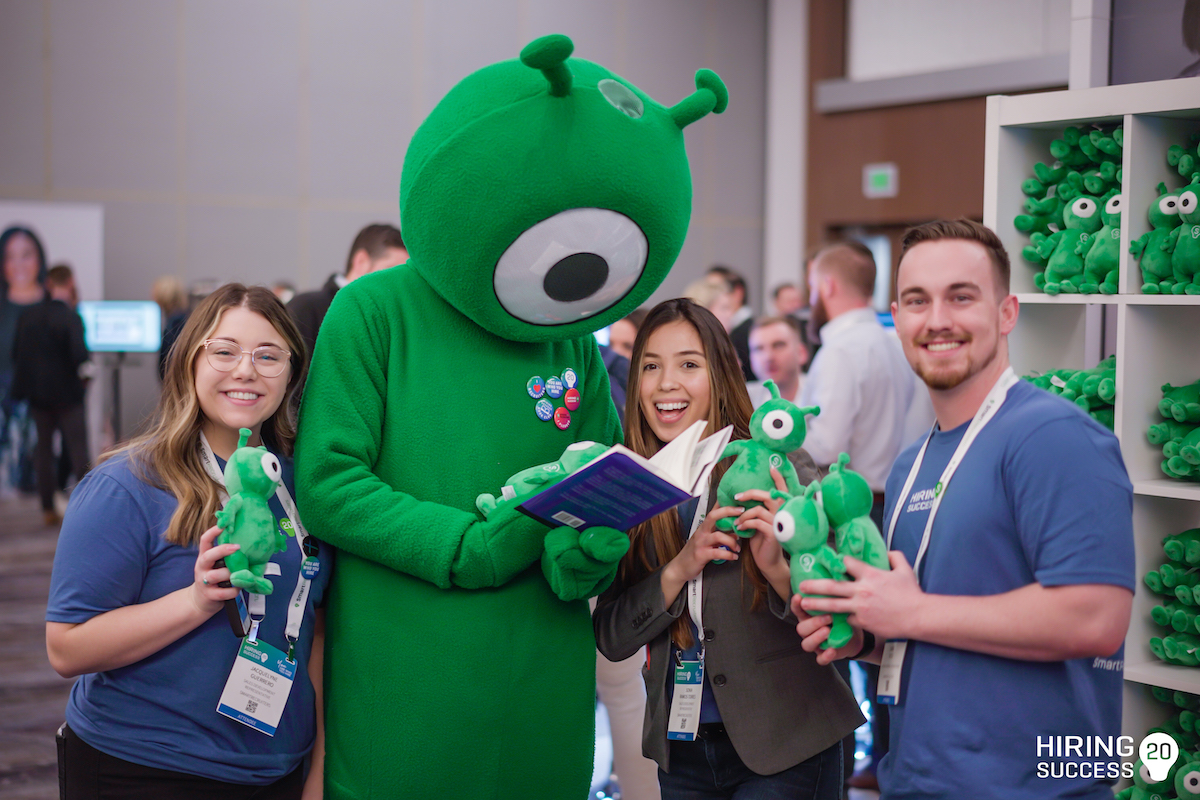 Sipping coffees and eating artisanal scones, attendees made their way into the conference hall adorned in blue and green lights. Charlie Nelson and Sarah Wilson kicked things off as the MCs for the day's opening session. The 'Donny & Marie' of Hiring Success shared a few jokes and introduced SmartRecruiters' new CTO, Alesia Braga, to the stage.
Alesia recapped the accomplishments of our technology and product developments for the past fiscal year and then presented the host of the Product Keynote, Natalia Baryshnikova, SmartRecruiters' Head of Product.
Product Keynote
Natalia expertly detailed the anticipated launch of SmartMessage, later in 2020. SmartMessage will be SmartRecruiters' natively built SMS platform for instant candidate conversation between recruiting teams and job seekers. It can be enabled through Messages and WhatsApp, allowing recruiters to reduce the chances of interview ghosting by sending real-time notifications straight to candidates' phones.
Then came the centerpiece of the product announcements – SmartX. Noticeably, the SmartX logo featured the colors of purple and gold, not the characteristic blue and green corporate hues of SmartRecruiters. Natalia, an avid basketball fan, had orchestrated the design touch to the recent, tragic passing of Kobe Bryant and his daughter Gianna Bryant; the moment was heralded with applause from the audience.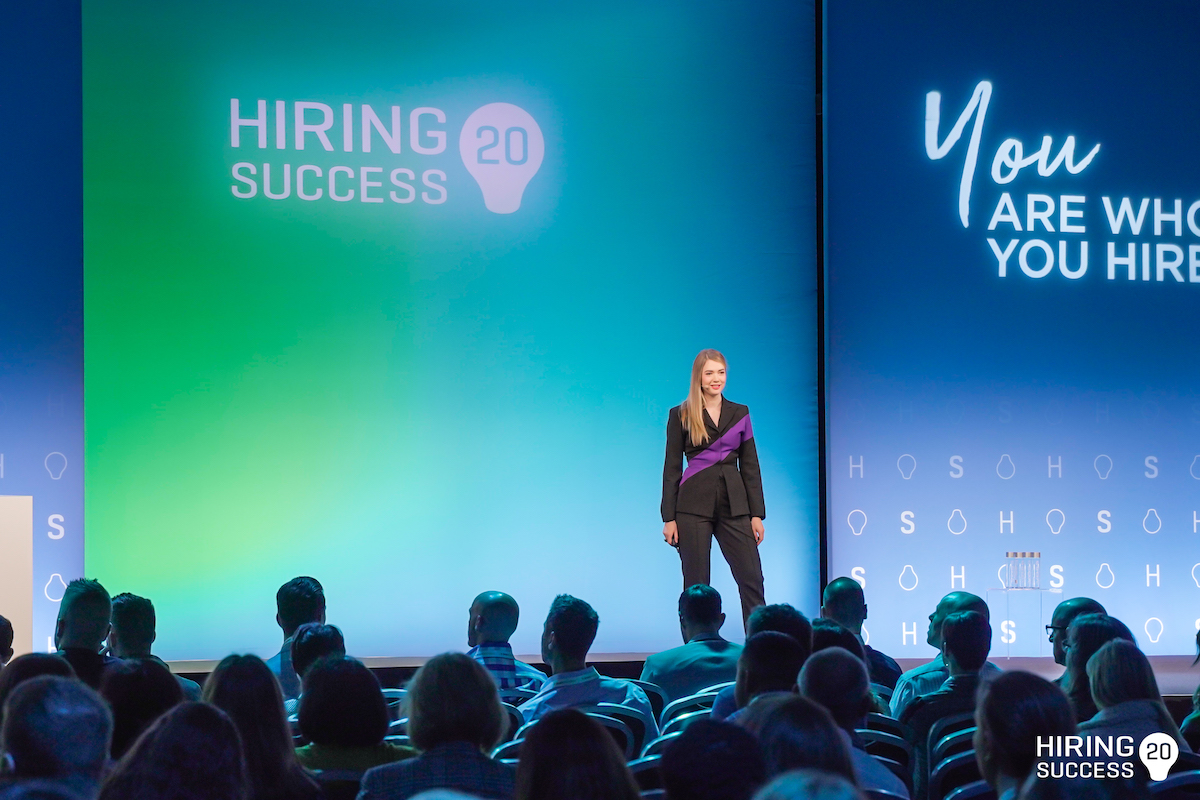 SmartX represents the building of the ultimate platform for the collaboration of recruiting, devised from the analytic insights of over 500,000 hiring scenarios. It will be a revolutionary platform that has a specialized dashboard for each member of your hiring team, including one for your head of TA! The overall dashboard will provide a great snapshot of your strategic metrics, such as Net Hiring Score and the percentage of roles filled on time.
There will also be customized hiring process dashboards for each hiring team member, displaying data and information that is related to your role in hiring. For recruiters, there will be a bounty of new features to utilize: such as the recently released mass self-scheduling, which you will be able to use in concert with SmartMessage. After a few rounds of recruiting, the dashboard will spot your pattern and suggest creating a recipe for your hiring process, which you can customize at your discretion. With SmartX, the experience of hiring will become a more collaborative and efficient endeavor.
…And since we know you will be successfully hiring more top-tier candidates with SmartX, it will be vital to onboard those candidates in an equally efficacious manner. Enter SmartOnboard. With a launch date at this time next year during Hiring Success, SmartRecruiters' native onboarding platform will provide multiple touchpoints to eliminate the ever-present phenomenon of 'first day ghosting.'
To wrap up the product keynote, Alesia came back on the stage to announce another pivotal development for SmartRecruiters during this fiscal year: the launch of our international data center based in Ohio! With our continued investments in the security and compliance framework of our data infrastructure, physical and technological, our customers and users can continue to place their trust in SmartRecruiters.
As Alesia noted, "insights are the new oil," and SmartRecruiters product and technology platforms will continue to evolve and improve based on the ingenuity and innovation of our teams and the feedback of our users, as evidenced by the 200 features shipped in past year, 145 of which were requested by users!
The Future of Work
Gary Bolles, the wearer of a trio-and-more of hats, including the creator of the Singularity University and the chair for the Future of Work, embarked on an educational odyssey into the evolution, present and coming modes of employment. Bolles described the three traditional pegs of work – 1) problems to be solved, 2) sets of tasks, and 3) human skills applied to those tasks to solve those problems – have become constrained and transformed by modern business processes and technologies.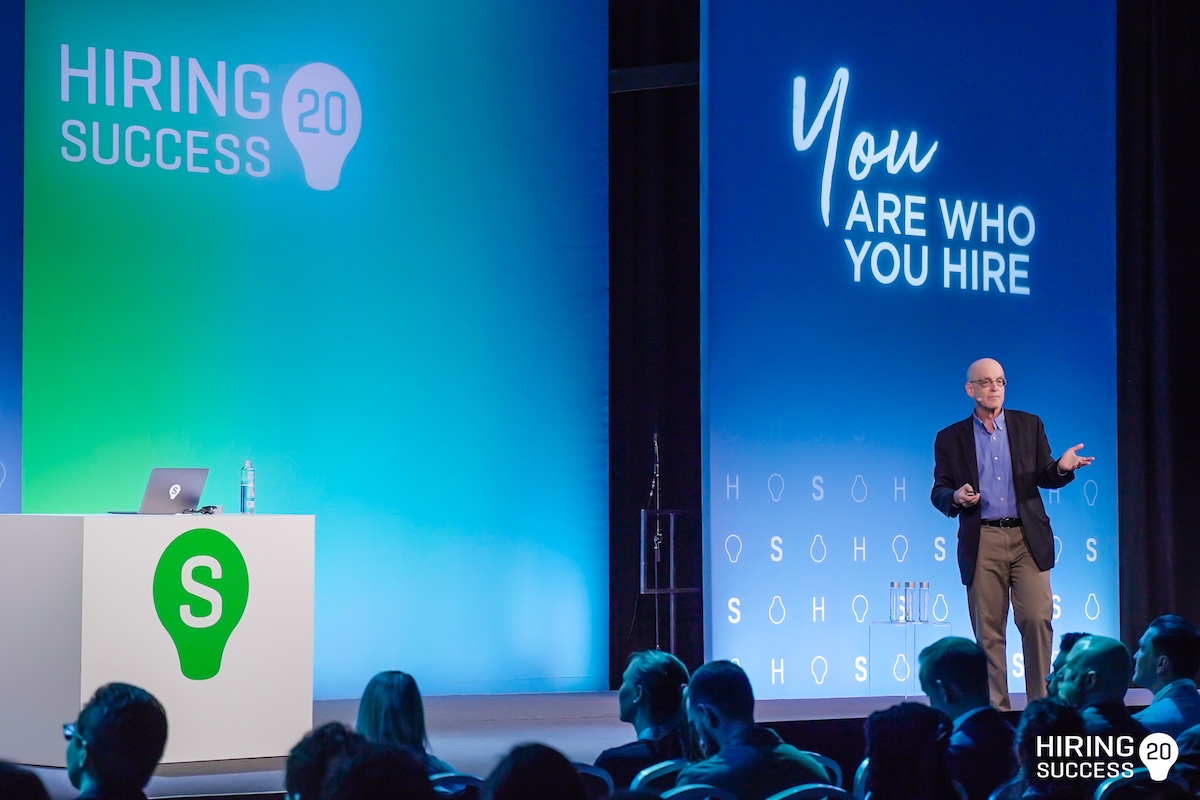 In the modern world, where more and more workers delve into a weekly portfolio of work, as opposed to the 9-to-5 office life of previous generations, it is imperative for companies to devise 'generative career design,' enabling problem-solving-centric job roles and functions, through which workers will be able to simultaneously advance their careers and earnings while accomplishing objectives and performing tasks that they love and help confront the common challenges facing the world.
How to Become the World's Best Workplace
At the Green Stage, MC'd by Matt Charney, attendees were able to listen to the wise teachings of Macy Andrews, the Head of Global Employer Brand and University Recruiting at Cisco.
Macy detailed how she led the climb of Cisco to being voted as the #1 workplace by Great Place to Work's preeminent World's Best Workplaces report in 2019. The core centerpiece of her change initiatives was powered by Cisco's People Deal, which was designed to be a new employee value proposition equating to: What We offer + What We Expect In Return = People Deal. From this new deal, Macy and her team implemented the tenets of 'Connect Everything, Innovate Everywhere, Benefit Everyone.'
In practical terms, this meant:
Giving everyone at Cisco their birthday off, without having to use a PTO day.
Scrapping their old performance review management processes and moving to a human-centered approach that emphasized personal experience between manager and employees over process.
PC Refresh 'Refresh,' with which they were able to reduce the productivity downtime of upgrading to new computers every three years from an application form of 26 clicks to 3 clicks and two weeks of learning to only two days!
In summation, Macy emphasized that to shift a workplace environment in a wholesale fashion, workplace leaders need to fully embrace universal changes that can improve the work experiences of all team members!

San Francisco Mayor London Breed's Address
The penultimate session of Hiring Success '20 was the much-anticipated address from London Breed, the mayor of San Francisco. Prior to the Reverse Recruiting event, Breed spoke eloquently on the topic of hiring as it relates to social justice.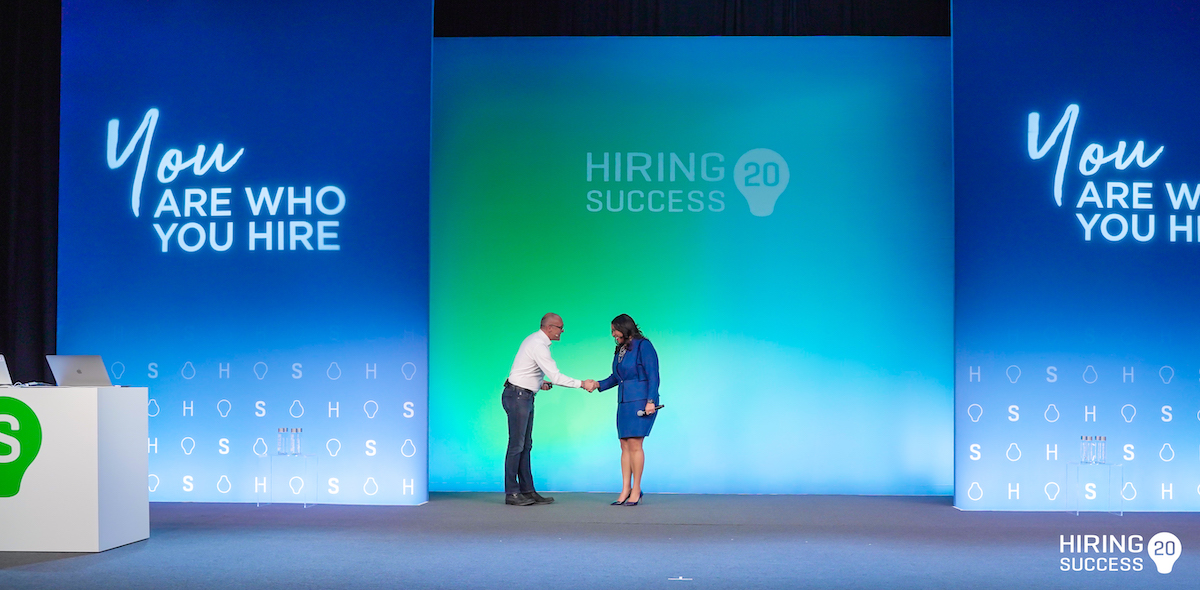 Breed expressed her excitement about SmartRecruiters' Reverse Recruiting initiative and the potential it has to improve the connection between employers and communities that are sometimes left out of the conversation. Pointing to our diversities as to what makes us unique, strong employees, she encouraged the audience to change the world for the better by opening our companies' minds and doors to give everybody the opportunities they merit.
"I'm only mayor because someone gave me an opportunity," said the mayor. Fitting words for the theme of her address and the conference as a whole.
Bringing the session to a close, Jerome left us with these sagacious words, "Open your heart, and remember who we hire defines the world we live in."
Reverse Recruiting
Hiring Success '20 closed on an inspiring note with a Reverse Recruiting session— a core component of SmartRecruiters' conferences where recruiters are paired en masse with job seekers that have had difficulty finding work to strengthen their resumes, conduct mock interviews, and develop skills and strategies helpful in finding employment. Among these candidates are immigrants, veterans, formerly incarcerated individuals, individuals with disabilities, parents and caregivers returning to work, and seniors.
This year's session was particularly noteworthy given the aforementioned attendance of Mayor London Breed. In the summer of 2019, Breed's administration launched the Opportunities for All initiative with the mission "to connect young people of all backgrounds to paid employment, job training, and mentorship opportunities."
Her dedication to providing San Francisco residents with a clear path to employment not only makes her an excellent addition to the Hiring Success conference, but a welcome ally to SmartRecruiters' Reverse Recruiting initiative, which seeks to "connect overlooked candidates to jobs at scale."
Conclusion:
It's not possible to convey the excitement, insight, and transformative power of Hiring Success in a mere article, as Hiring Success is truly an immersive experience. From the bottom of our hearts we would like to thank all of the truly inspiring speakers that took the stage this year, the whole SmartRecruiters family, the Marriott Marquis and their staff, as well as our amazing sponsors. Thank you all, and we can't wait to see you again next year!