This year at Hiring Success 18 March 12-14 in San Francisco we bring you speakers and sessions that help you break down your loftiest goal into actionable steps.
Learn branding from the global trendsetters at Adidas, take on gender inequality with the founder of the SheWorx, learn to predict the quality of your hire before you make an offer, or find out how Facebook Jobs has affected recruiting from the product manager himself, Gaurav Dosi.
If you need a break after all that serious talk, kick back and watch the latest chatbots battle to be the ultimate customer service provider but don't totally power down because you never know when you'll be called upon to participate in quizzing the bots!
Be inspired by the people who aren't scared of big ideas and register here to see them in person!
Adidas' Storylines, Campaigns, and Brand.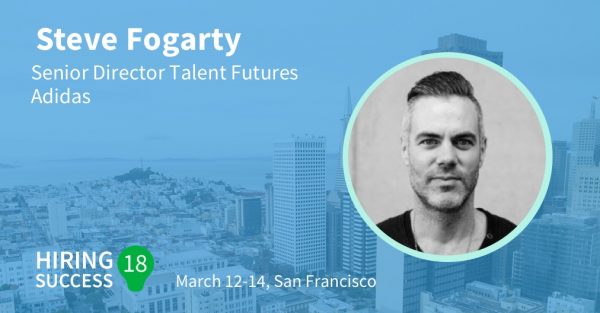 #candidateexperience
Steve Fogarty, Sr. Director of Talent Futures, Adidas.
Get behind the brand of Adidas, the second largest sportswear manufacturer in the world, to learn how they create effective storylines to build their campaigns.
Steve says his department is "driven by a constant desire for innovation and its belief that anybody can and should be 'a creator'"… From marketing to design, merchandising to logistics, Adidas empowers its employees to approach tasks and business goals without preconceived ideas on how they should be executed."
Starting from a belief and working backwards Steve and his team began telling a new story about the possibilities of their brand.
He shares with us the transformation of the Adidas' employee culture since and how that translates to the real-time work of constructing storylines, building brand, and tracking campaigns.
Hello Facebook Jobs!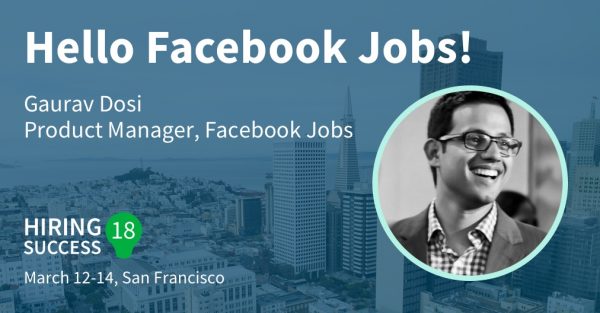 #Candidateexperience #innovation
Gaurav Dosi, Product Manager, Jobs on Facebook
Hear the story of Facebook Jobs: how and why it started, the impact on their two billion users, and how recruiters can benefit from this new reality.
Since facebook jobs launched in nearly a year ago in February of 2017 everyone has been curious.
Will this new addon to the Facebook ecosystem start hedging out competitors like Linkedin or Indeed?

Is it practical for recruiters to source on Facebook, will the information they need even be there?

Could this addon be the answer for sourcing for small businesses?

Will recruiters now be able to tap into passive candidate and blue-collar candidate pools that have evaded LinkedIn?
Now these, and more, questions will be answered as we go into the backstory of what went into creating and launching Facebook Jobs.
Learn the 'how' behind this product from brainstorming to execution to see how truly innovative teams get off the ground. From there explore the real implications Facebook Jobs will have on the recruiter's day to day and how soon 'social recruiting' will just be… 'recruiting.'
Battle of the Bots!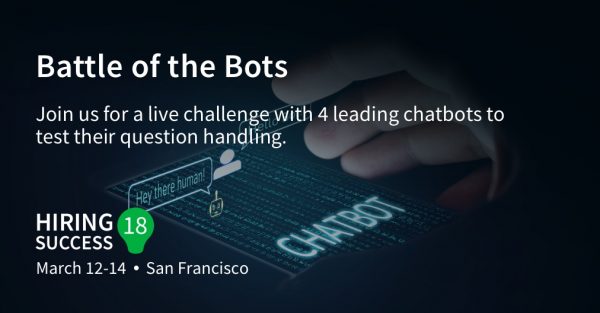 #innovation
Moderator: Bill Boorman founder of #tru events.
We pit four leading chatbots against one another to test their question handling abilities in a live challenge to determine the ultimate service provider!
Each founder will introduce their bot to the audience for a real-time question and answer session with participants from the crowd.
We'll get the feel first hand the quality of their natural language processing and compare how they present themselves– do they try to pretend to be human or are they loud and proud bots?
As the showdown progresses the bots undergo the ultimate customer service test: how to fail gracefully when they don't know the answer …
Gender Parity: The conversation leaders need to be part of.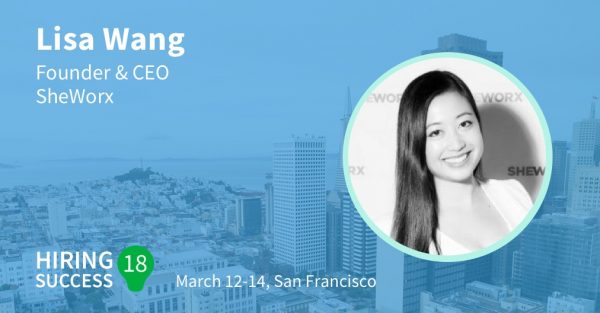 #inclusion
Speaker: Lisa Wang, Founder/CEO, SheWorx
Illuminate harmful gender biases, understand how they are routinely enacted in the workplace, and take action to heal this silent divide.
Lisa Wang poses the question, to managers,  'what do you not know' – putting the onus of understanding bias on the people in positions of power. Understand how to identify and combat negative biases that lead to a toxic work environment for your team.
We all know 2017 was a landmark year for workplace predators being held accountable. The message is clear, from Hollywood to the halls of government, sexual harassment is not the cost of entry women should pay in order to participate in the workforce.
Campaigns like #metoo and #timesup broke the silence around the taboo subject of sexual harassment showing that it's not just egregious cases like Harvey Weinstein or Olympics guy but a cumulation of insidious behaviors based on gender bias ubiquitous to almost every office.
It's time to look inwards, ask 'what do I not know?' and make your workplace safe for everyone.
Measuring Quality of Hire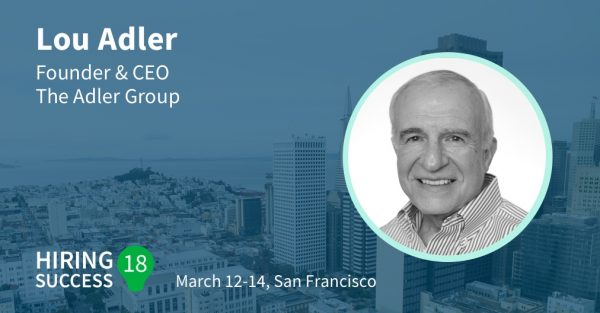 #hiringsuccess
Lou Adler, Founder/CEO, The Adler Group and author of Amazon top 10 best sellers Hire With Your Head and The Essential Guide for Hiring & Getting Hired.  
Learn to determine the quality of Hire and then run a panel with SmartRecruiters customers who are piloting the program Lou partnered with us to build on determining job fit.
You might have heard that Lou Adler is on a quest to predict, track and measure the quality of hire before the hire. Lou contends that unless you can measure the quality of hire pre-hire, you can't improve it post-hire. According to Lou, once you can accurately measure Quality of Hire you'll be able to eliminate 110% of all your hiring mistakes. Half of these are the strong people you didn't see or hire and the other half are all of the interviewing mistakes made. This session will create some big industry buzz as Adler continues on his quest to find the holy grail of recruiting. This is one session and conference you won't want to miss.
Lou will share these ideas with you he already found on his journey of discovery:
 10 best and worst predictors of Quality of Hire.

The one interview question you must ask to predict Quality of Hire.

3 things you must do to become a strategic recruiter.

How to blame your hiring managers for all of your problems.