Hiring Success has arrived! Today, February 11th, TA leaders, HR practitioners, and recruiting professionals from around the globe congregated at the Marquis Marriott in the heart of San Francisco and began a two-day journey towards illuminating and evangelizing the incipient movement of Hiring Success!
Located in the downtown hub of San Francisco, the San Francisco Marriott Marquis stands 40 stories tall with vivid views of the bay as well as cityscapes that surround it. Just a stone's throw from the picturesque Yerba Buena Gardens, Hiring Success 20 is in the perfect location to immerse yourself in the current era of TA transformation.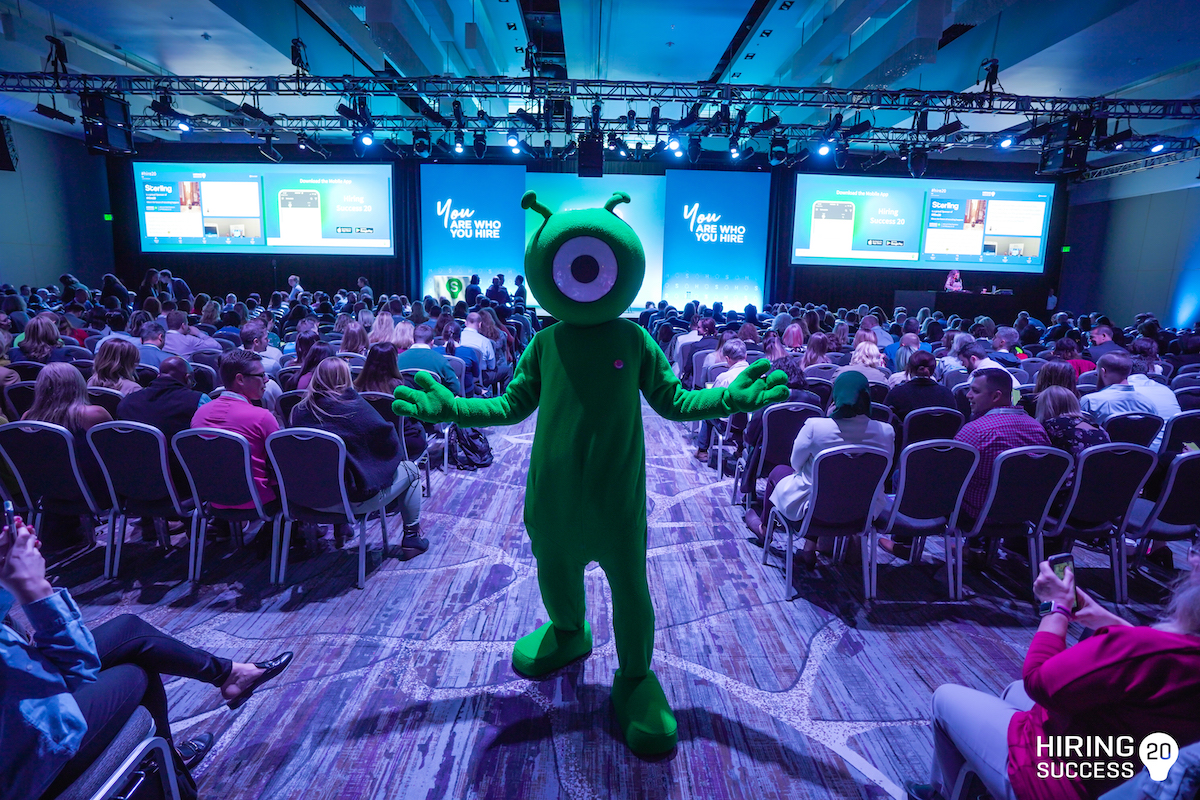 Over 1,000 attendees gathered to discuss and engage in deep dives on everything ranging from compliance to scaling your organization's recruiting process through social networks. Talent acquisition leaders, CEOs, and global heads of talent took the stage to discuss and lead roundtables on some of the most pressing issues facing our organizations today.
While no blog post can even begin to convey the full immersive experience that is hiring success, here are a few highlights from an impactful day one.
Hiring Success, donning three stages as well as various locations for roundtables kicked off with attendees registering en masse and networking with fellow conference-goers.
---
Hiring Success Is Business Success
Jerome Ternynck, Founder & CEO of SmartRecruiters, started Hiring Success '20 off with a bang! Taking the stage with a presence that only the leader of the Smartian family can bring, attendees listened carefully as Jerome dove into what it means to be on the frontlines during the current war for talent among enterprise companies. Jerome documented how the negative business externalities of viewing recruiting and TA as backroom functions and cost centers.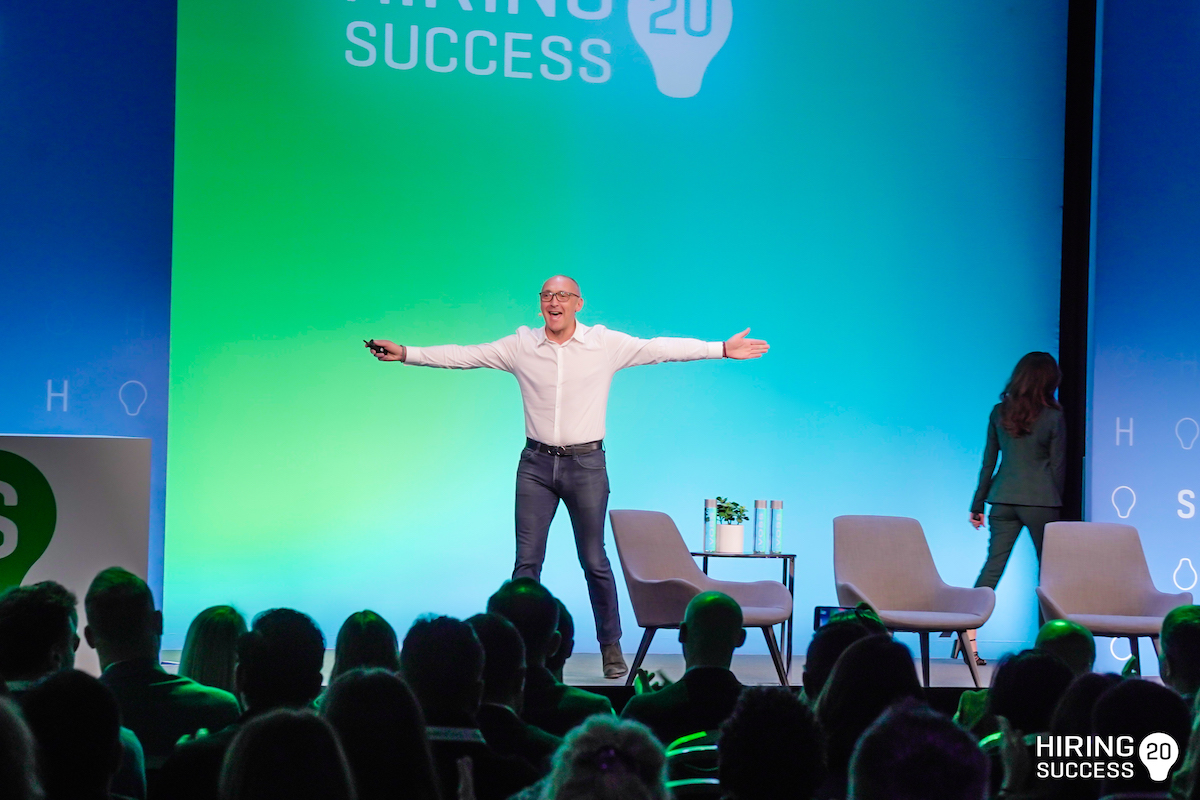 Pivoting to details from SmartRecruiters' Definitive Guide to Hiring Success, Jerome highlighted how replacing the legacy metrics of cost per hire, time to hire, and quality of hire with hiring budget, hiring velocity, and net hiring score respectively can combine to transform the opinions of C-Suite members on the business value of recruiting and talent acquisition. How can companies learn to adopt these new metrics of recruitment? Enter SmartRecruiters' product release calendar for the fiscal year of 2021, HiringSuccess.com and Hiring Success the book.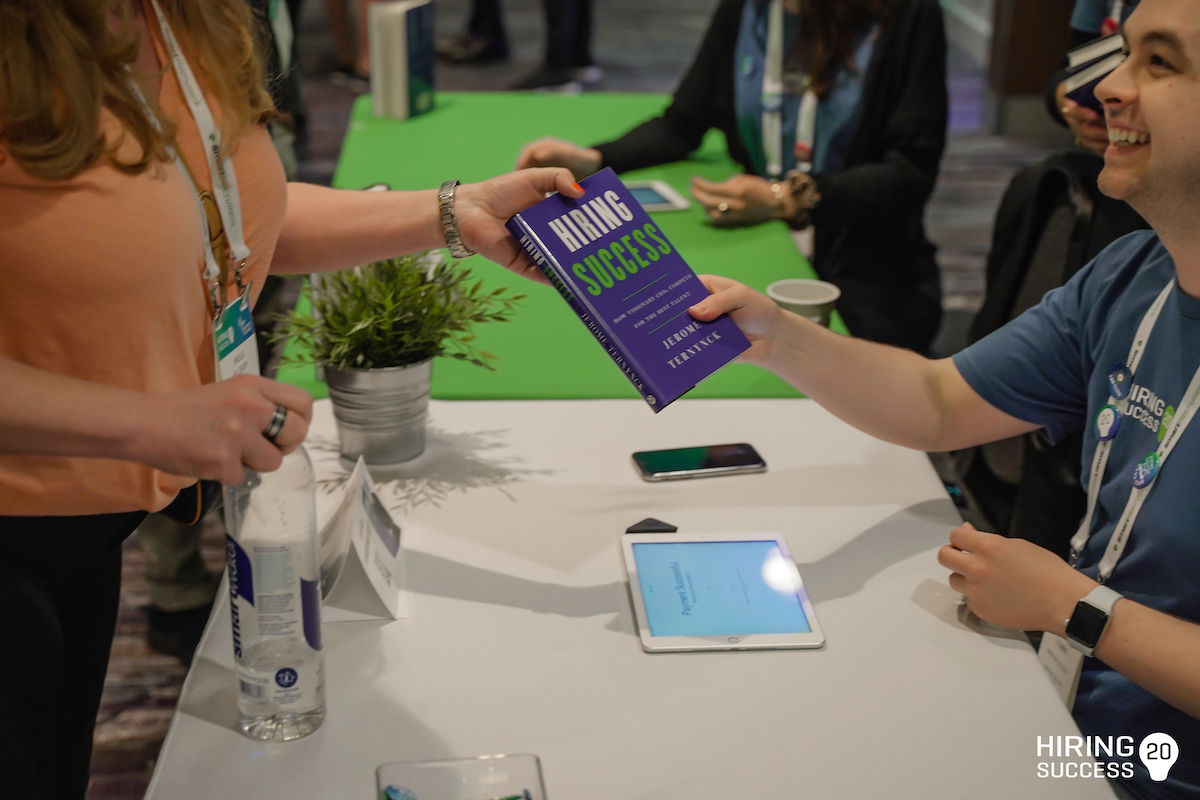 First, the product news, where Jerome introduced SmartMessage, SmartX, SmartOnboard. With SmartMessage, recruiters will have the ability to use an actual phone number, via Messages or WhatsApp, to talk in real-time with job seekers and send push notifications, enabling reminders regarding interview schedules and evaluation forms.
SmartX represents the next frontier in collaborative recruiting — an all-in-one evolution of the SmartRecruiters platform where your entire hiring team will be able to track internal metrics, such as net hiring score, and provide feedback and analysis for each point of the recruiting and talent acquisition processes. For SmartMessage & SmartX, customers can anticipate their launches towards the end of summer. Lastly, SmartOnboard will become SmartRecruiters native onboarding platform, launching by this time next year during Hiring Success '21.
Second, with the introduction of HiringSuccess.com, Jerome noted it will become the home of talent acquisition thought leadership, discovery, and education, propelling the common understanding of new and novel recruiting topics by creating a community of contributors and commenters from the TA industry-at-large.
Thirdly, Jerome introduced his book, Hiring Success, aimed at evangelizing the tenets of the hiring success movement to CEOs and business leaders around the globe. The book is written from Jerome's decades of experience in the recruiting and TA world. Hiring Success is designed to change the way executives look at recruiting and TA, bringing it from a cost center to a function that adds unparalleled value to an organization.
Breaking Past Barriers
A roundtable discussion hosted by Shelley Winner and Dana Stevenson was a revolutionary discussion. Gathered at the conference table was a diverse collection of individuals, including business developer representatives from Goodwill, sales managers at a top tech firm, government officials from the City of San Francisco and Alameda County, and a CSR from Checkr, just to name a few. There were more people seated around the table than the perimeter allowed, owing to the poignancy and purpose of the session.
The theme of the session is revealed in the title, with Shelley and Dana profoundly recounting how they have individually overcome one of the most pernicious barriers to employment in the modern era: finding a meaningful job post-incarceration.
Shelley, an employee at a top tech company, detailed her childhood travails of growing up with a father who was in and out of the prison system, in addition to suffering from drug addiction. Shelley began on a path in life that led to her arrest while she was pregnant with her eventual son.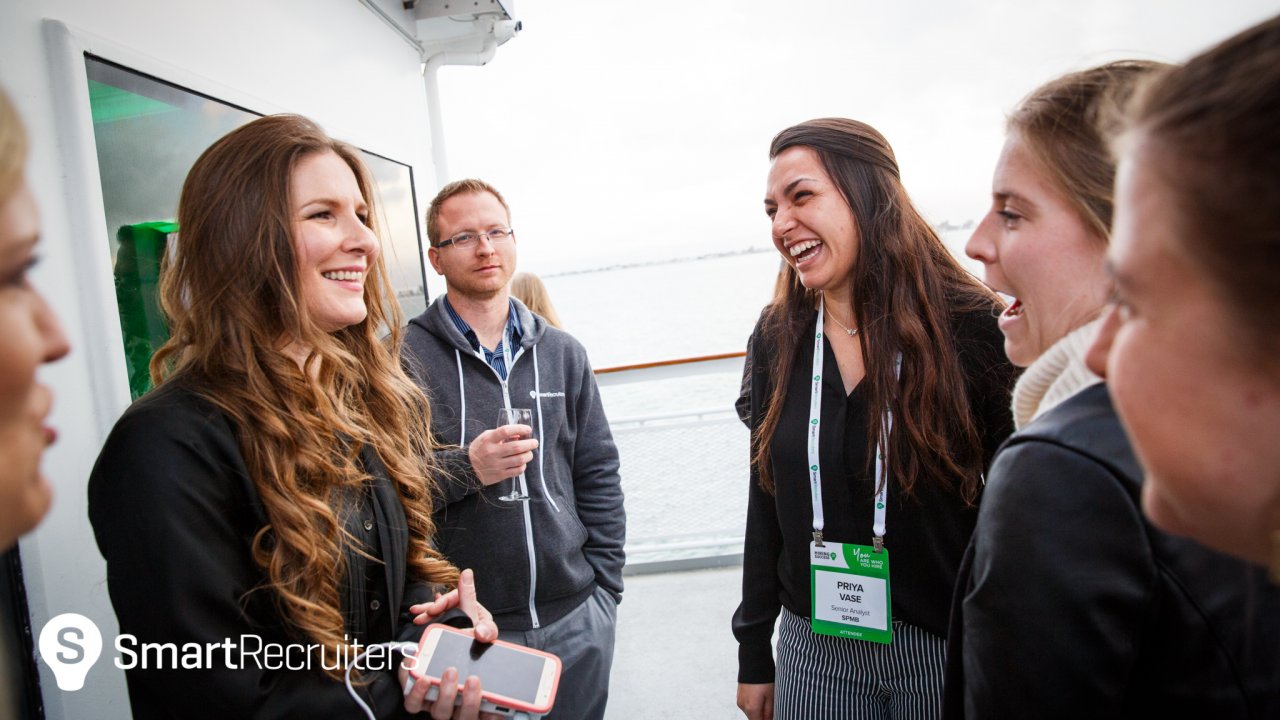 Fortunately, she took her rehabilitation efforts in prison seriously — seeing it as her paramount opportunity to take responsibility for her past actions and renew her commitment to not only bettering her own life but the future life of her child.
Through her halfway house, she was able to join Code Tenderloin, discovering that a career in tech sales was a pathway that was perfect for her skill set.
While climbing through the application stages, she found the perfect opportunity at her current employer; she was near the finish line of signing an offer letter, and then her background check came back, at which point, her current employer then sent her a letter informing her, due to her past incarceration, they would not be able to hire her.
Nonetheless, Shelly recalled that her current employer had emailed her at one point information regarding the City of San Francisco's Fair Chance Ordinance, which bars employers from discriminating based upon prior criminal record.
After repealing the decision, Shelley was then asked to re-apply to the position, which she got! Two promotions and many business trips later (her two former managers were the aforementioned sales managers from a top tech company present at the roundtable!), she is a beacon of hope.
Dana, a beloved Smartian, also shared his life story— one of triumph through tragedy. Devastatingly, his mother passed away while he was a child, and soon after his father began to become overcome by issues with addiction. After a series of even more trying personal experiences, Dana was on a path that eventually led to a prison term of twenty-five years, starting at Pelican Bay.
While in prison, Dana began to participate in Narcotics Anonymous and discovered not only how to forgive himself and take accountability for his past actions, but also how to cope with and understand how the events of his childhood had harmed his personal development.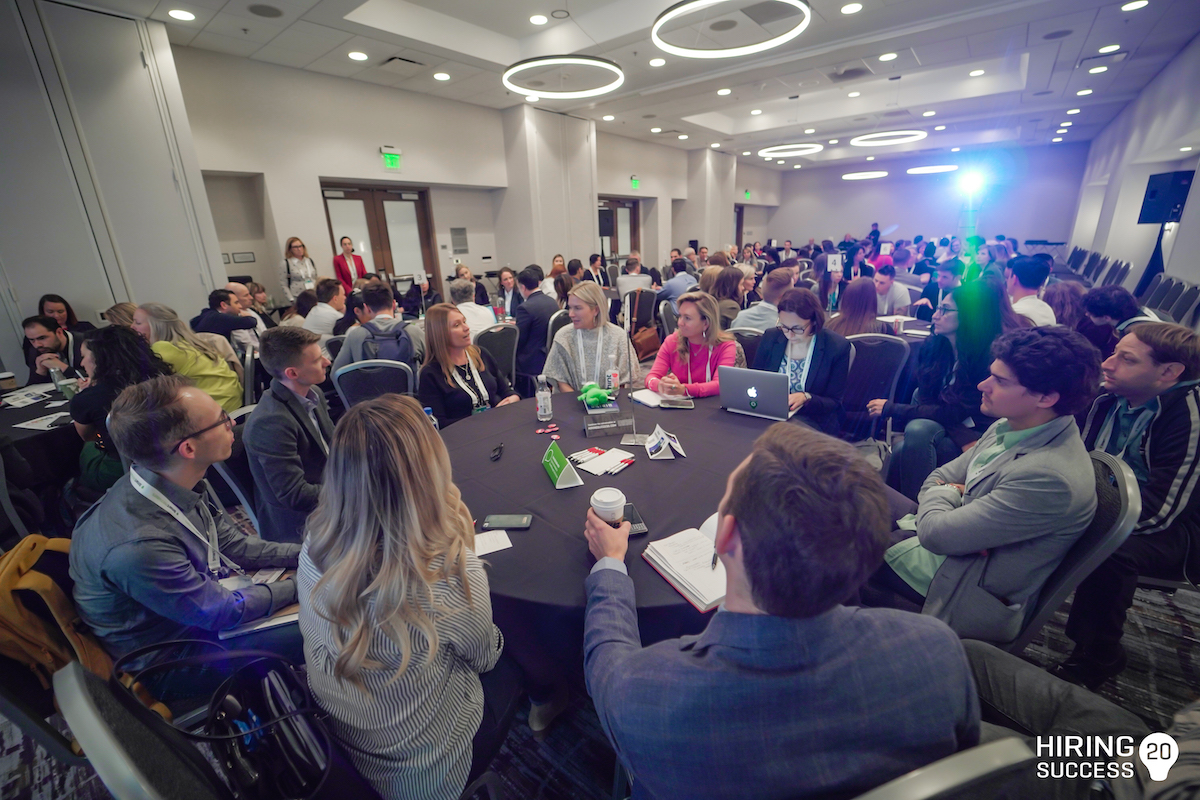 Fast forward to March of 2019, upon his release from prison, Dana was able to find his way to SmartRecruiters' Reverse Recruiting gathering in San Francisco; there, he discovered an opportunity that he realized was perfect for him considering the events and circumstances of his life — a job at SmartRecruiters as a customer service representative.
Dana and Shelley are shining examples that if we hire past our common barriers and search for talent beyond our misconceptions and preconceptions, we can not only help break down decades-long forms of discrimination in society, we can also power business growth from contributors previously purposefully or unknowingly unseen by hiring teams — a successful, winning formula for transforming the workplace and the world simultaneously!
Conclusion:
Hiring Success '20 day one has come to a close, but there is still so much more ahead. Today we saw speakers push the boundaries of what talent acquisition means. Of course, a recap is just that—and can never truly encompass the magnitude of the discussions held at the conference. If you didn't make it this year, be sure to get a ticket for next year's event! And check back tomorrow for our recap of day two!