New research gets inside what companies really want from – and how they really use – their applicant tracking systems.
Recruiting software is the backbone of the talent acquisition (TA) process. First debuted in the late 1990s, the original Applicant Tracking Systems (ATS) were designed to make the recruiting process digital, and revolutionized how we hire. On the candidate side, they automated the once paper-heavy process of the job application; and on the recruitment side, they improved and streamlined the process of applicant tracking.
Two decades later, the world, and especially the world of work, has undergone a technological revolution, but ATS technology remains largely unchanged. The result has been a scramble by recruiting leaders to deploy add-on solutions and modules in order to gain a competitive edge in recruiting top talent.
Based on numbers collected by Aptitude Research for all of 2017, below is a visual survey of how companies currently engage with their ATS systems.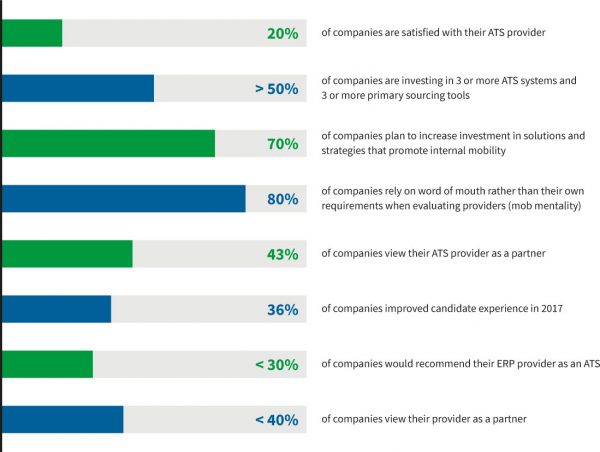 As you can see, only 20 percent of companies surveyed were happy with their ATS provider. Less than 50 percent of businesses are investing in three or more ATS systems and three or more primary sourcing tools, while 70 percent of companies plan to increase investment in solutions and strategies that promote internal mobility. When you look at where that investment goes, it's all about trust, 80 percent of employers will rely on word of mouth (above even their own requirements) when selecting an ATS, yet less than 30 percent recommended their enterprise resource planning (ERP) to their peers . This makes sense when we see that 43 percent think their ATS provider should be a partner, but only 40 percent actually feel like that is the case. Looking back on 2017 we see great strides in candidate experience, with 36 percent of companies ramping up efforts to make the hiring process better for applicants. 
While this chart can help identify pain points and where there's room for improvement, many facets are solved simply by implementing SmartRecruiters' Talent Acquisition Suite. Take a look for yourself to learn why recruiting teams are ditching the ATS for hiring success.