Now that the Super Bowl is over, we take a look back on the human resources and recruiting trends, what has driven hiring and engagement innovation, and what's in store for HR for 2013 when it comes to HR Tech and collaboration.

I'm taking an unconditional approach to workforce predictions and trends because when we speak of trends, untrendy stuff are the things that are actually trends in the industry we work, life and maybe even love. HR is not sexy and yet it is so important in the future of our business in being competitive, healthy, and successful.  Trends for actual HR practitioners is not a trend.  It's the reality we are living now.
In 2013, HR tech and recruiting technology will shift to mobile, make relationships more real, leverage big data, and empower HR to be more than cogs in the machine:
A shift from mobile recruiting to mobile work & life.  This trend isn't really about having a mobile recruiting website so much as it is that the candidate and employee audience is moving to a multi-device and option-filled lifestyle.  In addition to a mobile careers page you should be interacting with candidates on their most popular apps, such as Facebook, Twitter, and Google+. We are working while living and that happens while doing many things at one time.  Television has become interactive as we tweet (over 24 million tweets during last nights Super Bowl), watch videos and check our email on the same device or multiple ones all at the same time.  Your recruiting and employee engagement strategy should be interactive and engaging on the many channels of life.
Making relationships real.  Moving from automated relationships and the candidate experience to focusing on the actual relationship and the long-term aggregate benefit of educating, helping, and assisting job seekers even if they don't work for us right now but possibly at a future point in time.
Focus on data, data, and more data.  As practitioners in the industry we know the value of our role in the organization.  We often view this measure or metric as elusive for our industry.  With all the buzz surrounding big data, companies and talent departments should be focusing on understanding the business and finding ways to articulate the benefits of what they do in a way that our senior leaders understand.  Numbers are just numbers until we put real meaning behind them.  That's part of what improved technologies and efficiencies will help us do in HR.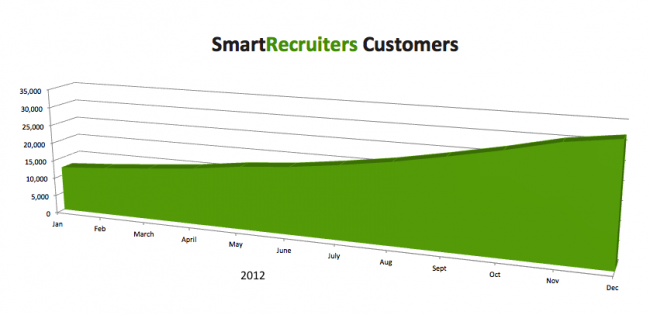 Technology that makes us more than cogs in the machine.  I feel like there is a belief that HR and recruitment technologies will completely end the need for human resources and recruiters.  Automation helps us focus on the human elements of our most valuable business resource, the employee.  This technology should help elevate the human element taking us away from viewing employees as replicable cogs in the hiring machine to employees with lives, experiences, and personalities you can't automate.
What other trends are you seeing when it comes to technology, recruiting and the human capital industry?

Jessica Miller-Merrell, SPHR is a workplace and technology strategist specializing in social media.  She's an author who writes at Blogging4Jobs. When she talks, people listen. 
SmartRecruiters is the hiring platform with everything you need to post a job, manage candidates and make the right hire.