Table of Contents
Throughout my 15 years in the TA tech space, people have been making excuses for job boards and job ad performance in general. The bar seems to have lowered with time.
"Well, we do get lots of applications…"

"At least with PPC we are only paying when someone clicks!"

"Job posts are really just for branding"
As noted by SHRM and elsewhere, job boards never top the list of quality sources (they don't come near internal mobility or referrals), yet companies spend billions on posting credits, slots, and PPC. At SmartRecruiters, we followed up on a hunch that some recruiters were cracking the code on generating consistently high-quality applicant flow. You'll want to take a look at what we found.
How Some Recruiters Have Cracked the Job Ad Code
When SmartRecruiters analyzed the habits for tens of thousands of recruiters, across 4,000 customers, we found three core strategies that best predict job advertising success:
Have a backup plan for every job
Savvy recruiters appear to use multiple sources per job, staggering advertisements vs. putting all their spend in one basket, all at once. For example, they may start with free aggregators, then switch to LinkedIn slots, and finally try Indeed PPC or programmatic.
Why? Because there is always an element of timing and luck in advertising. Changing the channel on ads that aren't attracting the right people at a given moment is one way to shake things up and improve the odds of finding right-fitting applicants.
Set pipeline "rules" and reminders
How long is too long to wait for ten candidates to pass assessments or three candidates to be scheduled for interviews? Savvy recruiters are taking a disciplined approach to setting specific, time bound goals for filling their pipelines. These types of rules appear to be foundational for making the agile optimizations mentioned above.
Careful planning and budgeting based on applicant quality
This pattern was harder to detect from raw ATS data itself, but it bubbled up via surveys and hundreds of quarterly business reviews with customers. Recruiters making the most hires via job ads work at companies that analyze the historical quality and conversion of candidates, rather than just focusing on clicks and costs per click. These employers in turn used these analyses to reshape hiring budgets and increase investments in quality sources.
Yes – All of These Strategies are Easier Said Than Done, Manually
Recruiters are not accountants or marketers and most of them don't have the spare time to wear those hats. Only a small fraction of SmartRecruiters customers can devote partial, let alone full-time headcount to the analysis, manual optimization, and experimentation outlined in this post.
Aha Moment: What If SmartRecruiters Could Democratize Job Ad Optimization for All Enterprises?
The solution came to us in the form of SmartJobs, a "Smart, Managed Advertising" service that would sit inside the SmartRecruiters Talent Acquisition Suite and use the company's own data to automate all of the strategies mentioned above, and more. Think of SmartJobs as a lean, data-driven, recruitment advertising agency.
Nonetheless, this isn't all big data and automation. Behind the tech is our expert recruitment marketing team–including a media planner, media operations specialist, and account director–who helps TA teams create a tailored plan to deliver against their unique hiring goals.
Simplifying Vendor Management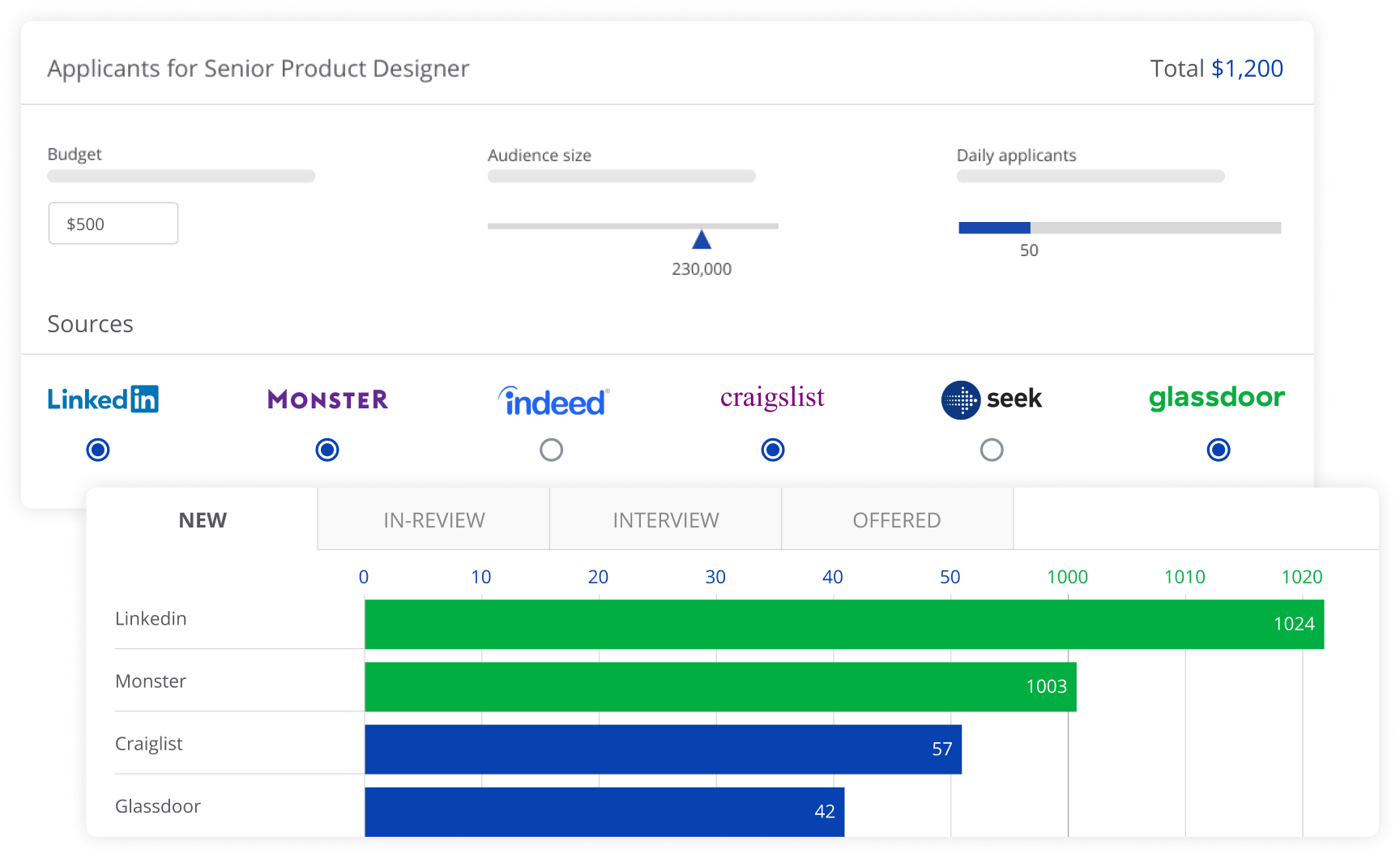 Vendor management and performance comparison all in one spot, no more manual spreadsheets to manage. With SmartJobs you can..
Manage and negotiate contracts
Purchase and renew ad space
Manage user credentials and ad credits
Track performance by job or channel
Stay Agile, But Still be Able to Take a Lunch Break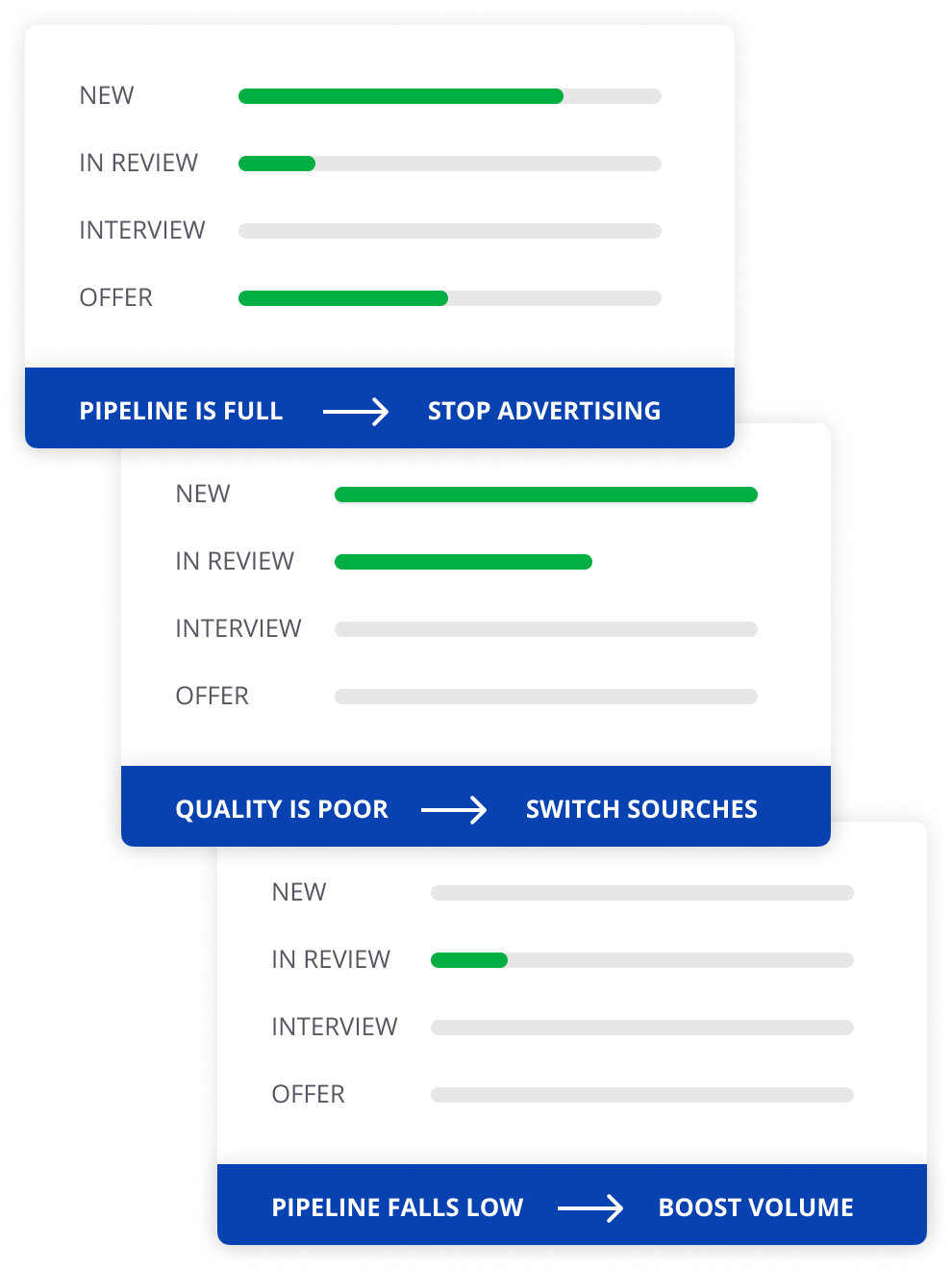 You know how to manage your candidate pipeline and adjust according to incoming data, but you don't have 100 hours in the day just to spend on job advertising. Let SmartJobs do some of the legwork.
SmartJobs automates spending adjustments based on the changes in your talent pipeline
Pause ads for jobs that have a full pipeline
Boosts traffic to jobs that need more volume
Switch sources when the quality is poor
Collect Data for Future Optimization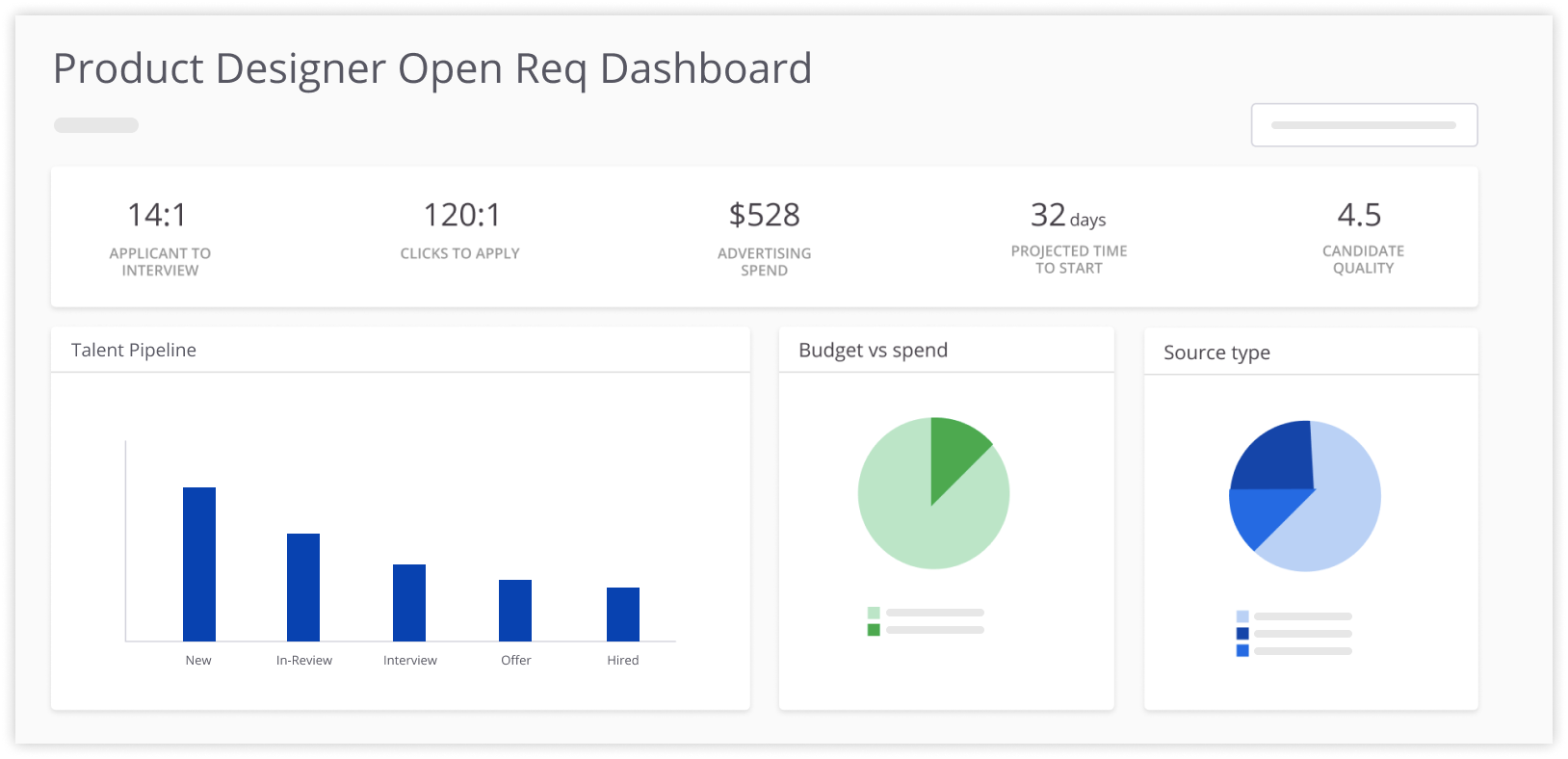 It's hard to make meaningful changes to your strategy without strong data insights. That's why SmartJobs has data collection and delivery built-in. ATS data is combined with sourcing analytics to give you a complete end-to-end view of your advertising performance.
Receive detailed monthly reports
See candidate journey with post-to-interview and post-to-hire analytics
Compare all your sources side by side
ROI analysis of your advertising strategy 
The Bottom Line is a Raised Bar
When it comes to making sensible investments in job advertising, costs are critical to the equation. In a world where job advertising doesn't yield great results, the variables that matter most are cost per post, click, applicant, etc.
But in a world where job advertising attracts consistently high quality candidates, the bottom line must be reconsidered alongside all line items in a sourcing budget, and beyond. 
In other words, what if you could make 3x the number of hires from set-it-and-forget-it ads, while reducing costs of manual sourcing and external agencies, speeding up start times, and giving hundreds of hours back to recruiters? With SmartJobs, we are going back to the future of job advertising to help companies do just that. 
In this chapter of TA Tech history, who would have thought job boards and job ad networks would be having the last laugh? If this all leads to a leaner, more powerful way to connect talent to jobs at scale, we are happy to laugh heartily, together.
Want to learn more? Download the SmartJobs Product Sheet