The sun sets on our final day, and here are five learnings we're taking with us from day two.
Riding high off the carnival treats from the last night's SmartyParty, Hiring Success 19 attendees braved another misty morning in San Francisco as they congregated at Pier 27 for day two of panel discussions, breakout sessions, and the highly anticipated Hackathon and Recruiting Startup Awards ceremonies. Day one set a high bar for exciting content, but the crowd appeared ready for a second round after fueling up at the fresh donut bar. How could day two top yesterday's activity?

Day one of Hiring Success 19 saw SmartRecruiters announce the launch of its new corporate social responsibility (CSR) program – Reverse Recruiting. This three-pillar approach to CSR includes SmartRecruiters donating one percent of the company's equity towards a future foundation, making best-of-breed recruiting tools available to non-profits of all sizes through free and discounted products, and hosting Reverse Recruiting weeks across all global offices four times annually. And, for this last part, SmartRecruiters wants to invite you and your company to join in.

Learn more about Reverse Recruiting, and how to host your own event, here!

Now let's turn our attention to today's events to revisit the best reveals and takeaways for Hiring Success 19 – Americas.

1. New Hiring Success function to support customer achievement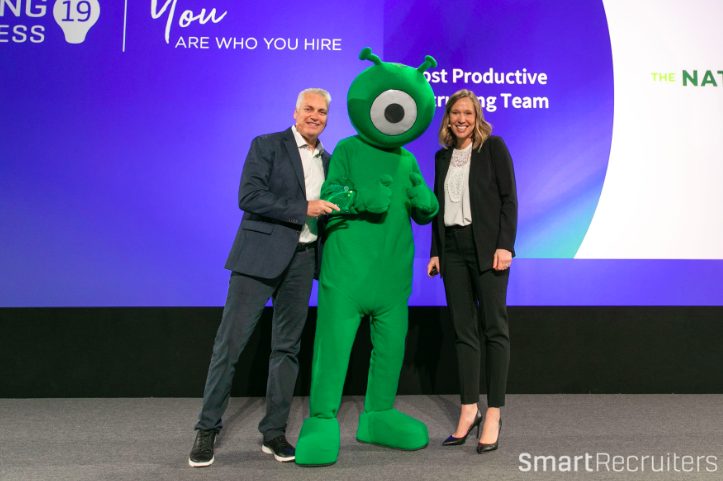 Hiring Is Success laid out SmartRecruiters' 2019 product roadmap, as well as a vision for the future of TA!

With the announcement of Rebecca Carr as SVP of Hiring Success comes a new branch of SmartRecruiters, staffed by TA experts (all of whom have previously held high-level positions in people functions) who will provide SmartRecruiters' programmatic support in the areas of awareness, transformation, acceleration, and optimization.

Here's what this support will look like on the ground:

Awareness – Business engagement around the metrics that matter, where the business needs to be, and how it will get there.

Business Audit
Implementation Success
End-user testing and analysis
Transformation – Setting realistic goals for change in alignment with desired performance metrics & developing programs to support it.

Product success
In-product education
Candidate and user Surveys
Acceleration: Differentiating against the competition with innovative programs, new technologies, and aggressive performance goals.

Pilot programs
Local events
Business apps and integrations
Optimization: Consistent re-evaluation of existing processes and technologies to ensure your business is staying current against the market and competitors.

Expert Workshops
Hiring success dashboards
Process and Technology Certification
2. What are the concrete actions you can take to turn good intentions into results when it comes to gender equality?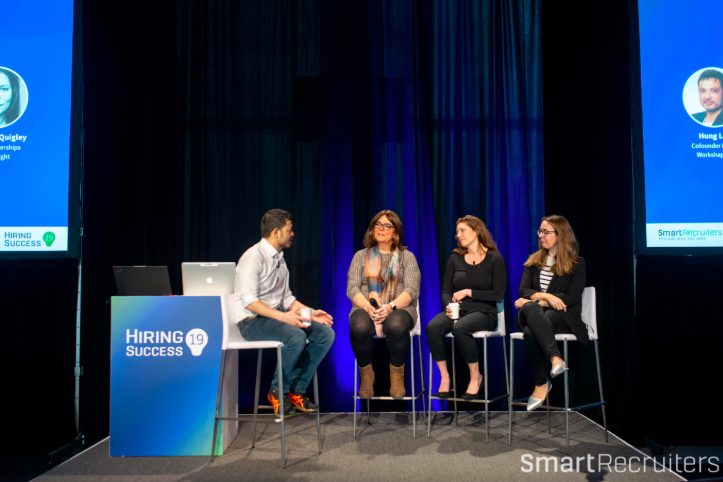 Gender Inequality offered solutions and insight into the microaggressions women experience through the hiring process and within company culture…

"It's important to keep the channels of communication open, especially with the hiring manager. Keep explaining and re-explaining the actual needs of the role and how those need could be addressed by a diverse group of candidates." – Sarah Blackmore

"Examine corporate values and how they apply to marginalized people. If you have a corporate value that says 'assume good intent', that value might tell someone that they have to assume that this person with more privilege is making a mistake for the first time." – Margarett Quigley

"Having lived most of my life as a white male I never thought about privilege until my transition. Now, as a woman, I've lost my male privilege, I see that people generally treat gender equality as a woman's problem, not as an everyone problem. People want to be themselves as at work, but women find it hard to simply do that." – Joanne Lockwood

3. Optimizely sweeps gold at the 2019 Hackathon
Three teams locked themselves in a room for the last 24 hours to build on top of SmartRecruiters' APIs for the grand prize of $5000 in this year's Hackathon.

While each team competed admirably, Optimizely took the grand prize with Action Center, an app that solves for task completion lag time.

Right now, Hiring Managers have to search flooded inboxes for buried at-mentions, but what if all hiring tasks were in a dashboard that they could easily click into via mobile – resolving tasks in moments of free time throughout the day? Action Center does just that. Now, hiring managers have access to a task dashboard on the SmartRecruiters mobile app homepage where they can easily click into tasks and send digital nudges to other members of the hiring team to do the same.

4. Be a recession-proof recruiter
Matt Charney talked the long game in Recruiting in a Recession. Economy and labor trends are cyclical, and just because we aren't in a recession now doesn't mean there isn't one coming. So, how should recruiters make themselves critical to business success in fat times so they stay competitive in the lean? Here's the short answer…

Treat recruiting like business school: ask many many questions.
Make your hiring managers happy. Most recruiters rate their performance as stellar, while most hiring managers rate their recruiters as subpar – bridge that gap!
Measure the metrics you, as a recruiter, control.
Don't spend budget just because you can – make sure it will affect P&L positively!
5. Recruiting Startup Awards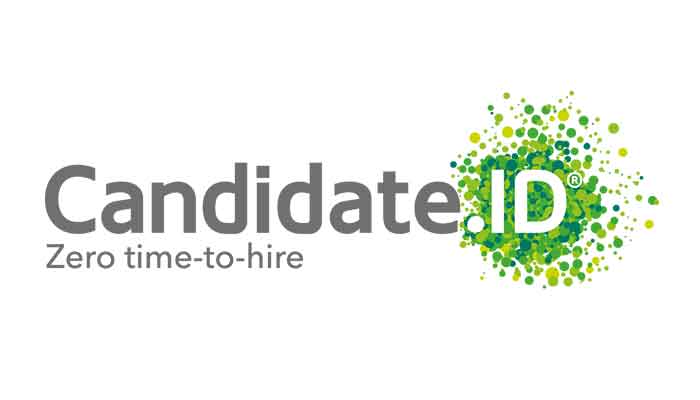 Over 100 recruiting technologies competed for a chance to pitch their products on the mainstage, but five finalists got the chance to pitch to the entire Hiring Success 19 audience. This was a moment to celebrate innovation in TA, and, after deliberation from an expert panel of judges – as well as the audience – Candidate.ID took gold.

Candidate.ID's software allows organizations to create genuine talent pipelines and easily identify candidates as cold, warm, and 'hire-ready'​ in real time, claiming to reduce time-to-shortlist by 50 percent.

An increasing number of businesses are turning to more proactive hiring strategies to remain competitive in today's job market economy. Reactive hiring no longer yields high-quality talent, Candidate.ID addresses this problem by zeroing in on pipeline automation, offering tools and insights that enhance hiring teams' ability to source, discover, and nurture talent ahead of business needs.

***

Thanks so much to all our attendees, and we hope to see you next time at Hiring Success 19 – Europe!