As an employee of New York University for nearly a year, I have had the opportunity to learn about an elite, progressive, and truly unique community.  With nearly 20,000 undergraduate and graduate students, over 350,000 alumni, and study centers in 25 nations there is no end to the network of ideas, achievements produced by these individuals. As an assistant coach on the women's basketball staff, I aim, along with my colleagues, to provide an experience that is fulfilling and that helps shape young women's academic and athletic experience at NYU.

Many of our players are nothing short of renaissance women; boasting athletic prowess, academic success, and gifts that span from chemists to film making and everywhere in between. We seek young women who are the triple-threat (basketball pun intended); elite in 3 ways: basketball, academics, and character. One might think that recruiting individuals with this trifecta is difficult. You are right! There is a thrill in the challenge, and with each special individual we add, the NYU community grows in character and strength.
Every professional is asked to do the same – to add members to the team that are dynamic, hard working, and who offer special gifts that will enhance the community in which they work, live, etc. While your company may not be looking for a team member with a great jump shot or ability to rebound, remember these transferrable recruiting tips when you ARE recruiting in your line of work:
Have a clear vision: We aim to provide an experience for our women that allows them to earn an elite education, grow as people, and to compete at the national level in Division III women's basketball – in that order.  Our job is to find young women who share this vision. We are honest about this vision when we are on the road, have a prospect on the phone, or are speaking with families on campus. We are clear about our expectations and standards as a member of the team. Prospective students know what to expect when they arrive on campus and begin their four-year journey. The vision keeps us working towards the end goal – our identity.  Individuals want to work for, play for, and be a part of a team that has a clear identity. What is your vision? What is your company's identity?
Zebras can't change their stripes: One our greatest assets is NYU's location, New York City. We are located in of the biggest, most diverse, and energetic cities on the planet. New York City is not just our surrounding, it is our classroom! Ironically, this is also one of our biggest challenges. We can't hide the challenges of living in Manhattan. Instead we are honest about the atmosphere and complexities in attending a university in NYC. It takes a special individual to be open to the ever-changing surroundings. This person takes challenges head on, is willing to remove themselves from their comfort zone and accept new tasks. This is who we want on our team. Be honest about your company's strengths and weaknesses, sending an honest message from the start will be better for retention. 
Work hard, work smart, be genuine: There is no substitute for hard work, we believe this mantra as a staff and for our players. Coaching college basketball is not a 9-5 job and many of our weekends are spent working in some capacity, even outside of our season.  There are not enough hours in the day therefore, we must maximize time spent on the task at hand.  At NYU we must consider the market to make the vision of our team a reality.  We need academically inclined students who are also skilled basketball players.  Because NYU does not offer athletic scholarships we need to find players whose families understand the financial investment of an NYU education.  We are not selling a 4 year plan, we are selling a life plan – an investment in the future! Building relationships with our prospective players is perhaps the most important piece to the puzzle and helps us find individuals who fit this unique profile.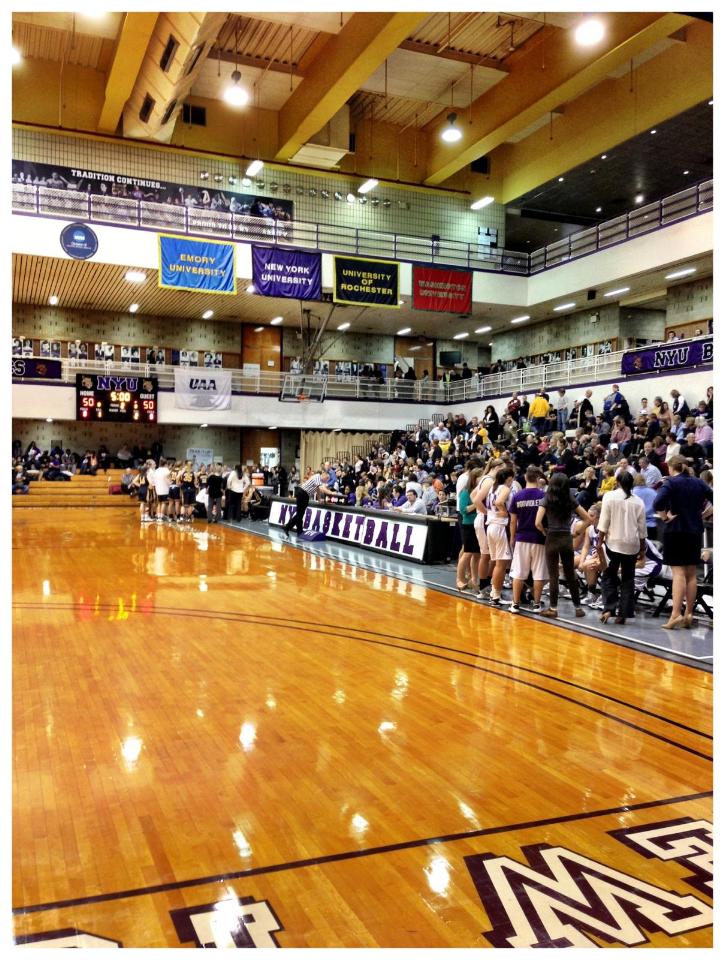 We work hard by: having a systematic approach, and sticking to it. We are willingto go above and beyond for the good of the team, i.e. make an extra phone call, drive to a practice or game mid-week, stay a little longer at the office.
Working smart: Using our resources (allowing recruits to speak to alumni, meet with professors, interact with current players, etc.).
Be genuine: We cannot be anything other than what we are and we ask recruits to do the same.  We build relationships because these young women will potentially become part of our extended family.  Questions about their academics, goals as a player and student, and family finances are personal. We must be sensitive, forthcoming, and above all genuine in our approach.  At the end of the day if a student athlete is not a good cultural fit for NYU and we did not do due diligence in discovering this, then we have done a disservice to her, our team, and to the school.  A mutual desire to be at NYU is a necessary part of the relationship.  How do you go above and beyond in recruiting? How can you use your resources to maximize time? How do you show the true you in order to fulfill the vision?
Be creative! In the era of social media, you're selling yourself short if you don't use it as a recruiting resource. We send a monthly newsletter highlighting team accomplishments, community service activities, a "where are they now" for program alumni, and "A New York Minute" (a 60-second interview with a player).  This not only provides updates but allows fans and future recruits to see our team from the inside out.  We also have a twitter campaign (@NYUWBB) where each day of the week we tweet a new fact or piece of news.
Monday: Quote of the week
Tuesday: What's going on on campus
Wednesday: Little known player fact
Thursday: NYU women's basketball history lesson
Friday: Season statistical facts
Saturday/Sunday: NYC buzz
We create YouTube clips of team events: like the Wii Tennis tournament, or the pumpkin decorating contest. Showing our team in various facets is a great way to show recruits that being a Lady Violet is more than dribbling, passing, and shooting. Team culture and pride come from cultivation, work, and spending time together. How can you promote your company and the individuals within it to get individuals to be part of the vision?
Recruiting is not an exact science, and any great professional knows that you have to be willing to learn something every day to enhance your performance. I feel lucky to be part of a university, department, and staff that truly commits to the people it serves. Recruiting for the Lady Violets is exciting because I believe in the philosophy and mission of the school.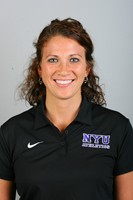 Cassandra Loftus is in her first season as an assistant coach with the women's basketball team. Her primary responsibilities include coordinating recruiting efforts, post player development, opponent scouting, and academic progress.
Looking to Coach a Woman's University Basketball Team? Queens University of Charlotte is Now Hiring a Woman's Basketball Head Coach. SmartRecruiters is everything you need to source talent, manage candidates, and make the right hires.