LinkedIn's march across Europe has hit a bulwark in local-focus career-site, Xing. Whether the Hamburg firm can hold its ground is a notion the American juggernaut is keen to challenge.
"Hi, I'd like to add you to my professional network on LinkedIn."
In 2015, the infamous auto-greeting took the hallowed mantle of being bland enough to caption nearly every New Yorker cartoon, ever. (The third phrase to hold the distinction, actually). Twitter piled on, appropriately and as expected.
@frank_chimero pic.twitter.com/brbcUjSpyY

— (@williamPriceIII) September 22, 2015

Then, in 2016, LinkedIn was acquired, by Bill Gates' brain trust at Microsoft.
In fratty, frenemy-laden Silicon Valley, Microsoft hadn't so much lost its swagger, but in the age of the App – or the age of Apple – failed to amass any such virtue. LinkedIn's image wouldn't be getting any rub-off cred. But when fresh CEO, Satya Nadella, bought LinkedIn for a ballsy, some said misguided, $26 billion, all report cards since have been passes, and "Microsoft hasn't intervened that much, considering the vast scope and price tag of this integration," said eMarketer analyst Jillian Ryan. Far from curling up in a Mountain View garage, the site has since thrived, becoming the largest online business network in the world.
One anecdotal cause for LinkedIn's uptick was scandal-ridden Facebook CEO, Mark Zuckerberg, pulling back on actual news in the FB newsfeed. For LinkedIn boss Jeff Weiner's platform, a feed more business-focused and cat-video-free was an easy vacuum fill for an arguably more serious user base.
But LinkedIn's news feed is the only notable upgrade to an interface. Microsoft's true intentions in buying up and then being all hands-off were not to give LinkedIn a new UX. Your LinkedIn profile is your ever-searchable CV, and with 546 million global users in over 200 countries and counting, that's some seriously valuable data. This is not a run-down fixer-upper, this is a massive data mine. Although with all eyes watching personal-data flow thanks to Cambridge Analytica and GDPR, better to play it like Jimmy Conway after the Lufthansa heist in GoodFellas. "Didn't I tell you not to buy anything big, not to draw attention to yourself?"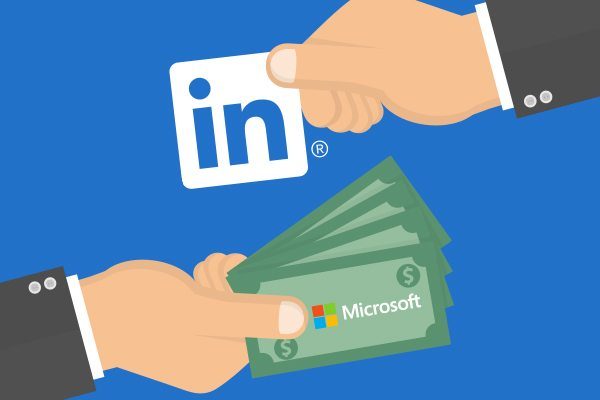 (Pic Credit: Forward Press)
Aside from nefarious motives to remain outwardly shabby, LinkedIn's always functioned as a backdoor recruiting and referral portal, both for passive candidates or unsatisfied employees. Now, with paid premium features for jobseekers, and new integration into Microsoft products like Office 365 and Word, it's a far more effective one, bringing in almost $1B in revenue for Microsoft in their last reported quarter. Staffing and Recruiting is Number One on the platform's top-five most-connected industries list, and Human Resources is the most-connected job function.
And those stats are increasingly global: India now has the second-largest number of users after the US, doors have opened at EMEA HQ in Dublin, and Amsterdam has become the platform's second-most connected city, the Netherlands the second-most connected country. Rolling into Holland's much larger, more linguistically immovable neighbor, however, is another matter. In Western Europe's unflappable, industrious heartland of Germany, LinkedIn has a kaiser to unseat.
Also founded in 2003, Hamburg's Xing remains the number-one business-based social network in Europe's German speaking countries (Germany, Switzerland, and Austria: "DACH" in Germacronym), with 14.3M users, 994,000 subscribers, and €187.8M ($220.1M) in annual revenues.
Felix Altmann, Xing's Senior Manager of Corporate Communications, lays it out: "We are not only the biggest, but also the fastest growing professional network in the region. In 2017 we grew by two million members. Of course there is competition, but our market position is very good."
Xing remains the market leader in Germany, but LinkedIn, with 11M members in the DACH region, has already pulled ahead in Austria, and doubles Xing's reach in Switzerland.
"LinkedIn has been growing by approximately a million members every six months since February 2015," says Christian Byza, Senior Product Manager for LinkedIn Germany, "and we continue to grow, with more than two new registrations per second."

Byza sees the company's 11M users as a strong step towards a potential 25M, and opening a second German office in Berlin – after the first in Munich – for 15 to 20 employees later this year, he says, "shows the high importance of the DACH region for LinkedIn."
Almost all 30 blue-chip German companies on the DAX exchange, as well as leading medium-sized companies such as Carl Zeiss, Hager Group and Sixt now use LinkedIn solutions for recruitment, marketing and sales, and yet, at least in public, Xing remains nonplussed. Xing knows their German-speaking base, and they know it intimately. LinkedIn's global approach doesn't matter to a firm looking to hire a bunch of secretaries in Bremen, the thinking goes. A successful car-parts manufacturer in Stuttgart would have no use for a French or English speaker, let alone need to hire outside of DACH. 
Marius Luther, founder and managing director of German job-matching app, Heyjobs, is unconcerned. "The majority of the German workforce is German-speaking only, without international contacts. For them, there is zero reason to use LinkedIn."
But compare the two companies' strategies in one area, and you can start to see where ground may start to shift. It's not about UI, UX, or even language. It's all about that backend: the Applicant Tracking System.
Last year, Xing shelled out €17M for Prescreen, a cloud-based ATS that will support the hiring process from job ads to candidate placements. "Xing is already a leading provider when it comes to modern e-recruiting," says Xing CEO Thomas Vollmoeller. "Our acquisition of Prescreen will enable us to further consolidate this position." As Altmann confirms, "Prescreen has been in the enterprise market before being acquired, and we have further plans to grow in that field."
Sounds like one good ATS partner to have, alright. Though "LinkedIn currently has ten," says Byza, "and more than a dozen others who have committed to enabling at least one of our core integrations, including Recruiter System Connect and Easy Apply. Our ATS integrations are driven by our partner ecosystem, and we will continue to work closely with them."
The local stalwart, confident and assured, ignores the interloper. Not a stand without precedent, but a dangerous one.
Consider what LinkedIn did to its competition in France, or more, consider the case of StudiVZ. You haven't heard of the now-irrelevant platform, but it was, to German students in the Noughties, what Facebook once was to American Ivy Leaguers. When Facebook made its foray into Germany in 2006, it offered four percent of its stocks to take over the VZ networks, but the Germans said no, and today, VZ is floating around the fringes of the web trading stories of what could have been with Tom from Myspace.
Many in the recruiting game consider this attitude a slow suicide. As Daniel Wüstenberg wrote in Stern, the exodus to Facebook was "sometimes creeping, sometimes abrupt, but it was clear: StudiVZ was no longer cool. Cool was now Facebook, it had more features, it was more international."
Berlin-based Anna Ott brings two decades of experience in TA, recruiting, and HR tech to her current role heading Unleash's startup ecosystem, and "stopped using my Xing account years ago. I needed something more international," but "eighty percent of the Germans I meet at talks or conferences use Xing as their base," she says.  
Ott, who says she'd be lost without her LinkedIn account,  entertains the idea that "LinkedIn will take over in DACH," but estimates, at least for now, there is value in both platforms, however, "everyone in the TA game is hunting and hiring people globally. Xing's problem is that in the digital age, talent is scarce and we have to look outside our usual zones."
(pic credit: Sprout Social)
Along with the Prescreen ATS, Xing acquired Internations, "the biggest network of expats worldwide," says Altmann. So while Xing isn't exactly battening down its regional hatches, it's hard to see how Internations, essentially an expat meetup group, could compete with LinkedIn's inherent "globalness".
HeyJobs' Luther doesn't even see the issue in these terms: "The job market is differentiated and dispersed. Xing and LinkedIn are databases that recruiters use to find candidates, but it's not the best place to hire at scale."
Given that LinkedIn and Xing's products cross the line of competition with Heyjobs, Luther would say that, but his views point to a larger issue: that the XinkedIn solution is not necessarily the final one.
"If I were the Xing CEO," says Ott, "I wouldn't be afraid of Linkedin. He still has a comfortable zone and reason to exist in Germany. I would be afraid of who will disrupt Linkedin. Whoever kills LinkedIn will also vaporize Xing."
And who would have the power, the panache, the deep pockets to pull off something like that? The world's number-one search engine, of course.
"If you're searching for jobs that can be posted, by Google, in a Google ad," explains Luther, "that's how the company will enter the job board market, which will wipe out smaller job boards, and then you're looking at a new Indeed."
"If you're actively searching for jobs – which is a decreasing part of the market – then Google can show you jobs within their own Google Jobs product at the top of the search results page," explains Luther. "That's how the company will enter the job board market, which will wipe out smaller competitors, and then you're looking at a new Indeed."
And while Xing and LinkedIn monetize their corporate users with the metric of "the more you pay the more your job ad will be seen," says Ott, "Google Jobs' UI is designed for employees, not employers, so smaller companies that Xing or LinkedIn wouldn't chase will become more viable."
And who knows, if that works, maybe it'd be time to resurrect and implement the stalled social network, Google Plus. And if that were to catch on? It may not be long before we live in a digital monopoly, and start receiving new sets of automated invitations, ones that would read something like, "Hi, I'd like to add you to my professional network on Google Jobs."