An overview of the evolution of SmartRecruiters' Talent Acquisition Suite over the course of the last 12 months.
In 2019, SmartRecruiters' product team focused on user love, making existing products more powerful and intuitive at the same time. We went deep in feature development with a focus on productivity for all users, delivering improved experiences for recruiters, system administrators, and candidates. In the end, we shipped over 200 features and addressed over 145 user voice requests.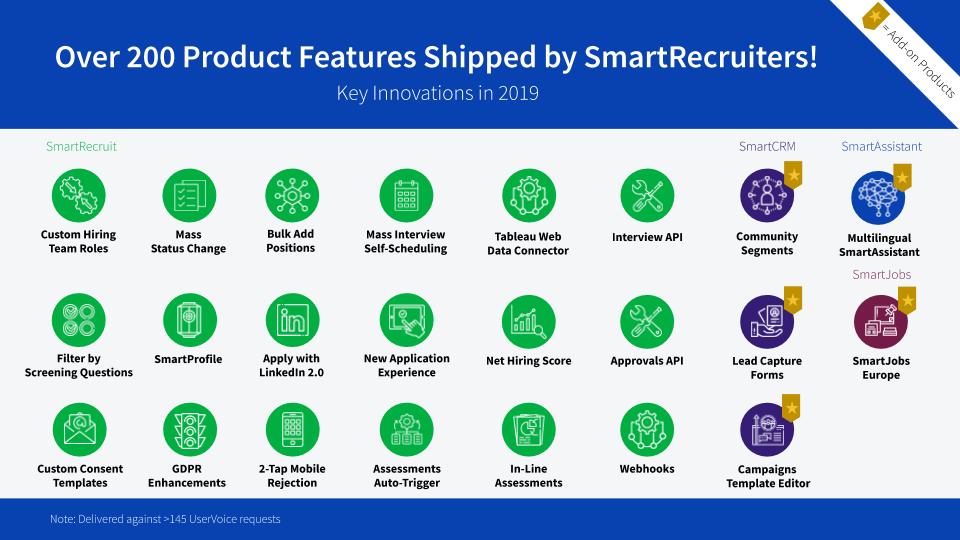 By remaining agile and regularly releasing delightful enhancements, we were able to provide our users with more value in a timely and consistent manner. Furthermore, each feature was implemented to empower our customers through the three pillars of Hiring Success: Talent Attraction & Engagement, Collaboration & Selection, and Management & Operating Model.
Below, we've shortlisted 10 of our favorite product releases from 2019.
1) Measure NHS in Product
At the end of October, we unveiled a new product release that brought to market a strategic metric for measuring new hire fit into our platform. The feature came alongside multiple process automation and platform extensibility updates that enable hiring teams to scale their efforts.
Most organizations attempt to measure quality of hire, but find it difficult to capture. Quality is often measured during year-end performance reviews, which come far after the hiring process is completed. To measure hiring success and strategize sooner, we wanted to empower organizations to automatically track their Net Hiring Score (NHS) in-product. Similar to a Net Promoter Score, which is the standard for measuring customer experience, the NHS measures the fit between new hires and jobs immediately after their ramp-up period.
Thanks to this update, SmartRecruiters customers can now automatically survey hiring managers and new hires 90 days after their start date to capture the hiring manager's assessment of a new hire's aptitude, attitude, and potential, as well as the new hire's assessment of job responsibilities, management, and company culture. Responses are collected and presented in a real-time dashboard to track an organization's NHS over time.
2) Interview Self-Scheduling
Interview scheduling can be an unnecessary hassle for both recruiters and candidates alike—one that involves multiple touchpoints and juggling of schedules in an attempt to find an agreed upon time slot. Thanks to our interview self-scheduling tool, the entire process is now decidedly easier.
Interview self-scheduling allows recruiters to suggest interview time blocks and send them to candidates. Candidates select time slots based on the interviewers' calendar availability. This is enabled through calendar integration, which is supported for the following calendars: Google Calendar, Office 365, and Exchange.
3) Auto-Triggered Assessments
Previously, SmartRecruiters users with admin rights could configure custom steps in the hiring process to include assessments. However, sending the assessments to a candidate who made it to that step still required a manual action from a member of the hiring team.
With the introduction of auto-triggered assessments, we've made it possible to automatically send assessments to candidates once their application has been moved into a pre-defined stage of the application process. This automation also works when bulk moving a group of candidates to a hiring step that includes an auto-triggered assessment.
4) 263 New Data Points for Reporting
In 2019, we added 263 new data points for reporting, allowing our users to measure their hiring efforts with even more accuracy. New metrics include, but are not limited to the ability to report on:
Screening questions
Job location (e.g. state)
Job approvals
Offer approvals
Minimum or maximum salary for jobs
Interview data
On the topic of data reporting, Kelly Fang, lead product manager for data and platform at SmartRecruiters said:
"I'm so proud of what we've accomplished in the last couple of releases, especially when it comes to supporting our customers with their diverse and specific reporting needs. We have tripled the amount of available data in Report Builder since January of this year and also seen triple the amount of total reports being created. Compared to December 2018, the average number of reports per customer jumped from 7.6 to 17.2."
5) Smart CRM Campaign Template Editor
Thanks to the upgrade of our campaign template editor, users can now easily build branded campaign templates with the ease of drag-and-drop functionality.
The Smart CRM campaign template editor also includes new settings to define the template's background and body color, as well as content blocks and new components such as text, images, buttons, and dividers.
Users can select between two different layouts and then drag and drop components into the content blocks:
6) Custom Hiring Team Roles
In January, we added Custom Hiring Team roles to allow our customers to precisely configure the access and actions allowed for each hiring team member.
Previously, users were assigned one of the five default hiring team roles on a particular job. These roles defined the user's access to certain information about the job and candidates who applied to the job, and the actions this user could take on the job/candidates.
Now, as seen in the images below, admins can configure the actions and information available to each default hiring role. Additionally, it's possible to create/configure up to 5 new custom roles.
More information on Custom Hiring Team roles can be found here.
7) SmartJobs in Product
Since we incorporated a SmartJobs starter form into the admin settings page, it's now easier for users to spearhead the setup of their programmatic advertising spend and enquire about programmatic advertising solutions available to them.
Administrators can specify the key parameters they would like to optimize such as the number of jobs they'd like to receive candidates for via programmatic advertising, their budget, and advertising strategy preferences.
According to product manager Sinan Gürcan:
"Our team has been focused on our vision to transform job advertising. 'Post-and-pray' recruiting is diminishing, and we have been working hard throughout 2019 to offer an intelligent alternative to our customers. SmartJobs is proven to positively impact hiring velocity, and we are very much looking forward to further developing this feature. Some exciting news for 2020: As of February, SmartJobs customers will be able to automate and manage their SmartJobs campaigns directly from the application."
8) Filter by Screening Questions
Recruiting at scale and with speed is all about efficiency—especially when it comes to the screening process. In January, we added the ability to filter candidates by screening questions so that recruiters can quickly identify candidates by their answers.
Previously, recruiters were unable to identify and group candidates based on specific answers to screening questions. They had to manually review each application to assess responses.
9) LinkedIn Recruiter System Connect
Due to LinkedIn retiring the previous iteration of their "Apply with LinkedIn" feature, we made this functionality available only to companies with a LinkedIn Recruiter seat or Job Slots contract. Now, candidates that apply to jobs at these organizations will be able to use the "Connect with LinkedIn" function to import their LinkedIn profile.
This is advantageous for candidates and recruiters for the following reasons:
If a candidate is already logged into LinkedIn, as soon as they click "Apply with LinkedIn" their profile will be populated.
If a candidate is not logged into LinkedIn, as soon as they click "Apply with LinkedIn," a popup will appear and ask for LinkedIn credentials.
Candidate data will be stored in ATS and LinkedIn Recruiter.
LinkedIn Recruiter seat holders can identify who started applying to a job, but did not finish through the "Apply Starters" feature.
10) Continuous Enhancements in Candidate Experience
At SmartRecruiters, it's very important for us to provide applicants with a compelling candidate experience. This usually begins with the process of applying for a job through our platform, which is intuitive, modern, and easy to use.
In 2019, we made it easier for candidates to add and edit applications thanks to a new font update, better validation, and smart date pickers.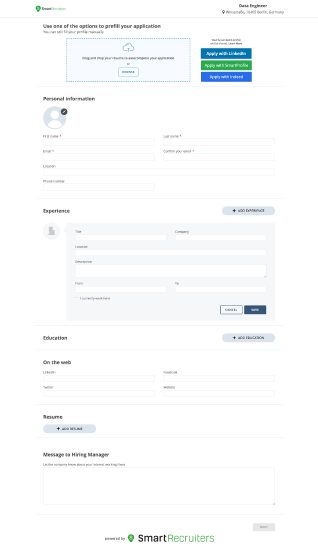 We also rolled out the following functionalities to streamline the candidate experience:
The job title and company is displayed at the top of the page, reminding the candidate of the job he or she is applying for.
Candidates can now upload their resumes more quickly by dragging and dropping it directly onto the page.
Candidates can now see quick validation feedback after filling out a field on the application form.
What a year it's been for product! Stayed tuned for more exciting updates in 2020 and be sure to regularly visit our What's New page to view the latest releases.
---
We hope to see you at Hiring Success 20!
Hiring Success is not a user conference, it is the best recruiting conference in the world. Join 1200+ TA leaders who are committed to shaping the future of recruiting and discover how you can achieve Hiring Success.
Advanced ticket pricing ends Dec 31st. Register here.