2019 marked the first year for International Reverse Recruiting Day. Once a quarter, SmartRecruiters offices around the world host events where recruiters and hiring managers connect with marginalized job seekers to provide career mentoring.
In an October 16th LinkedIn article, Jerome Ternynck, Founder and CEO of SmartRecruiters, stated the following:
"We are asking recruiters, hiring managers, and TA leaders to pause their normal routines for just a few hours and to shift their focus to working for the candidates themselves. Whether the candidates are previously rejected or from overlooked communities, we are asking our community to pause long enough to learn about these people as humans with vastly different backgrounds and stories. And once that is done, then to advise them in their job search…By participating, you will learn a lot, you will help your brand, and most importantly, you will begin to define the world you want to live in."
We are asking recruiters, hiring managers, and TA leaders to pause their normal routines for just a few hours and to shift their focus to working for the candidates themselves. Whether the candidates are previously rejected or from overlooked communities, we are asking our community to pause long enough to learn about these people as humans with vastly different backgrounds and stories.

Jerome Ternynck, Founder and CEO, SmartRecruiters
Two days later—and continuing over the course of the following months— 250 recruiters, hiring managers, and TA leaders took Ternynck's request to heart and volunteered for International Reverse Recruiting Day at SmartRecruiters offices across the globe. Each location partnered with local nonprofit organizations to help attract job seekers from the community, and provide them with as many resources as possible.
Nearly 400 candidates from all walks of life participated in Reverse Recruiting Day events in San Francisco, Paris, Amsterdam, Berlin, London, and Krakow. In these sessions, candidates had the opportunity to share and discuss the myriad difficulties they've encountered while looking for work. In return, volunteers provided them with valuable insight—tailored to their individual circumstances—on how to market their professional experience, sharpen their resumes, improve their interview skills, and strengthen their personal branding.
Normally, recruiters, hiring managers, and TA leaders must necessarily reject candidates on a regular basis. It's an unfortunate occupational hazard and you'd be hard pressed to find someone that takes pleasure in saying "No." to someone's professional and personal ambitions.
It's for exactly this reason that Reverse Recruiting is such a unique initiative. It provides recruiters with the opportunity to approach their profession from a different angle, engage with job seekers they'd otherwise be unable to help, and make the following positive affirmation: "Yes. I will help you."
Below are some highlights from International Reverse Recruiting Day Events in 2019. We hope they'll inspire you to join those who have already said "Yes" to Reverse Recruiting. Will you?
San Francisco
On October 18th, the San Francisco office partnered with Disability Solutions—a local organization specializing in recruitment and engagement strategies for the disability community—to bring in 30 job seekers with visible and invisible disabilities.
The day began with a presentation from Kevin McCloskey, Director of Partnership Development with Disability Solutions, on the stigmas that surround hiring people with disabilities and how to mitigate them.
"It was a humbling and welcome learning experience for everyone in the company, shedding light on an area of recruiting and talent acquisition that's underrepresented and deserves more attention," said Roy Baladi, Head of Communications at SmartRecruiters.
After the presentation, job seekers from the community were paired with TA leaders and SmartRecruiters employees to conduct mock interviews and have their resumes proofread. Every candidate was successfully paired one-on-one with a volunteer, which ensured undivided attention and counseling for each participant.
An additional presentation was held on interview skills, followed by a Q&A for those who wanted more information.
Paris
The French team at SmartRecruiters also hosted an event on October 18th in Paris in conjunction with Wake Up Cafe, a nonprofit they've previously partnered with that helps formerly incarcerated individuals reintegrate into society.
Candidates worked closely with recruiting experts on a variety of topics, from preparing for job interviews and writing a convincing CV to personal branding, how to apply for a visa, tips and tricks for using LinkedIn, and more.
One participant described his Reverse Recruiting experience as follows: "What's really a plus for me is the interactivity of your sessions and the fact that I can discuss my personal topics face-to-face. It helped me a lot more than any other workshops or trainings I've attended."
To date, through their collaboration with Wake Up Cafe, the French team have helped three job seekers find stable employment. "The real measure of success, in my mind, is the overwhelmingly positive response we've received from candidates so far," said Elodie Lang, CSR Initiative Coordinator at Smart Recruiters. You can't put a number on it, but it's clear to me and everyone on the SmartRecruiters team that we're helping people work through something that's very difficult. You can see the gratitude on their faces. And that's priceless."
Amsterdam
Eugene van dem Hemel, a Reverse Recruiting volunteer from the Netherlands, hosted a private event independently from SmartRecruiters with much success.
"[In October,…] I hosted a small Reverse Recruiting event. From the five participants I met, two have already started full-time jobs, the third will start December 1st. They signed a contract for one year…and as a result are no longer dependent on social benefits. The fourth candidate will start a paid part-time job in January and the fifth has accepted a volunteer position. She wants to make friends, learn, grow, and create a base that will bring her to the next step—a paid job. Thinking about these results, I feel the urge to continue."
Berlin
In the German capital, team Berlin partnered with aequa, a community for social equity that "hosts gatherings to strengthen support systems, nurture exchange and cultivate collaboration for a more equitable future." The inaugural International Reverse Recruiting Day event marked the second such collaboration between the organizations.
In attendance were twenty local job seekers, from a diversity of countries and backgrounds, as well as a group of recruiting and hiring specialists comprised of SmartRecruiters employees and Berlin-based talent acquisition professionals.
Sarah Joy Lynch, Co-Founder & Director of aequa, began the event on a positive note by facilitating a warm round of introductions and guiding the group through an exercise in Shine Theory— a term that describes a commitment to collaborating with rather than competing against other people.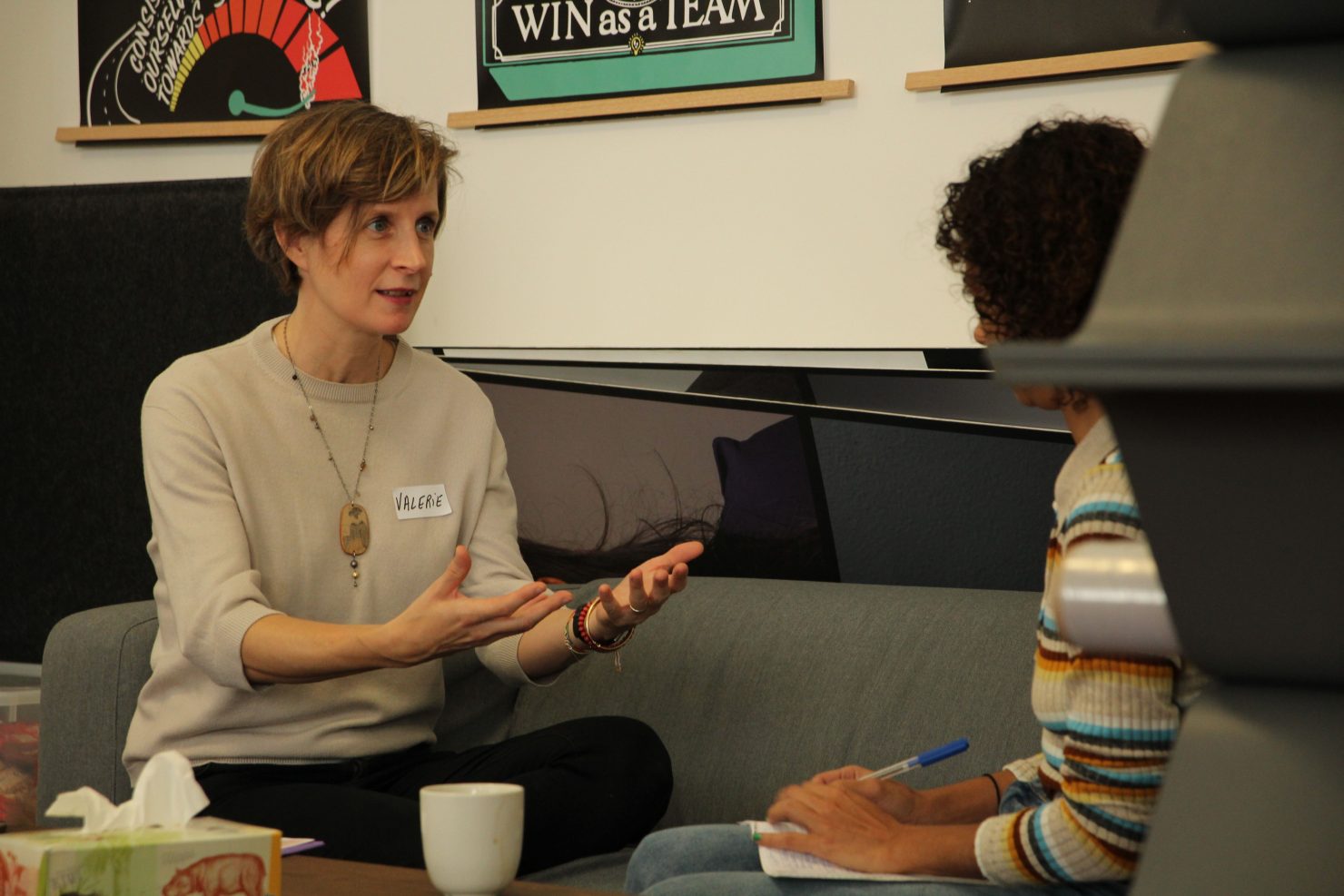 Officially, the day's agenda consisted of presentations on best practices for writing resumes and interviewing for jobs in Germany, resume review sessions, and mock interviews. This description, however, does little to convey what was actually accomplished. In a few short hours, a group of complete strangers came together, even if only for a short time, to act as a community and in the best interest of one another.
"I'm thankful to have had the opportunity to attend to the Reverse Recruiting session organized by aequa and SmartRecruiters. They were very welcoming and created an environment where I could feel safe and relaxed enough to express myself openly and shamelessly," said Is Montero, one of the candidates in attendance.
That made it much easier to have meaningful conversations with everyone else who was there. The diversity of the group made a noticeable and positive difference. I especially appreciated the open exchange between job seekers and recruiters, as well as the personal CV review. I would wholeheartedly recommend future events to those who need some direction in their job-seeking strategy."
London
SmartRecruiters UK team collaborated with Catch 22, a social business that "works at every stage of the social welfare cycle to build resilience and aspiration in people and communities." They invited candidates in the London metropolitan area that had recently been turned down for jobs to discuss building their personal brand and interview techniques.
The session was hosted at the Museum of London and was attended by Catch22 hiring managers and marketing teams and SmartRecruiters employees. The attendees were well looked after with a high touch session and plenty of one-on-one coaching.
The candidates said that the session had been hugely beneficial," remarked Robert Symons, Regional Vice President of the UK and Northern European markets at SmartRecruiters.
There were a number of follow up actions they took away to increase their job hunting success. I feel absolutely positive about what we're doing here."
Krakow
In Krakow, Poland 25 job seekers gathered at SmartRecruiters' office on October 29th in honor of International Reverse Recruiting Day!A group of 17 internal recruiters and other SmartRecruiters employees began the event with a 90-minute instructional presentation on how to create a great resume / LinkedIn profile and tips on how to prepare for job interviews.
Afterwards, candidates conducted mock interviews with the SmartRecruiters team members, who also helped them to revise and strengthen their resumes.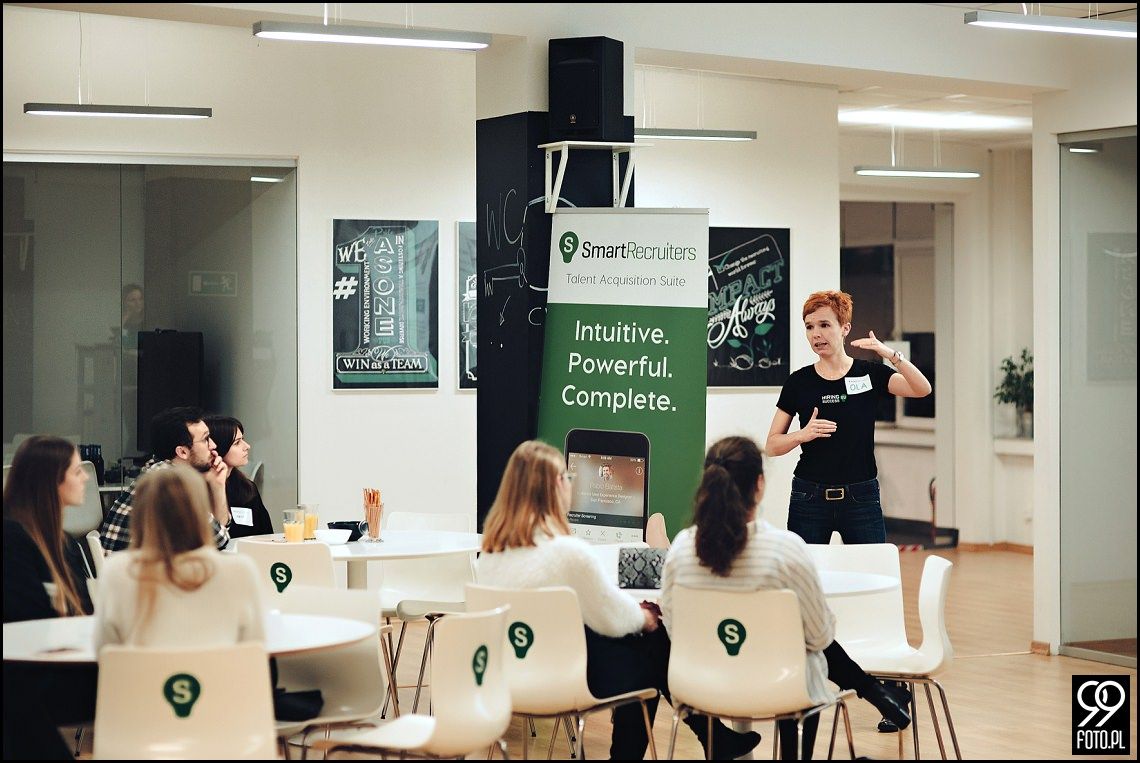 "It was really touching to see our recruiters help the candidates and offer them valuable feedback for their careers. The event was organized very well and we were able to provide each job seeker enough attention and individual focus to make a difference," said SmartRecruiters employee Halszka Radziwon.
You could tell that everyone who came actually left with actionable insight for their careers. By the time everyone left, they had a look of confidence about them. I think we're doing something really meaningful with Reverse Recruiting."
The next Reverse Recruiting event—the largest session yet with over 1,000 candidates—will be held on February 12th at the Hiring Success Conference in San Francisco. Satellite events will take place concurrently around the globe. Job seekers and/or recruiters willing to participate can find more information on LinkedIn or Facebook.

---
We hope to see you at Hiring Success 20!
Hiring Success is not a user conference, it is the best recruiting conference in the world. Join 1200+ TA leaders who are committed to shaping the future of recruiting and discover how you can achieve Hiring Success.
Advanced ticket pricing ends Dec 31st. Register here.