We are set to host HRTechTank on December 2 at our San Francisco HQ.

#HRtechTank is bringing top tier HR thought leaders, HR Tech vendors and investors together to take a look at what is happening in the HR Tech space and to share their expertise with the most promising HR Tech companies. It is not a pitching event and certainly not a competition but a real opportunity to discuss and share ideas with the brightest minds in our industry.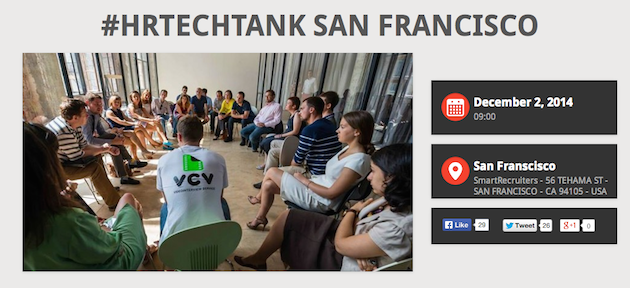 Program:
8.30 – 9.00 Registration, coffee
9.00 – 9:15 Opening words with SmartRecruiters CEO Jerome Ternynck and TEqV Investment Advisor Taras Polischuk 
9.15 – 10.00 Principal Analyst at KeyInterval Research  John Sumser: Understanding What Practitioners Really Do
10.00 – 10.30 SmartRecruiters COO Brett Queener: Why the ATS is a Disaster for Recruiting
10.30 – 11.00 Good.co CEO Samar Birwadker: Growth Tactics and Product Evolution
11.00 – 11.30 Rocket-Hire President/Founder Charles Handler: Making Best Use of HR Data
11.45 – 12.15 SmartRecruiters CEO Jerome Ternynck: Building Product to Delight Buyers and Candidates
12:15 – 1.00 Partner at Emergence Capital Santiago Subbotovsky: Investor perspective on Scaling B2B Ventures
1:00 – 1:30 Lunch
1:30 – 2:30 Panel Discussion: Vendor-Buyer Dialog: Is There a Match in Expectations? with Betts Recruitment CEO Carolyn Betts, CEO MapHR Dan Abouav, and SmartRecruiters Senior Director Pro Services Rebecca Meissner. 
2:45 – 3:45 Investor Panel Discussion
4:00 – 5:00 HR Tech Startup Presentations & Questions
For reading the SmartRecruiters Blog, you receive a 30% discount. Register Here.
If you are a SmartRecruiters Pro customer, this event is free. Email me (David@SmartRecruiters.com) to redeem your ticket.