The journey to Hiring Success is not always straightforward. The ability to attract, select, and hire the best talent for any role, on-demand and within budget requires an alignment across people, processes, and technology. Companies looking to improve their hiring practices often make the choice to implement a new ATS (applicant tracking system), but success will remain out of reach unless they develop a holistic strategy to create a compelling candidate experience, enhance recruiter productivity, and engage hiring managers.
When implementing any new system, a "Northstar" vision of the desired future state helps align the configuration and change management processes required. An enterprise-grade ATS like SmartRecruiters offers all the cutting-edge features that allow you to build a highly automated and fully integrated and customized TA function. But if your current process involves a decades-old system that has outlived its purpose, each people and process component of hiring will need to be evaluated carefully before you can successfully reach the next level of maturity with an ATS upgrade.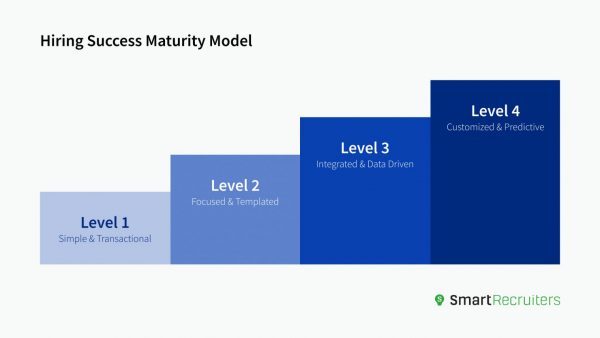 Building TA maturity doesn't happen the instant you make the flip of a switch to a new ATS. The process starts long before that and continues long afterward.
To help you get started, we've developed a strategy to ensure that your new system gets implemented in a way that takes you to that next level of hiring success.
1. Evaluate
In this stage, you take stock of your current hiring practices and systems used. This includes a close look at the people, processes, and technology used across every area of your company where hiring processes might differ, such as hourly roles vs. corporate roles. If you're implementing SmartRecruiters, you would take the Hiring Success Business Assessment, which would give you an overall maturity score after scoring you on each of the 21 dimensions.  
Once you have identified what's working well and what needs improvement, it's time to develop your Northstar, that desired future state where you're hiring best-fit candidates at greater velocity. This evaluation stage helps you make sure that you choose the right options to implement and design processes that fit your team's needs and your existing technology stack.
2. Strategize
In the strategize phase, look at each area that must be changed and consider how it fits into the big picture. The choices in this phase will determine configuration decisions in your ATS that cascade through each pillar of Hiring Success. The three pillars of Hiring Success are
Talent Attraction & Engagement: Sourcing, CRM, job advertising, referral management, global mobility, brand, and candidate experience.
Collaboration & Selection: Screening and candidate review, hiring team collaboration, interviewing, candidate selection, offer management, and onboarding.
Management & Operating Model: Compliant and secure systems, mobile accessibility, global reach, integrations, reporting, and analytics.
Considering the big picture of how these processes work together sets you up for a smoother implementation. If this portion of the implementation process is overlooked, decisions can get made in a vacuum and cause unnecessary process breakdowns when the system goes live.
3. Transform
Innovative technology won't stick unless people adopt it. To get the most out of any technology, the people who set it up need to know what's needed so that it will be most effective for the people who use it. A typical change management process for an ATS includes:
Identification of key stakeholders
A detailed project plan with key milestones
Strategic communications plan to inform and excite users
A common pitfall in this stage is omitting key stakeholders, business regions, or roles. It's important to recognize that not everyone might not use the system in the same way.  You don't want to catch people off guard when you roll out training and find out that the system will have an adverse effect on their hiring process.
4. Optimize
Transformation doesn't stop once you've implemented the system. In the weeks directly following an ATS implementation, the system is tested and rapid adjustments may need to be made. As reporting reveals gaps in workflows, further adjustments may be required; you may not have considered everything you need to get accurate metrics on performance, productivity, and spending. Over time, business needs may change that necessitate further adjustments. Optimization is a continuous process that helps you uplevel your TA function over time – and move up the ladder of talent maturity.
You don't have to do it alone
After implementing SmartRecruiters to more than 4,000 customers, we know the journey to hiring success is a complex process. At SmartRecruiters we support companies in navigating their new system implementation with SmartSuccess and TA Consulting and Insights packages.  These holistic implementation and consulting services support customers in assessing, planning, and configuring their instance of SmartRecruiters based on their unique needs. SmartSuccess gives companies everything they need to successfully launch SmartRecruiters with a predictable and proven approach that includes ongoing expert support.
With a dedicated Hiring Success consultant, you'll get facilitated implementation sessions, configuration workshops, and train-the-trainer sessions. The consultant will take you through each of the four steps listed above so that your organization gets the most out of your new ATS and get closer to your Northstar – that next level of TA maturity where you're hiring great people at greater velocity, on time, and within budget.