While top talent continues to drive the leading industries of today, it seems that not much is asked as to how this talent is actually acquired. Yes, while we may at times hold on to traditional tactics, there is no debating that recruiting technology is a crucial aspect to any growing business.
Now that technology in general has embedded itself in our everyday lives, it is even more so important for employers and recruiters to utilize every asset available in order to achieve that holy grail, the perfect hire. Although there are often times outliers that can be unforeseen, recruiting technology is here to help.
Here are some of the modern day myths of recruiting technology and how they can in fact help to expand your company.
1. "There is No Value in Big Data for HR"
This may be one of the most commonly used arguments that we in recruiting technology have to encumber. "Big data has no place in recruiting." While it is true that standard recruiting metrics continue to play a key role in measuring the operational desires of a business, big data allows you to see the performance of suppliers and helps pin point the most successful candidates within your talent pool. By understanding what drives results, big data transforms the process into a more fact-based recruiting and hiring system.
2. "Online Job Boards Don't Provide Results"
While there will always be discussions on new and alternative sources of hire, there is no doubt that job boards accrue the most daily potential candidates. According to CareerBuilder's 2013 Candidate Behavior Survey, roughly 69% of job seekers are actively utilizing online job boards. While this may be only one source of hire, job boards should not be overlooked when planning for a hiring campaign.
Not only does your recruiting miss out on a large majority of qualified talent, but your company website and blogs also miss out on an in invaluable SEO opportunity. Posting to job boards puts you in front of potential candidates, while making your company's presence and open positions even more visible. If at first you are not receiving candidates, be patient. Go back to your job listings and see where there may be some room for improvement within the ad itself.
3. "There's No Room for Social Media in HR"
While social media may not be the foreground for acquiring top talent, there are many benefits to having an effective social media presence when considering your company's recruiting strategy. Job seekers these days can be quite savvy when it comes to informing themselves on a company's culture and online presence. Companies without a social recruiting strategy can find themselves missing out on a tremendous opportunity to connect with customers, fans, and of course top talent. By increasing your company's exposure on social media and in social recruiting, you can greatly improve the brand as well as the candidate's experience.
4. "Mobile Recruiting Just Doesn't Work"
Mobile recruiting is playing catch up to the growth of mobile internet traffic. Job seekers are actively using their mobile devices to not only conduct their searches, but also apply for jobs. Whether its using a mobile job application or simply having a mobile-optimized site, it's important to ensure that candidates don't abandon the search process by providing an easy to view and easy to use solution. With about half of the web's daily traffic coming from mobile devices, it becomes important to hone in on a well planned mobile recruiting strategy that will help in your company's efforts towards talent acquisition.
While utilizing one aspect of recruiting technology may seem like enough, it is always a better practice to incorporate a variety of strategies and methods. With or without you, the world is moving forward with technology. It is no longer an area in which we can sacrifice a few dollars in the good ole' company budget – your team depends on it, literally.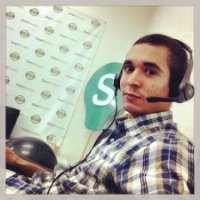 Diego Alamir brings an extreme passion for user-end operations and loves bridging the modern day gap between online and offline interactions. he works in Operations & Services for SmartRecruiters, providing rockstar customer service and support to the loving customers at SmartRecruiters.