70% of job searches begin with Google. Now that the search giant has put their job search algorithm into the hands of candidates, will they end there, too?
Following last summer's release of the employer-focused Google for jobs (GJ), as part of the Cloud Jobs API, Google has now made GJ, complete with AI matching technology to surface job postings on every board they're advertised, available to American job seekers.
With GJ, candidates can enter a search query like "jobs near me", or "retail jobs", and filter the results by location, specialty, company rating, or working hours – with more filters to come for ultra-personalized results. Think Google Flights, but for jobs.
It's a big deal for both job boards and employers, for very different reasons. Job boards will have to rethink their value proposition to businesses and candidates, and while employers don't really care whether job boards live or die, but missing out on GJ would mean missing out on candidates…
For candidates, GJ's appeal is obvious: job boards are usually little different than their newspaper classified predecessors, as in broad, hard to search, and riddled with expired ads. Now, Google's powerful creepy crawlies aggregate job data from around the internet to make sure posts are both relevant and up to date.
GJ does this by evolving matching technology. The idea being that enormous banks of data surface smarter matches through algorithms powered by AI and machine learning, thus eliminating the hassle of inconsistent job titling from company to company that has plagued candidates in the past.
"If I were Indeed, I would be scared; if I were an ATS that focuses on small- to medium-sized businesses, I would be scared," says Jonathan Kestenbaum, recruiting tech expert and managing director for Talent Tech Labs. "If I were a Talent Acquisition enthusiast, I would be excited that such a large organization is taking interest in helping innovate within the space."
Indeed has chosen not to make their jobs crawlable by Google. Rather, they are relying on the strength of their own brand, and the fact that, unlike most job boards, they are already using AI in their matching algorithms. Plus, for now, GJ with the added AI is only up and running in one country, the US, and in one language, English.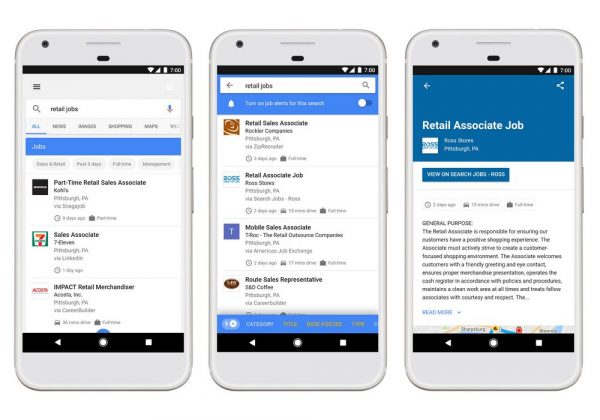 Google may have the advantage of controlling the search engine where 70 percent of job hunts begin, But there's still the matter of trust to consider. Facebook ran into trouble recently with their job advertising algorithm, when it was found to favor men. (Read why here) The candidate needs to know the AI underlying the search results is not so much a Harry Potter sorting hat, but more a summoning charm.
An accounting recruiter with over a decade of experience, Adam Karpiak says it may be a while before GJ really changes anything. "To the average candidate, job postings are job postings are job postings. These platforms actually make the recruiters look better because we specialize in people, NOT job postings. I'm sure GJ will be [a leg up], for the one percent of companies that understand what's going on. It'll take so long to trickle down to most companies, the ones that jump on it will definitely have an advantage."
Google staunchly insists their new tech isn't a replacement for job boards. The data giant is, in fact, partnering with LinkedIn, Monster, WayUp, DirectEmployers, CareerBuilder, Glassdoor and Facebook, to surface the best opportunities tailored to candidate specifications, hoping their foray into recruiting will push the industry forward in terms of tech innovation.
With more opportunities coming their way, job seekers are going to expect a quick and seamless process. So, recruiters, how can you make sure Google sees, and likes you? First off, make sure your job ad is compatible with Google search – you can check that by clicking here! – and be sure to follow this easy checklist, making sure your ad is:
Mobile friendly:

Make sure your career site and job posting are easy to navigate on mobile devices, so you don't miss the casual scrollers!

Informative:

Adding details like office location, work hours, and flexible work options will make it easy for candidates to surface your job posting.

Well Branded:

Reviews and content about your company will be more visible than ever, so it's a great time to make sure everything is up to date. You may even consider branching into new media, like making that career video you've been dreaming of.

One-click–Apply Ready: 

Lowers candidate drop out rates, and strengthens your brand in the digital age.

Efficient: The influx of candidates means that process becomes extremely important. Make sure your ATS is supporting quick and organized communication for your team, so candidates have a great experience.
Read more about SmartRecruiters Google Job Search functionalities here!