I was intrigued last week when I received the results of a survey from the giant Menlo Park-based staffing agency Robert Half, saying that more than three quarters of hiring managers think it's appropriate for job candidates to ask about compensation and benefits in the initial phone screening or first two job interviews. I've written at least three stories saying it's best for job seekers to put off salary negotiations until an offer is on the table. Was I wrong?


Paul McDonald, a senior executive director at Robert Half, says, "In this market, with 1% or 2% unemployment for some jobs, employers want to get to this business quickly. They want to see if there's a good fit and they're OK with the candidate bringing up the salary in order to be efficient with time." Conversely, he says, applicants should be ready to answer questions about salary early in the process. "We believe honesty is the best policy," he says." If someone asks what has been your salary in the past three positions, we coach the applicant to be prepared for that." The firm surveyed 300 hiring managers by phone in December 2013.
Has something changed in salary negotiation strategy since I first wrote about the topic two years ago? To answer that question I turned to three of my best career coach sources and to Heidi Ellingson, senior director of employment services at Middleton, WI-based Spectrum Brands, a diversified consumer products company with 13,500 employees worldwide, which makes everything from Rayovac batteries to George Foreman grills. She doesn't recommend that candidates bring up the subject but instead she has her own staff raise salary in the very first phone screening. "We want to make sure we're in the right ballpark," she says. Frequently candidates don't want to reveal either their salary or what they hope to earn, in which case Ellison's team tries at least to get a range. "We don't want to waste people's time if we're $20,000 apart," she says.
Have I been giving my readers bad advice? In a word, no. The job of staffing firms like Robert Half is to screen candidates for employers so they can present the most viable candidates, and hiring managers have an incentive to get candidates to name a number early in the process. But from the candidate's perspective, especially if you are negotiating for a managerial or executive position, it's best to avoid saying anything specific about salary until a job offer is on the table.
"It's like saying on a first date, 'how many kids do you want,'" says Roy Cohen, a longtime coach and author of The Wall Street Professional's Survival Guide. Sarah Stamboulie, a coach who previously worked in human resources at Cantor Fitzgerald, Morgan Stanley and Nortel Networks, agrees. "You don't want to be negotiating salary until they're at their maximum love—their maximum enthusiasm for you," she says. Once a prospective employer has convinced themself and their colleagues that you are their first choice, they are much more likely to bump up your package in order to get you.
Longtime coach Ellis Chase, author of The Fun Forever Job: Career Strategies that Work, agrees with Cohen and Stamboulie and lays out four reasons naming a salary is a bad idea: 1) If you come in very low, the potential employer won't take you seriously, 2) If you come in low the employer will think they can pay you less than they had planned to offer, 3) You price yourself out of the running, and 4) Even if you fall in the right range, you may not realize that the job comes with more responsibilities than you had thought and now you've ruined your negotiating stance.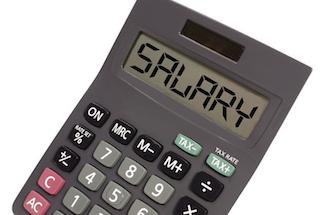 There are a couple of exceptions however. Stamboulie has worked with young up-and-comers at top consulting firms who have gotten multiple offers from employers who might not know the candidates want to make at least, say, $150,000. The fact that they don't need to accept any of the offers puts them in a strong position, especially if they know they want to shoot high.
The other reason would be if you're a superstar, you're happy where you are and you'd only leave for a certain number. A third reason could be if you're talking to a small startup where it's tough to glean ahead of time what the salary range would be. Then you might want to name what Stamboulie calls an "anchor number" that will help the firm know what you think you're worth.
What if the hiring manager or decision maker asks you what you make? That's a tougher question. Chase says you should rarely volunteer a number and instead counter with a line like, "I'm very interested in this position but I would hate for a dollar figure to eliminate me from consideration because if there's a fit, I'm sure we'll be able to work it out." If that doesn't work, you could try, "Could you give me an idea of your range?" The goal, as I've written before, is to wait for the offer and then to get the decision-maker to be the first to name a number. If the hiring manager becomes visibly annoyed, says Chase, then you have to relent, but it's always better to give a range, rather than a precise figure.
Cohen agrees. "A lot of hedge funds will bring it up. They'll say what are you earning and what are you looking for. If you don't give them some sort of benchmark you'll look like you're trying to tap dance around it."
One of Cohen's Wall Street trader clients can't hold himself back. "He won't do his homework," says Cohen. "He'll go into an interview and say, 'I want to know what this job pays, I want to know the base, I want to know the formula, I want to know what cash I'll get at the end of the year.'" According to Cohen, this candidate has blown three or four opportunities in the first interview. "When the market was stronger, they would tolerate this sort of thing," he says. "But now he's shooting himself in the foot."
The folks at Robert Half may be right about the preferences of recruiters and HR managers, but it's always best to try to bypass those gate keepers and go straight to the person who will make the ultimate decision about whether you get the job.

This article was written by Susan Adams from Forbes and was legally licensed through the NewsCred publisher network. Learn more about SmartRecruiters, your workspace to find and hire great people.