Fed up with human inefficiencies, this former recruiter used her math skills to automate a very human process, and save a ton of time in doing so.
Aida Fazylova used her background in mathematics and data science to sketch out a new approach to automate as much of the recruiting workflow as possible using artificial intelligence, automation and chatbot technology. The result, XOR.ai, is a customizable AI chatbot and workflow automation to engage, screen and hire candidates 33 percent faster than the normal hiring process, providing extended analytics about the candidates, including predicted employee lifetime value. With XOR, the recruitment process is completely automated, from the moment the candidate engages, right up to making a job offer.
Now, headquartered in Austin, Texas, with major customers in 15 countries around the world, XOR is the emerging leader in Human Resource/ Talent Acquisition process automation, and we sat down with Founder and CEO Aida Fayzlova (picture below explaining her amazing product at Hiring Success 18 Europe), to hear why this is so important.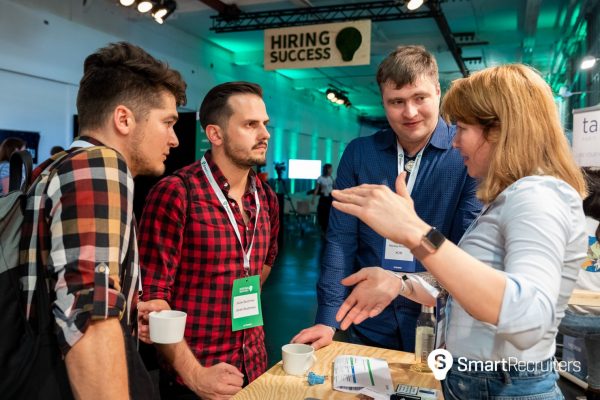 Why is your product a necessary tool for any SmartRecruiters customer?
Our product combines the latest in Artificial Intelligence, machine learning, automation, and chatbot capabilities, eliminating the most time-intensive parts of the recruitment process. It's available on your website 24/7, and can communicate in over 100 languages. XOR moves candidates through the funnel even while you sleep. Our AI will learn from your recruiters, hiring managers and candidates who come to your site, answering questions and gathering information, all to offer predictive analytics regarding future candidates and employees.
Briefly, on the back of a cocktail napkin, how does your product work?
Your candidate experience journey is elevated. XOR is with your candidates every step of the way, communicating conversations and data back to your hiring team in the ATS.
What does your product do that can't be replicated?
Currently, XOR supports 103 languages and has global hiring capabilities. Our product is also known for its sophisticated scheduling functions.
How does your product help make the hiring process as easy as possible?
XOR automates 60 percent of repetitive administrative tasks that your recruiters are handling every day, which allows more free time for your team to focus on more imperative, strategic tasks.  
At what stage of growth are you, and where is that relative to how big you want to be?
We're at a healthy stage of growth with a great headquarters in Austin, and major customers in over 15 countries around the world.
How does your product compliment the SmartRecruiters TAS – philosophically and technologically?
XOR is considered a one-stop solution for candidate experience. Providing self-scheduled meetings with recruiters, it's available 24/7 to answer questions for candidates and walks applicants step-by-step through the entire application process. XOR will keep your candidates continuously engaged and send status updates until the position has been filled. Our software works the front end of the ATS for your candidates, automating a great deal of work for your recruiters and is proven to recruit 33 percent faster.
What led you to partner with SmartRecruiters?
SmartRecruiters has the same sweet spot we do. Most SmartRecruiters clients are enterprise customers and high-volume recruiters, which is really interesting for us. The simplicity and the beauty of the ATS is elegant and modern. Designing products and platforms in that same vein is why we chose to partner with SmartRecruiters.
How long did it take to become integrated into the SR marketplace, and what were the obstacles or adjustments in that process?
Our integration into the marketplace only took about a week, with one person, which was a pretty quick turnaround. We avoided any obstacles through preparation and research. There are some obstacles in getting the API to speak to each other but once we integrated it's been working great.
How long would it take for the average SR user to implement and take full advantage of your product?
Set up will take about 3-6 weeks, most of this time will be spent with XOR's customer success team, working closely with TA pros, learning the knowledge piece of the chatbot, going over screening scenarios and linking calendars to chatbots to self-schedule candidates. Our team wants to ensure your chatbot is customized to your recruiters' needs and goals to be as successful as possible in their recruiting efforts.
What would you say to a company unsure about joining the SR marketplace?
SmartRecruiters marketplace is one of the best on the market. It's full of incredible partners which gives you a great reach to SmartRecruiters customer base and vice versa. Great events like Hiring Success are organized to focus on bringing as much business to their partners as possible, and during those events, you are able to start building relationships with businesses and close a lot of deals.
What do you see as the future of Talent Acquisition and where do you fit into it?
We see it as a rise in conversational interface. Right now, most web interactions are form based. Forms are great, but there are better, more customer-friendly interfaces. Your friends meet you and they want to have a conversation, not fill forms, right? The same thing happens online. Users want to engage, ask questions, and have a personalized experience, not be stuck with one-size-fits-all forms.