Employer Branding International released their 2014 Global Trends Study today. They surveyed 1,100+ organizations from 19 countries, and the results provide great insight into the business practice and level of investment in employer branding.
How are companies communicating their employer branding? Overwhelming, the global trends study found that the top mediums to communicate an employer brand were social media channels and career websites. 76% of companies communicate their employer brand through social media, 64% of companies communicate their employer brand through their career website, and according to this global trends report no other medium is used by the majority of brands to communicate their employer brand.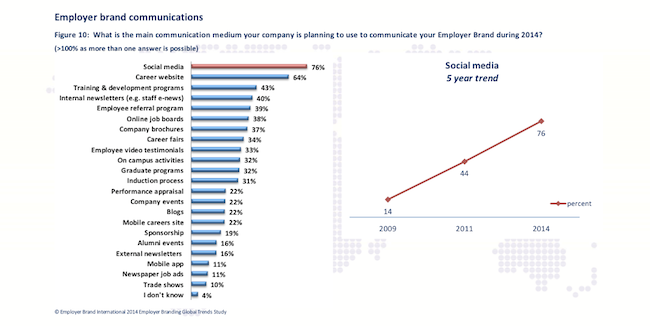 "Ask any CEO their main priorities and 'attracting and retaining talent,' will generally appear in their top three," said Employer Brand International Chairman and CEO Brett Minchington. "Employer brand strategy provides a way forward for organizations to ensure they can attract and retain the talent required for growth."
There is a level of reflection required to evaluate and improve your own employer brand. You can't buy into your own bias. A lot of times this means looking in the mirror and asking your business the tough questions (as covered in "20 Questions for Every Employer Branding" & "15 Questions to Align Talent Acquisition & Employer Branding"). Take a look at these five tiers of employer branding by Brett Minchington, be honest about which bullet points describe your company, and then, work towards practicing the bullet points of tier 1.
Who Runs Employer Branding Strategy?
One of the challenges facing the development of an employer brand (as covered in 'Employer Branding = PR + Recruiting') is determining who in the modern enterprise is responsible for it's growth. In 2009, 46% said Human Resources is responsible for their companies employer branding initiatives; in 2014, that number has dropped to 36%, meaning more organizations are enlisting the expertise of marketing departments and even executive teams to oversee employer branding. More organizations are aligning their employer branding strategy with their organizational strategy.
Minchington found that the number two challenge facing an employer branding program – after obtaining an adequate budget – is maintaining a united employer branding message across departments. Like your hiring efforts, your employer branding efforts should be done collaboratively. At the end of the day, word of mouth – often over social media – will tell the story of your employer brand.