Data from a recent LinkedIn study reveals what candidates actually care about when they weigh their employment options via your job ads, and it's not "company culture".
LinkedIn asked 450 candidates to review the example job ad (pictured below) and to highlight the passages they felt most relevant/ likely to make them apply. What the world's leading business networking site found, from the resulting heat map, is that is it's time to ax the verbiage and talk details.
Think of a job ad as a first touch, candidates will spend a couple seconds scanning dozens of similar posts to narrow down their job search to a few feasible options. They will want to know the who, what, where, when, and why, and little else.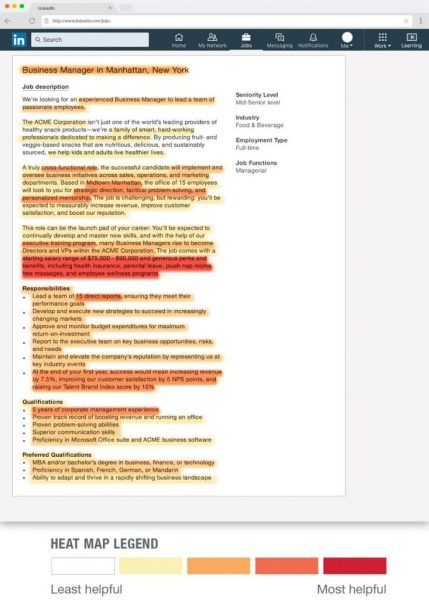 As you can see from the heat map above, compensation was number one while company details ranked last. LinkedIn saw the same priority ranking from candidates when the participants were asked to name the most important aspects of the job description.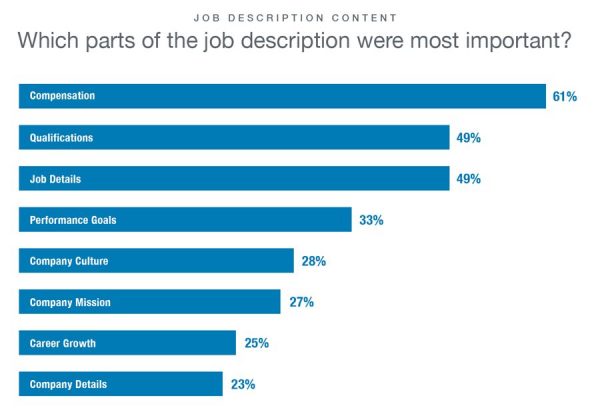 You can see what is important (money) and what is not (company-splaining). So, as hard as it is to face up to the fact that candidates could give a flying mousepad about the company description you agonized over, at least now you can get to writing a job ad people will actually read, and you're going to do it by dropping these dated gimmicks.
Rambling description of the company mission
Don't torture yourself creating a counterproductive flowery description, company name, function, location, and an embedded a career video at the bottom is more than enough.
Desired skills and personality traits
Instead of a vague list with flat lines like "team player" or "multi-tasker," give readers a precise list of responsibilities, like the number of people the new hire will manage, the departments they will work with, and what success in the role looks like.
Compensation DOE (depends on experience)
Compensation and benefits are the two most important details you can include to encourage candidates to click apply so don't shy away . Give a range of compensations and name some of the benefits of your workplace like "childcare" or "gym membership," even if it's simple as "bottomless kombucha" these simple perks will catch applicant attention.