Whether you believe people are actually on Google+ or not, it cannot be ignored as a part of your employer branding strategy. Any time your company has an opportunity to share its brand in a meaningful way it should be taken advantage of. Google+ gives brands another venue to strut their stuff. These are the trailblazers of Employer Branding on Google+.
10. Atlassian is all about collaboration; they understand truly what it means to be a team. Their page shows you that working for Atlassian doesn't mean just working with Atlassian, it means helping to develop and progress other businesses as well.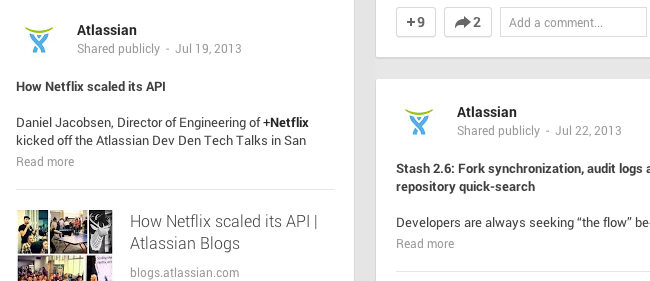 A lesson from Atlassian: People want to be excited and aware of challenges and opportunities they'll have in your company. Share cool things employees have accomplished.
9. PepsiCo is the parent company of Pepsi, Frito-Lay and Tropicana. Basically, they own your pantry…well mine at least. With such a major brand, PepsiCo could no doubt attract candidates without any effort let alone celebrate those they have. They show they are a great employer by doing the exact opposite. Their Google+ shows they trust their interns, and love their brand.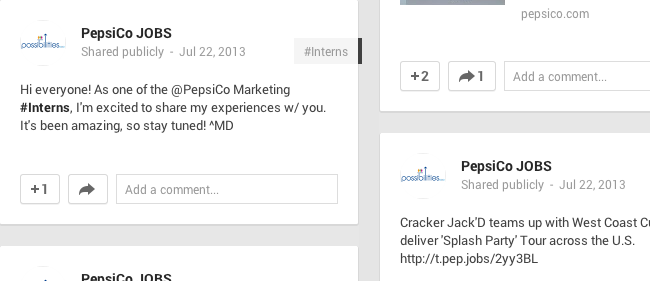 A lesson from PepsiCo: Candidates want to know they'll be trusted and appreciated. If a big brand like PepsiCo can do it, there's no excuse for you not to.
8. iDoneThis is a productivity tool, and from the looks of it their employees are productivity machines. Their Google+ page is filled with advice on how to be productive. They manage to be encouraging and light, reminding us that productivity doesn't mean being bogged down- it's about doing what you love.
A lesson from iDoneThis: Breathe your brand. If you want other people to use your product, lead by example. Show candidates and consumers how it makes a positive difference.
7. "If it's on your mind, it's on eBay." This statement is not a lie, anything you can think of, you can find on eBay. eBay has tons of consumer products that would be great for showing on any network, but what makes them special is their sense of humor. Whoever is behind this page knows that descriptions should be more like ads.
A lesson from eBay: It's not enough to have everything, you have to market it well. Challenge yourself by adding some humor to your brand.
6. Kiva is in the business of empowerment, both financial and personal. Their employees need to be passionate about making a difference, and their Google+ page exemplifies that perfectly. Kiva sets employee expectations immediately through photographs and job ads.
A lesson from Kiva: People are motivated by a sense of purpose. If the work you offer can provide that, share it.
5. Marc Jacobs is a name that makes any fashion lover drool, and their Google+ page does the same. You may think jobs in fashion are only in design but it takes an amazing team to create a holistic brand. On MJ's page we see how photographers, writers, and even a puppy make it all come together.
A lesson from Marc Jacobs: Don't get pigeon holed by what people THINK it takes to be an employee of your company. It's not a one man show, it shouldn't look like one.
4. Visitors and locals alike can discover everything San Francisco has to offer from 7×7.  Their Google+ page shows viewers that their magazine covers everything. Someone is behind the scenes. If you're into food, there's a job for that. Sightseeing, there's a job for that. Advice, history, fashion, there's a job for that too.
A lesson from 7×7: A great way to attract candidates and customers is to leave them wanting more. Images or messaging should leave people saying, "Hmm. I want more of THAT."
3. General Mills has the advantage of name recognition and history. Their Google+ page highlights how they became a household name by celebrating milestones, and creating excitement for the future. General Mills shares their company story, so candidates know what's behind the logo.
A lesson from General Mills: Tell people something they may not know about your brand, an insiders look may be all a candidate needs to hit apply.
2. Levi's Denim is all about denim. Or is it? Levi's Google+ shows us that you have to be about something more than your product. Human Interest and a sense of Social Responsibility are both things candidates want to see from potential employers. Yes, Levi's jeans are amazing but so are the things they do for the community.
A lesson from Levi's: Show your product, but also show what is important to your people. Social good initiatives that are not necessarily related to your product show candidates you're about goodness.
1. The New York Public Library is a landmark to say the least. Made famous in movies, novels and tourists' pictures- it's a building you cannot ignore. But what's really spectacular is what happens inside its doors. Their Google+ does a great job of showcasing its history and events, throwing notions of what it means to work at a library out of the window.
A lesson from The New York Public Library: Break perceptions of what people think it means to work in your industry. Set the status quo for what it means to be an amazing place to work.
We've said it before, "employer branding is people talking about you." These brands give us an inside look at their culture, providing a reference point for candidates and customers. The more transparent you are, the more you will guarantee you are attracting candidates that truly want to be a part of your company.  Take your cue from these employer branding stars and give people a reason to say, "I REALLY want a job there."