We're so excited to be a part of HR Tech World in London next week from March 21-22, 2017 at booth 208. It's an amazing event with a killer lineup of speakers, and we know there's going to be a lot of great things to do.
That's why we'll be in London, and we want to meet you there! More and more companies are joining the SmartRecruiters family, and we can't wait to share them with you. In addition to that, we'll have giveaways, speakers, and best practice talks.
If you stop by booth 208, we'll have plenty for you to explore on the SmartRecruiters platform. We'll also have recruiting experts to help you think about different ways to improve hiring in your company or organization.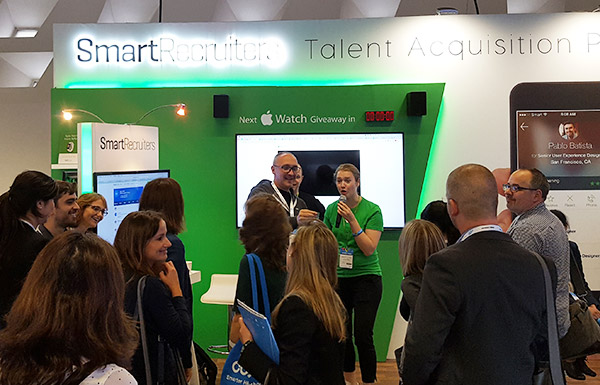 Additionally, our CEO Jerome Ternynck will be speaking at the conference about "Big Data and The Future of Recruiting." From his breakout description, Jerome knows that "there is a tremendous amount of data about candidates and jobs, but it is very rare that companies put the dots together and learn from that data. Jerome will share insights from SmartRecruiters' millions of candidates, jobs, and recruiters to illustrate how Big Data can help us predict recruiting performance."
Our customer Ubisoft will also be there to talk about how "64% of employees feel that their company is late in terms of digitalization and simultaneously [have] new digital habits that didn't [exist] 5 years ago. In this context, [Ubisoft will show] how HR can take advantage of this digitalization and play an important role in reconciling the professional world with the personal one."
Stop by booth 208 and you can enter our hourly Apple watch giveaway, learn more about the SmartRecruiters platform, and talk to our many hiring experts.
If you'd like to schedule an appointment, you can do that here.
And if you're not attending HR Tech World in London, but are interested in learning more about SmartRecruiters, you can request a demo here!