Originally published as "The Horrible Truth About Online Job Applications."
A guy called us up and said "I have a story I have to tell you."
"Tell us!" we said.

"Okay," said the young man, whom we'll call Jim.
"I got laid off from my job in September, but I wasn't panicking because I got a little severance and also because I can still do a small amount of consulting for my old employer. I've just been applying for a few jobs here and there. Last night I saw a job ad that looked perfect for me.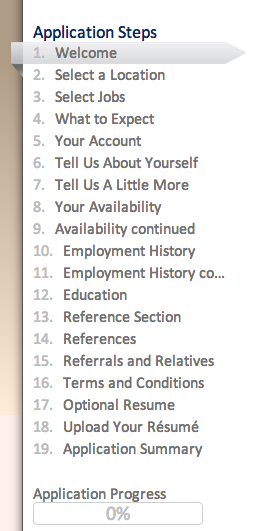 "It's a job opening for a Technical Project Manager, which is what I am, and I know there are a lot of us, but I have literally every single qualification listed in the job ad. The company makes medical equipment.
"That's the kind of product development I've been involved in for ten years. I figured I'd apply for the job and hopefully at least get an interview.
"I took about an hour and a half to fill out the online job application. I hit the SUBMIT button at nine-fifteen last night and sat down to watch TV. Before I went to bed around eleven, I checked my email, and sure enough there was a response from the company I had just applied to. It was one of those auto-responder messages.
"It said 'Thank you for your application for the Technical Project Manager job. Unfortunately, your background is not a match for our requirements. We will be sure to let you know about other openings that are closer to your area of expertise.'
"I couldn't understand it. The application I submitted along with the resume I uploaded matched the job spec exactly. I couldn't believe they were telling me that I wasn't a good fit. Was there someone working in HR that late at night, or had the keyword-searching software tossed me out? If I got rejected for not having the keywords, how could that happen, considering that my resume and application had every single keyword they might have been looking for?
"I went to bed. When I got up this morning, there was a new email message from the same employer in my inbox. This one said 'Good news! We think we've found a position that is a closer match to your skills.' I was curious. I opened the message. It was a job ad for a Food Service Technician in the company cafeteria, paying eight-fifty an hour.
"Now I was curious, and frankly, pretty irritated. I'm not working, so I have all the time in the world. I got on LinkedIn and started looking for a recruiter in that company, and I found one!
"I called the company's main switchboard and got connected to this recruiter, named Donna. She said 'That Project Manager opening is being handled by my colleague Andrea. Let me connect you to her.'
"So now I'm talking to Andrea, who's the recruiter in charge of the Project Manager opening. I explained my situation to her. She was silent for a minute, and then she said 'Okay, I understand what happened.'
"I was all ears, of course. Andrea is one of three recruiters in a company with 5000 employees in one location. Andrea and her two colleagues each have over a hundred job openings to work on at any given moment. Andrea is required by her job to list every job opening on the company website. That's where I found the opening, after being directed there through Indeed.
"The thing is that Andrea doesn't have time to screen resumes that come through the company website. She finds her own candidates using LinkedIn, instead. So when she input the Technical Project Manager job into her company's jobs portal, she set it up so that every candidate gets a No Thanks message, the same message I got.
"In other words, if you follow the directions in the job ad and apply through the company website, you're guaranteed not to get the job."
"WHOA!" we said. "But what about the Food Service job?"
"Oh, that's the best part!" said Jim. "Of course, the careers site in Andrea's company gets confused when you set the parameters to reject every single job-seeker. The site prompts you to give the people who fill out applications a side route, if you will – some other path to follow, since every one of them will get an instant rejection notice for the job they applied for, no matter how well qualified they are.
"Andrea set up the parameters to send those poor job-seekers every new job opening the company posts on the site, from the mailroom to the cafeteria.
"It was just a coincidence that they happened to post that Food Service job the very next morning, after I was rejected by the website."
"Would Andrea ever have seen your application if you hadn't called her?" we wanted to know.
"Nope," said Jim. "She has her own system for filling jobs. The applications that come through the company website go straight into the virtual trash."
"So, what did Andrea do once you called her?" we asked.
"She set me up for an interview next week," said Jim, "but I gotta be honest, the red flags don't really get any bigger than this. Can I work with such a broken organization?"
Now you know why I'm always telling you not to pitch resumes and applications into automated recruiting sites. You will never get a hiring manager's attention that way. Send a Pain Letter with your Human-Voiced Resume directly to your hiring manager at his or her desk, instead.
Jim learned a powerful lesson about corporate and institutional stupidity today, and I am happy to pass it along to you!
This article was written by Liz Ryan from Forbes and was legally licensed through the NewsCred publisher network. SmartRecruiters is the recruiting platform to find and hire great people.