Meet Urska Srsen: Co-founder of Bellabeats, a  startup that creates beautiful and functional health-monitoring devices for women and a Forbes 30-Under-30 for 2016.
The wearables market is no joke. Wearable tech grew by 17% in 2017. That means 310.4M units sold worldwide, and a projected revenue of $30.5 billion by year's end.
Wearable health devices, are expected to reach 9.4 billion by 2022, making for a compound annual growth rate of 14.9% from 2017 to 2022. Wowza.
Even with a giant like YCombinator behind them, Bellabeat knew they were in for a fight when they entered the market in 2014. What started as Urska Srsen's passion project with her mom and a friend from surf camp could have a huge impact on healthcare, but if they were going to compete with Nike and Apple, they couldn't just bring more of the same.
Turns out the wearable health-tech market had been more of the same for some time, overlooking a key demographic. Women. Enter Bellabeat, and their signature product, the Leaf: a health-tracking jewelry line made from a wood composite that can be worn as a bracelet, pendant or brooch.
.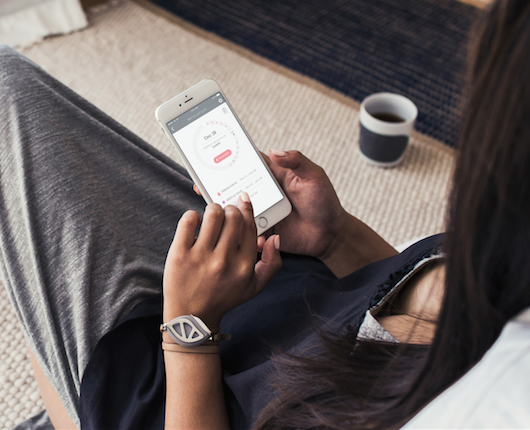 The mistake in thinking that women are a niche market created a blind spot, and Bellabeat was ready to swoop in and make a name for itself. Like, women comprise half the population, why had no one thought of something like this earlier?
Since its inception Bellabeat has gone from two friends with a big idea in Urska's native Slovenia to a global company on its way to unicorn status (knock on wood) with Urska named as one of Forbes' 30 under 30 in 2016 at the age of 26.
I met co-founder Urska by chance at HR Tech Amsterdam, like me she was in search of some coffee and a quiet place to sit, a tall order at the bustling convention. The press lounge offered both, bearded hipster barista to boot. She melted into her chair as we sipped cortados, her relaxed posture the only giveaway of how tiring the last few years have been. Even so, she talked with excitement about her journey with Bellabeats in the hectic world of startups as I settled in for the story of how it all began at with her noticing the gender gap in the wearables market. To her, it  was glaringly obvious:
I saw women excluded from the health-tech world in two ways, product experience and functionality. When we developed the leaf we were actually the first ones to make a wearable health-check product that included reproductive health tracking – others were just tracking activities and sleep.
Released in the fall of 2014, Leaf filled the void for women who wanted to track more than the cosmetic aspects of health. Urska shakes her head with a slight smile as she explains:
Women want to track more than the fitness or beauty aspects. Our health concerns change throughout our life; fitness, family planning, pregnancy monitoring, and into menopause. These can all at some point take priority depending on our phase of life. We wanted to create a product where we can track different things throughout our lives.
Since then, Bellabeat has added three more pieces to their still-expanding product line. Shell was released in November 2016 as the first non-invasive baby heartbeat listener. It allows mothers to listen to, record and share their baby's heartbeat. This was followed in May 2016 by Spring, the first AI powered smart water bottle that gives tailored intake goals and hydration reminders. And most recently, Airie, the health coaching app that turns all your data into manageable plans that include guided meditation, recipes, and action goals for exercise.
Urska is optimistic about the future of these products, especially how they could improve the lives of the users as well as how we approach healthcare:
We see these tools transforming women's lives in stages. Right now we have several products that relate to the same system and give our users insight into their overall wellbeing through data. Airie takes the user from tracking to coaching. Our plan is  to deepen knowledge of what the data tells us. The next step would be to have that become part of professional preventative care at some point.
Urska and her co-founder Sandro Mur met at windsurfing school in Croatia, where they discovered a shared interest beyond catching waves, in, you guessed it, health tech. They worked with Urska's mother, who was a practicing OBGYN, to develop a product that would allow women to do routine prenatal check-ups from home.
In the course of this project they realized two things.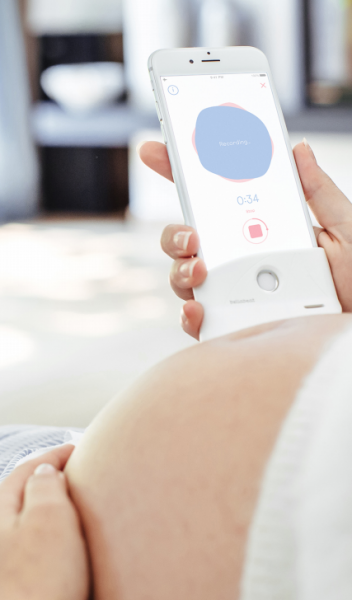 What they were doing was revolutionary and could elevate the level of healthcare  by making it more accessible and cheaper.

The healthcare system is not setup to adopt remote care and patients aren't accustomed to monitoring their own health.
The patients in their prenatal monitoring project showed Urska and Sandro that they would need to help users to become more active in their own healthcare so they decided to focus on a consumer product that would introduce people to health tracking and hopefully turn them from passive to active agents for their well being.
That's when they decided they needed to focus on a consumer product that would introduce the users to health tracking, and turn people from passive into active when it comes to their well being – which lead them to produce the Leaf.
In the US, Bellabeats largest market, the use for remote health tracking is immediately clear. Pregnancy in the US costs an average of $30,000-50,000 a year with a single ultrasound running at a cool $600, with even greater expense incurred from pregnancy complications stemming from obesity, stress, and lack of access. Remote checkups could help women and their partners monitor pregnancies at reduced cost and elevated quality, thanks to the consistent and constant collection of user data.
Which is all fine, but no one's going to wear any of this stuff if it's ugly, and this is where Urska's unconventional background as a sculptor comes in. (Yes, sculptor.) Urska planned to be a sculptor from the age of nine and realized that goal when she attended the Finnish Academy of Fine Arts at the age of 22.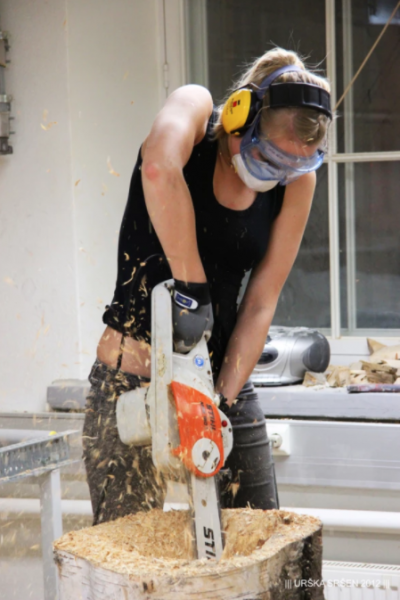 The surface of the tech we were seeing when we started was clunky. People have to actually wear the wearables for them to be effective. So a poor design is a huge concern. I think we made something that is approachable and that women will actually want to wear.
As it turns out, women do, and not just in the US. Bellabeats have expanded into the EU and Australia, with China soon to follow.
The chinese market is really exciting because of their wholistic approach to healthcare. Chinese healthcare is traditionally focused on prevention, and I think our product caters towards that approach.
So, new markets and big investors like SV Angel and Crunchfund coming on board. But not everyone saw Bellabeats' vision when the startup – which is now among the top 5 in the Y combinator series 14 – started out, racking up rejections Zagreb, Croatia  and Berlin, Germany before finally finding a home in San Francisco.
Even with the superpower of YC behind them (the total market cap of all YC companies is over $85 billion) there are some lessons Bellabeats learned on their own:
HR is extremely important and I wish we knew that sooner! A lot of startups wait too long before they hire someone to grow their team and HR processes. Things get really chaotic when you're trying to fulfill investors' expectations in terms of growth and revenue, making your customers happy, building the best team and then also managing each individual's satisfaction within all that all at the same time.
She catches her breath and continues:
HR's most important role is to bring structure into processes concerning hiring, managing people's expectations, and culture creation. It takes a huge load of off the founder's shoulders."
Each hire could be the difference between success and failure, and in the scrappy world of startups, the stakes are even more pronounced:
Hiring and growing your team is one of the key components in building a successful company. Culture and direction is, to some extent, intentionally planned and drawn by the founders. But the flourishing of those ideals, at a certain point, depend on the team you've built. We're still learning how to refine the process, have several stages of interviewing before we hire someone and still we're not always right, but I've found that with time it tends to even out. People who are a good fit stay and people who are not, usually move on."
Urska doesn't have a traditional business background, so when she interviews people, she likes to emphasize how they will fit into the brand versus a more traditional CV approach.
I like to ask where their dream job would be, besides Bellabeat, of course. I want to know what about that company and its brand would attract them. Their answer gives me a lot of insight into their knowledge of the marketplace and what excites them as a worker.
What excites Urska as a worker?
The entrepreneurial lifestyle is dynamic traveling everywhere requires a lot of personal sacrifice, but I love what I do, I think our product helps people and, to me, that's powerful.