Public displays of affection aren't for everyone. I can admit they make me squirm a bit. But, employers are giving a new meaning to the term PDA. Imagine, a company wants you to work for them SO badly; they're willing to let the entire world know they are asking for your hand in employment over their social networks. With social media becoming more and more entrenched in aspects of business it was only a matter of time before we saw social media and jobs work hand in hand; now we're seeing employers completely change the way they engage, source and offer jobs to candidates.

Would you make a job offer over social media? These are three stories of companies making job offers via social media.
3. Tech Marketing firm, ePrize showed their love for Samantha Bankey over Instagram. As told by Mashable, Samantha was highly engaged with the company's Instagram never missing the opportunity to comment or like a photo. This is a long-term love affair. Samantha interned with ePrize over the summer but no fulltime positions were available, when a job opened up nearly a year later in May they made the position available to her.
Samantha had to tell me about getting a job offer via Social Media:
"The great thing about my story is that it really shows the culture and atmosphere that ePrize has. It's a very fun, vibrant place to work. It's their job to develop relationships with brands so they can help with their digital presence. They do a lot of work through social channels (like Instagram, Facebook, Twitter, Pinterest, and so on) so what better way to practice what they preach than to get employees involved?"
If your company is a tech-marketing firm, use those core characteristics as a main function in your communication with candidates. If you're engaging them over social media, and getting more involved than the typical surface level communications, candidates will know you're dedicated to the work you do and surely accept your offer – Samantha did!
2. 42Floors, a startup merging tech and real-estate, proclaimed their affection in a love letter, I mean job offer, for Dan Shipper on their blog. 42Floor states clearly why they want Dan to join their team, he's a gifted developer, he's started multiple companies of his own, he's a talented writer, a cornerstone in the hacker community – oh and did I mention at the time he was only a sophomore in college? Well, he was. But this didn't stop 42Floors Co-Founder Jason Freedman from attempting to court Shipper in a very public way. Shipper decided not to take the job, but what makes this job offer unique – besides the fact that it's totally public – 42Floors stated even if he turned down the job they'll support his endeavors. On top of that the job offer has no expiration date, so if Shipper changes his mind 42Floors will open its doors to him.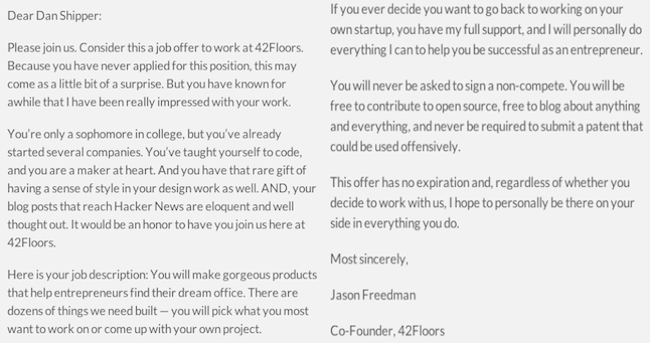 The heart wants what the heart wants. If you're sure the candidate is THE ONE for the job, you have to do whatever it takes to recruit them to work for your company – even if that means being patient. 
1. Do you believe in love at first sight? CEO of YouTube Chad Hurley sure does. He offered Feross Aboukhadijeh a job over Twitter within 14 hours of Aboukhadijeh releasing YouTube Instant (a site he took only 3 hours to build!) Aboukhadijeh is in the business of developing great programs, a skill YouTube did not want to miss. Aboukhadijeh ended up turning down the offer and is currently working to make websites faster and more reliable with his own startup peerCDN. Despite turning down the offer, a public display of affection from the CEO of YouTube is something anyone would feel great about.
Hey @freethefeross! Loving YouTube Instant… http://feross.net/instant/ Want a job? 😉

— Chad Hurley (@Chad_Hurley) September 10, 2010
Aboukhadijew told me this about his experience:
"Getting a job offer over Twitter from YouTube's CEO, Chad Hurley, was an amazing and unique experience. At first, I wasn't sure if the offer was real or not, and the tweet almost got lost amidst the noise of my Twitter stream (especially because YouTube Instant was going viral and I was getting lots of mentions!). But once I realized that it was a real job offer, I was excited and couldn't believe my luck! If you're recruiting over Twitter, definitely have the CEO make the offer, and be careful to not make Twitter your only recruiting method since I almost missed the tweet! If you don't hear back in a few days, I would definitely follow-up with an email."
The instant acknowledgement of his craft is proof YouTube is always keeping an eye out for new great talent, and they recognize it when they see it. Remember the market is competitive, if you're proactive about attracting the talent you want on your team you'll be a step ahead of the competition.
There you have it, three awesome stories of job offers being made over social media. The social recruiting climate is changing, if you can attract, source and engage candidates over social networks why not complete the process there too? Corporate Interview Processes, move out of the way – social media is in town!