In the world of overwhelming data, it is increasingly easy to miss important information. This is especially painful for time-sensitive situations, like missing a flight because an email from the airline got buried in your inbox.  
To better manage your recruitment, we at SmartRecruiters have released a new version of notification center that allows you to configure a set of relevant emails that help you stay in touch with your hiring process. We are making it easier for you to stay on top of all important news about your jobs, candidates and recruitment services: we have released 12 emails to cover all major events in your hiring process and an email notifications control center where you can set your email preferences. Let's take a closer look at the new candidate emails, the collaborative hiring emails, the hiring milestone emails, and view the notification control center, where you have access to all your recruitment email notifications.
New Candidate Email
We redesigned an email about new candidates. You'll receive a quick summary about a candidate, featuring their latest title, education info and location. All emails are optimized for mobile devices (example below). You can immediately proceed to rating a candidate by tapping on a star rating in the email or click to view more candidates for that job. We group new candidate emails if your job is "on fire" and you're getting a lot of candidates so that your inbox doesn't get overloaded.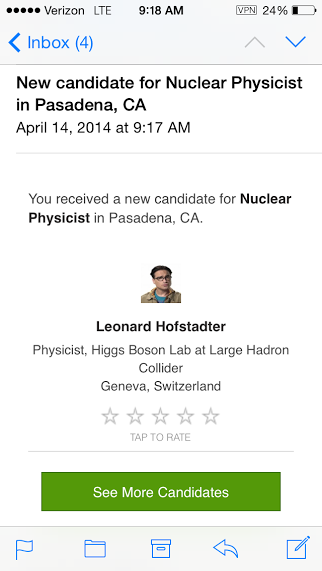 Collaborative Hiring Emails
We added emails to enhance your collaborative hiring. You can choose to receive emails when your hiring team members review candidates, share candidates with you, comment on your posts or schedule interviews. Interview scheduling emails allow you to add interviews to your calendar. You will also get a notification when someone adds you to a hiring team or when your hiring team has new members.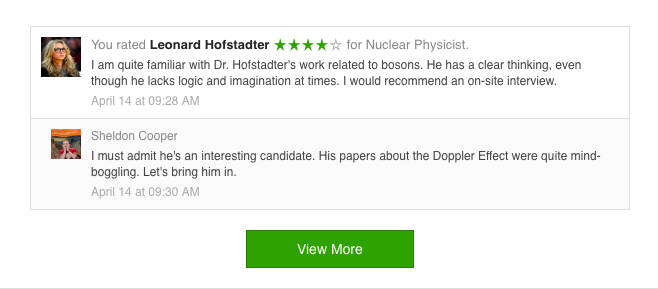 Hiring Milestones
Last but not least, we added emails about important milestones in your hiring process. These include new offers and hires, candidate assessment results and candidates withdrawing interest in a job.

Notifications Control Center
Email notifications control center is a new tab in your Admin/Settings where you can select to receive emails you are interested in. You can have different settings for jobs created by you and jobs where you're on the hiring team. It's easy to unsubscribe from a specific type of email or edit your email preferences by clicking on the links in the email footer.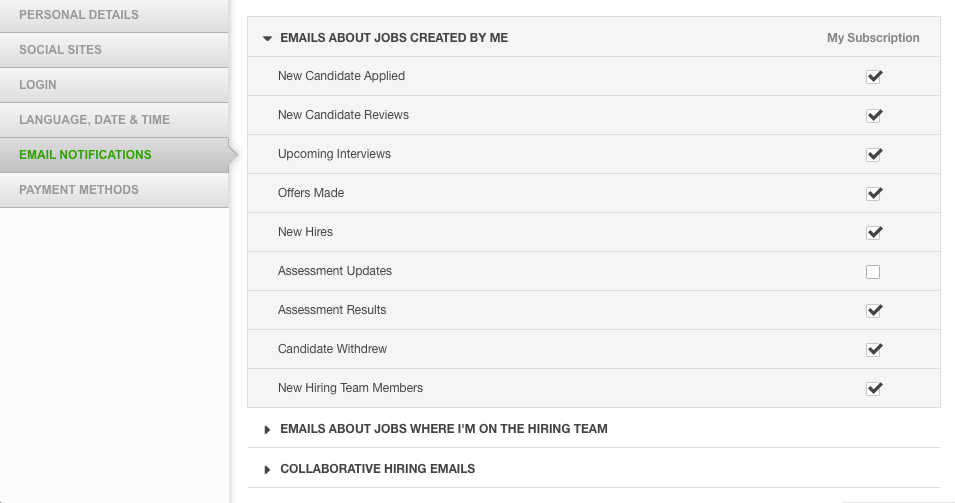 Recruiting is very time-sensitive. Hiring managers and recruiters are always under pressure to move fast: they need to close great candidates before the competition, schedule interviews, exchange feedback about candidates and learn immediately when a candidate is no longer interested in the job.
We hope that our new email notifications will help you save time by keeping you up-to-date with the latest important news about your hiring process. You are always welcome to share your feedback about the new emails on our Get Satisfaction forum or via Twitter @SmartRecruiters. Here's the full list of types of recruitment email notification options within SmartRecruiters:
12 Types of Recruitment Email Notifications
New Candidates for Intern, Product Management in San Francisco
New Candidate Reviews for Intern, Product Management in San Francisco
New Interview Scheduled for Intern, Product Management in San Francisco
New Offer Made for Intern, Product Management in San Francisco
New Hire for Intern, Product Management in San Francisco
New Assessment Results for Intern, Product Management in San Francisco
Assessment Updates for Intern, Product Management in San Francisco
Candidate for Intern, Product Management in San Francisco Withdrew Their Interest
New Hiring Team Member for Intern, Product Management in San Francisco
You Were Added to Hiring Team for Intern, Product Management in San Francisco
Check Out These Candidates for Intern, Product Management in San Francisco (Someone shared a candidate profile with you)
New Comments on Your Candidate Reviews