Advertise your jobs
simply and smartly.

Everything you need to source 5x more candidates. All in SmartRecruiters.
Any job board, anywhere
Know where to advertise your jobs with predictive analytics and post with 1-click. Add any boards you need to the growing SmartRecruiters Job Board Network.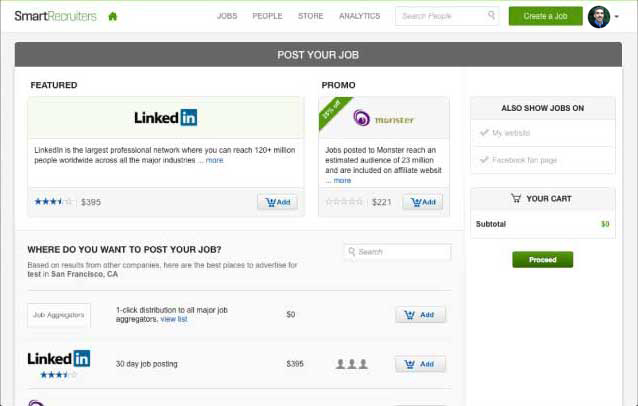 Job Ads 2.0
Easily create fully responsive job ads for desktop and mobile. Extend your reach with Social Referrals to refer a friend directly from the job ad. Increase traffic to your job ads by showing other jobs at your company.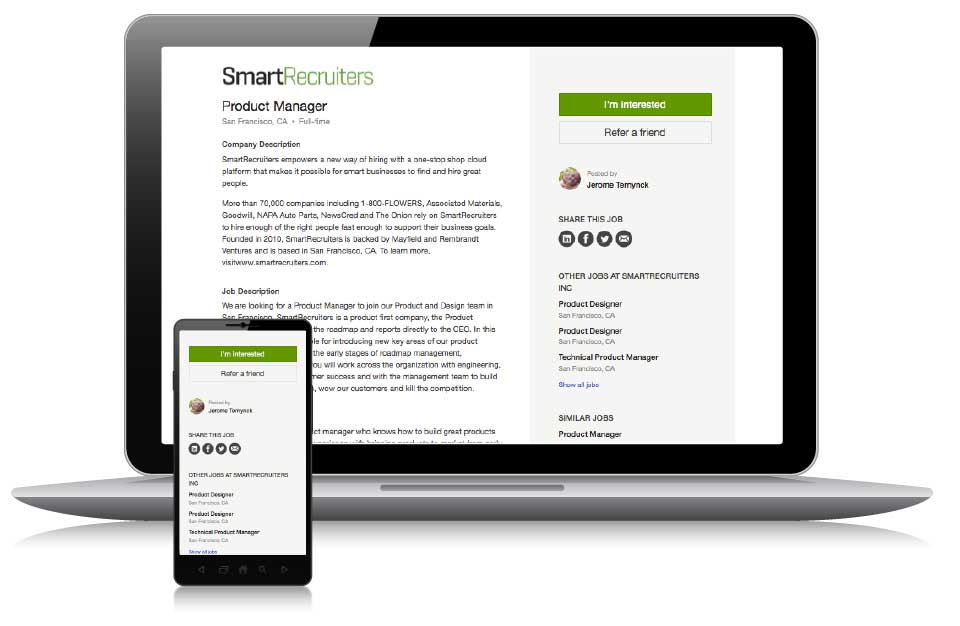 All your contracts
Manage your job board contracts in one place with Contract Management.* Post jobs using any pre-existing contracts and credits.
*This feature is available on the Pro Plan only. A nominal processing fee of $5 per post applies to any job post redeemed through pre-existing contracts.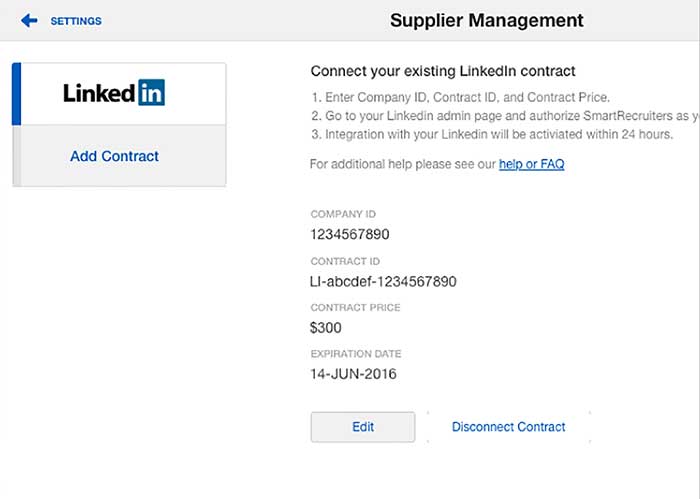 Optimize from source to hire
Centralize and integrate all your job advertising with the hiring platform that provides real-time sourcing analytics and an industry best candidate experience.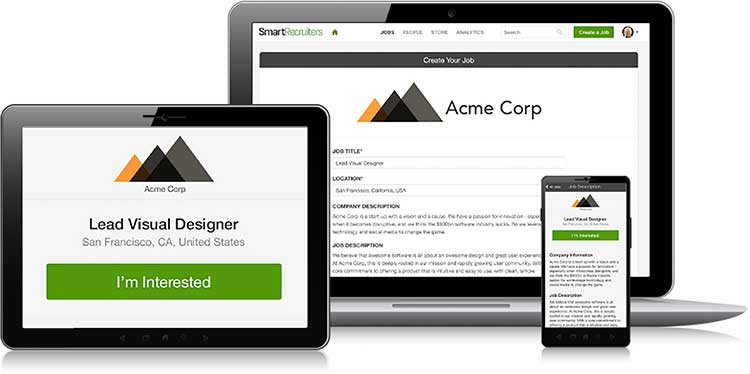 Job advertising concierge service
Let SmartRecruiters do the work. With the Media Services concierge offering, SmartRecruiters will recommend and purchase all your job advertising media at no additional cost.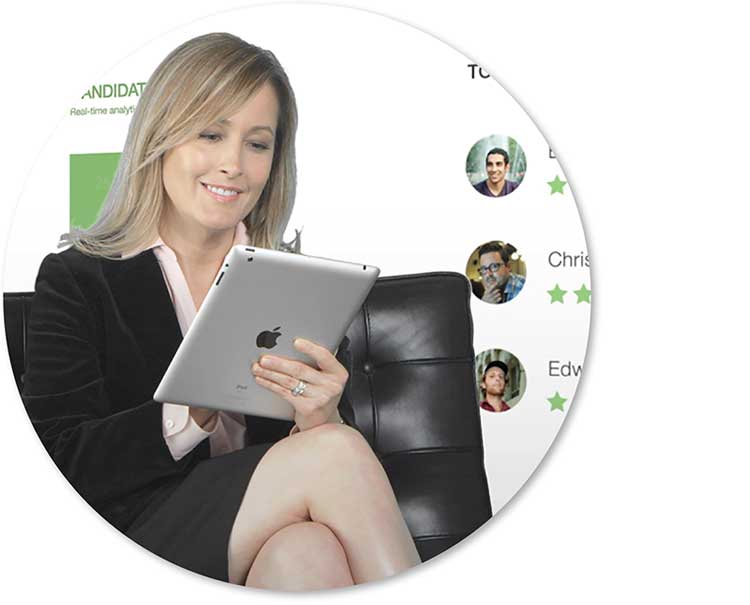 Smart Job Creation
Streamline the process of creating and enhancing job ads
Get a head start on creating great job ads with our redesigned job creation process. Start with "grabbing" from similar job ads that have performed well for other SmartRecruiters. Define and add your hiring team upfront to ensure all the right eyes are on the candidates as soon as they apply. In two simple steps, publish your new job to your career website and the free job aggregators.
Multiple Brands
Quickly add logos to job ads for multiple brands. Easily choose the appropriate logo when creating job ads for different brands, and let your brand shine.
Job ads with heart
Bring your jobs to life to attract the best talent
Job descriptions only explain so much. Add a video directly into your job ad and make your employment brand shine. Tell a more compelling story about the opportunity and get candidates interested to learn more.
Smart Job distribution
Get targeted, quality candidates in the door
Looking for a specific type of candidate? Unique qualifications? Distinct credentials? SmartRecruiters can help.
Get more of the right candidates by easily identifying and advertising on the job boards that have performed best for your specific job. Our dynamic recommendation engine and new advanced job board search makes this easier than ever. Don't see a job board that you want? Easily tell us in-product and we will work to add them to the Store.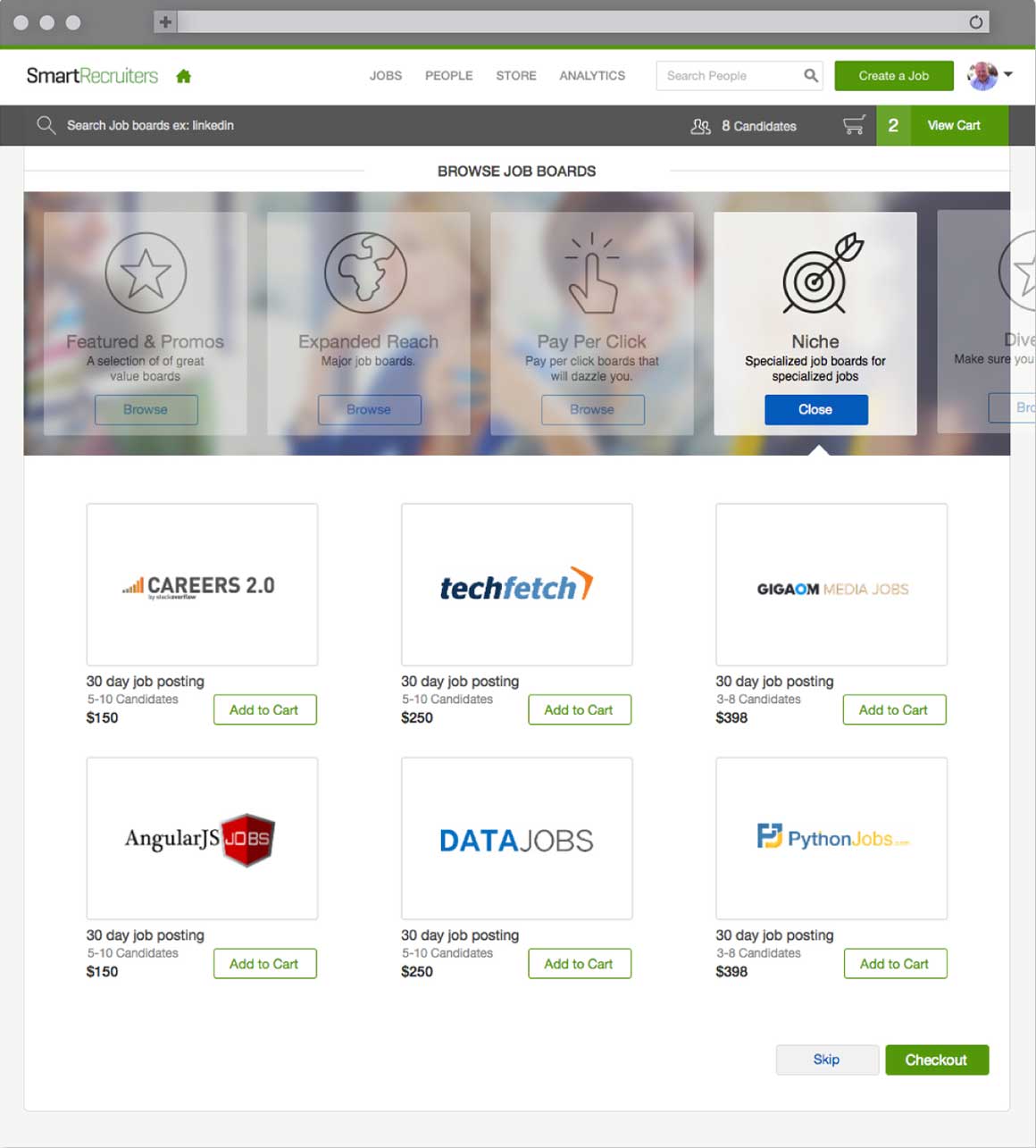 Job fields
Customize the job fields that are important in your hiring process
Get the flexibility you need to customize your job fields. Choose from a range of pre-configured fields or create your own fields that allow you to store all job attributes in one place. Easily track, search for and report on your custom fields to ensure you are fully compliant.