Seamless integration
Connecting all your hiring tools in one suite
SmartRecruiters comes pre-integrated with 250+ of these services.
Recruiters need many different tools to find and close the best hires. From the best job boards and sourcing tools to AI enhancements, assessments, background checks and many other recruitment services. They work seamlessly in the recruiter workflow. For example, a candidate's profile will display data from all 3rd party recruitment services that candidate used.
SmartRecruiters has tried-and-true pre-built connectors for all major HRIS systems and can rapidly integrate with them to make sure all your talent data stays in sync.
Seamless synchronization with your HRIS
Your HR IT experts can access the Developer Portal or test API calls directly from LiveDocs, our real-time API documentation toolkit.
Integration examples include:
User integration: New employees or users of your core HRIS are automatically created in SmartRecruiters.
Jobs/positions integration: Any new job or position created in your HRIS is automatically created in SmartRecruiters.
Foundational data integration: All jobs or organizational fields in your core HRIS are automatically created in SmartRecruiters.
New hire integrations: Any new hire created in SmartRecruiters is automatically created in your core HRIS system.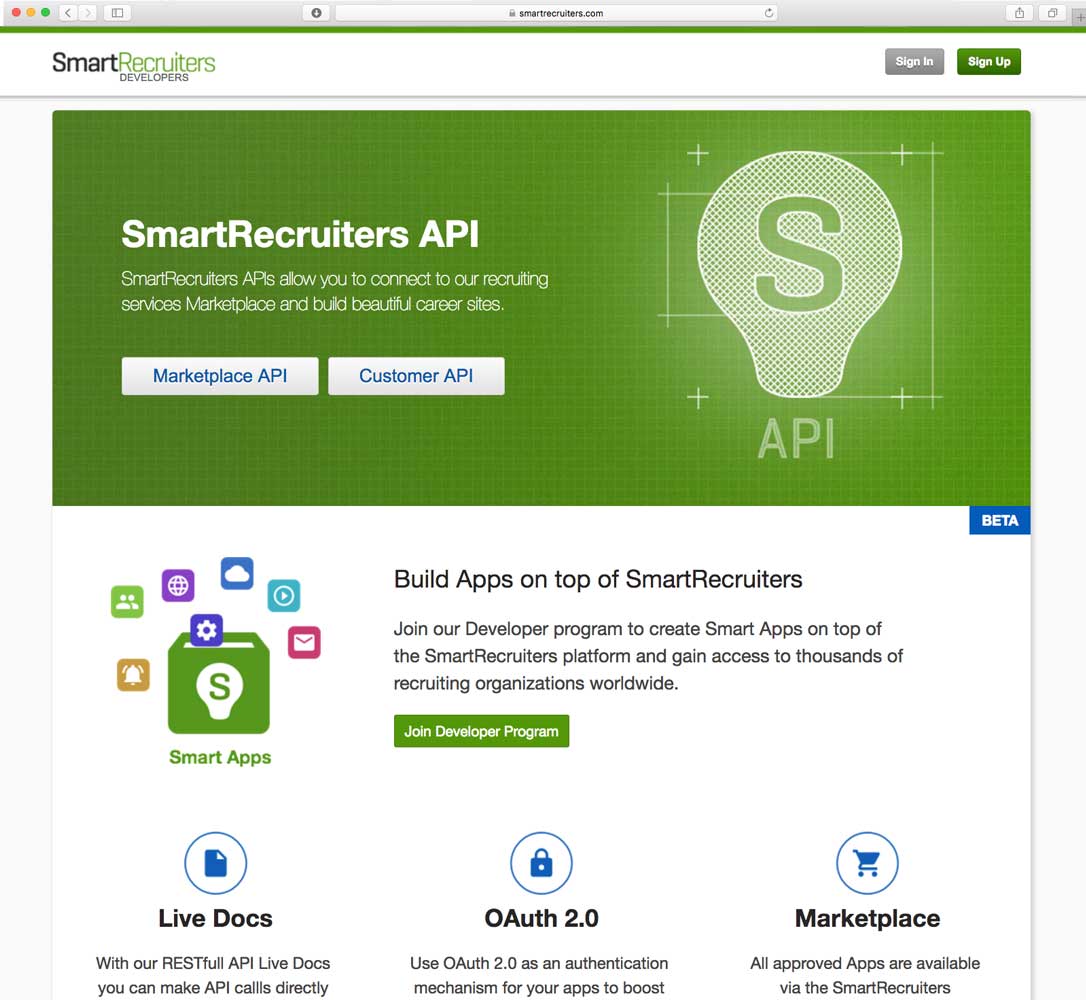 Pre-built integrations with 350+ third-party vendors
The SmartRecruiters Marketplace offers a comprehensive range of pre-integrated solutions from more than 250 recruiting software vendors – including all major job boards, job aggregators, dozens of niche job boards. Now you can easily select vendors, try new ones, and switch providers anytime – all with frictionless ease.
You'll also find tools from leading providers for background checks, skill and personality assessments, and video interviews – integrated so that results are automatically imported into each candidate's SmartRecruiters profile.
Visit the SmartRecruiters Marketplace. If your preferred vendor isn't listed, just ask us. We add dozens of new vendor integrations each quarter.