Hiring Success For Everyone At Your Company
The only hiring TA platform that delights every person in the recruiting process.
Unlike legacy applicant tracking systems, the SmartRecruiters Talent Acquisition Platform is designed for all the key players at your company, ensuring that each has the information and input they need for their roles.
Your Executives
Take advantage of a complete, modern platform to hit your company's hiring plan on-time with less cost and higher quality hires.
Understand the recruiting metrics that matter across your complete hiring funnel.
Measure your ROI & candidate quality across recruiting sources and hiring teams.
Leverage the recruiting power company-wide with an intuitive user experience.
Drive leap-frog improvement in your recruiting team's productivity.
Easily discuss & drive shared recruiting accountability with your peers.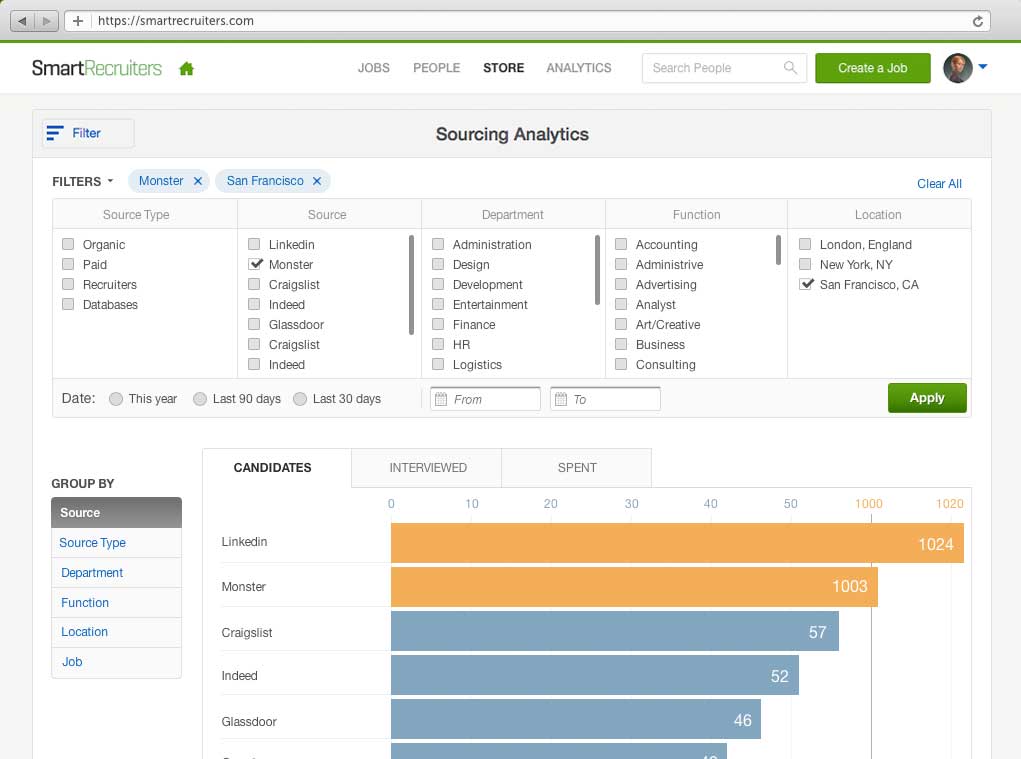 Your Sourcing Teams
Get out-of-the-box tools you need to market your brand, attract and add great candidates to the pipeline and increase conversions.
Easily build amazing mobile optimized career sites, landing pages, and job ads.
Distribute jobs to preferred vendors, social channels, and career properties.
Integrate with LinkedIn Recruiter for more effective sourcing and tracking.
Easily drive powerful employee referral & internal mobility programs.
Effectively identify and nurture both passive and active candidates.
Your Recruiters
Stay on top of your game with the right tools to help increase daily efficiency, manage candidate volume, and complete day-to-day tasks with ease.
Easily vet a high volume of candidates with proper screening & assessments.
View, manage, and customize all candidate communication from review to offer.
Drive effective evals with deep interview scheduling & management capabilities.
Receive timely, in-depth feedback from hiring managers.
Understand simply where you stand on every position, candidate, & offer.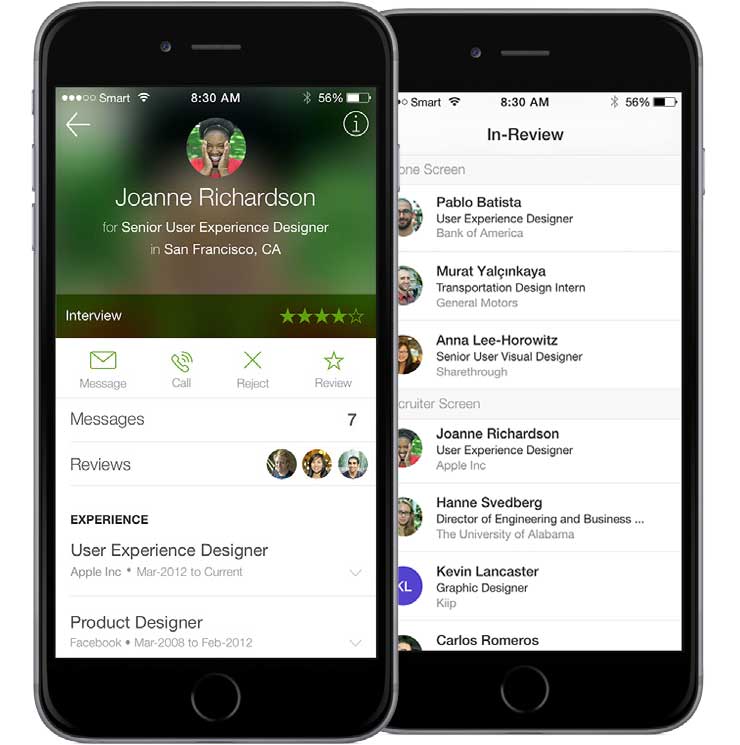 Your HRIT & Operations
Build seamless integrations, customize processes on the fly, and get just the right amount of control and flexibility.
Amazing in-product analytics & BI connectors provide teams the answers they need.
Customize your fields, processes, and forms declaratively on the fly.
Tap into the MarketPlace: all your favorite recruiting apps & services pre-integrated.
Leverage pre-built integrations to all the leading HRIS systems including Workday.
Review API schemas, study parameters, test real-time performance through Live Docs.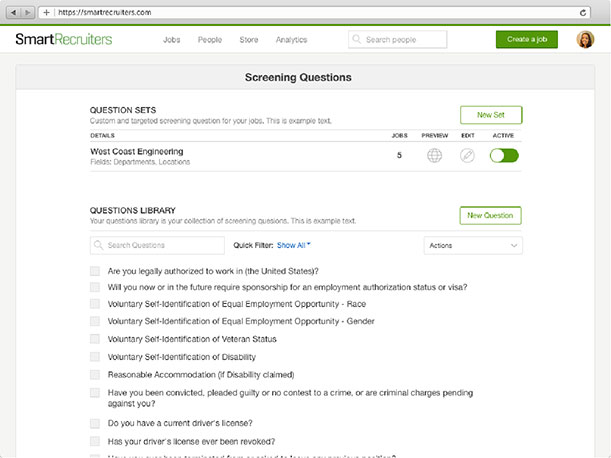 Your Candidates
Get vastly more qualified candidates by delighting them with an incredibly easy apply process, followed by personalized communication every step of the way.
Convert passive visitors to active candidates with delightfully easy, one-click apply: on desktop, tablet and mobile.

Allow candidates to apply with LinkedIn, Indeed and Facebook, or upload a resume.

Provide job ads and applications in your candidates' native language with 20+ supported languages, including Arabic, French, Mandarin and Spanish.

Send candidates personalized communication during the entire hiring process.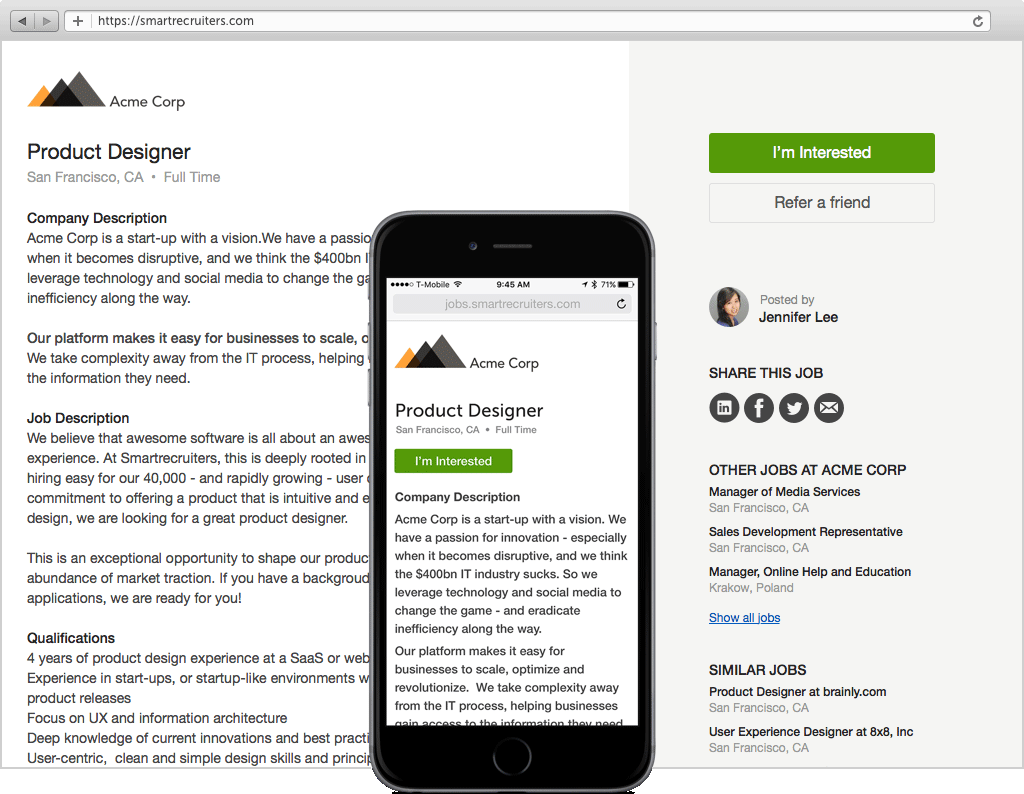 Your Hiring Managers
Make it incredibly easy for hiring managers to collaborate in the hiring process – and they will. An instantly intuitive interface and native mobile app allows hiring managers to review, rate, give feedback and even negotiate, wherever the job takes them.
A consumer-quality UX gets hiring managers up and running with little to no training.

Manage all hiring activity on the go with a convenient, easy-to-use mobile Hiring App.

Create interview scorecards with key criteria for more structured and productive interviews.

Easily review, rate, give detailed feedback and compare candidates for better hiring decisions.

Collaborate securely with recruiters and interviewers using @mentions, private messages and personal notes.