August 2015 Release
New Feature Highlights for August 2015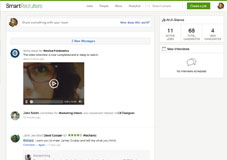 Candidate Fields
Create, track, and search against your key candidate criteria. Improve the flexibility for custom offer and onboarding processes. Collect the data that your need for your HRIS integration.
New Hire Form
Ensure continuous synchronization between SmartRecruiters and your HRMS and onboarding systems.
Assessment Workflows
Automatically trigger assessments at the right step of the hiring process to ensure candidate quality at scale. Monitor progress, get notified when completed, and view results directly from the candidate profile.
Video Interviews
Easily embed video interviews as a step in your hiring process to accelerate pre-screening. Receive much richer answers from candidates than from a traditional resume.
Background Screening
Enable real-time integration to your preferred background screening vendors. Embed the appropriate background checks into your hiring process so you can hire quickly with confidence.
Collaboration API
Easily integrate Publisher with your corporate collaboration apps to bring recruiting activity front and center – where your employees already interact.
Reporting API
Seamlessly connect SmartRecruiters to your existing BI tools. Consume all of your hiring activity and insights using the tools that are already familiar to you.
Delightful Enhancements
Share multiple candidates at once
Select candidates from a list on People or Job page, add a note, and share them with hiring manager or multiple colleagues.
Add tags to candidates via Publisher
Create tags, e.g. #sales, in updates. @mentioned candidates will have tags added to their profile. Once published, tags link to a list of all candidates tagged with them.