March 2016 Release
New Feature Highlights for March 2016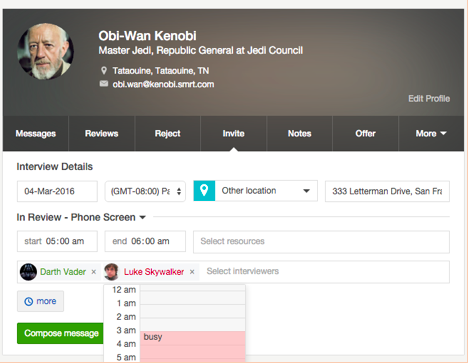 Google Calendar
Check recruiter availability and book rooms from SmartRecruiters. Bidirectional sync means changes to Google Calendar invites get reflected in SmartRecruiters. 
Scheduling Enhancements
Take interview management to the next level with seamless interview scheduling. Schedule multiple interviewers at the same time, book multiple interview rooms, store interview notes in the calendar invite, and a lot more.
Easy Referrals
Easily refer a friend for a job by uploading their resume and track the progress of your referrals without needing to connect to a social network. 
Analytics API
Plan your hiring goals and headcount more easily with a dedicated API to manage your ad hoc and scheduled reports.
Tableau Connector
Enhance the quality of your reporting. Sync and load your SmartRecruiters data straight into Tableau right from its native app.
Delightful Enhancements
Edit Candidate Reviews
Submitted candidate reviews can be re-edited on candidate profiles.
Custom Rejection Messages on Mobile
Select from a number of custom rejection reasons from the mobile app.
Share Candidate Comparison Report
Candidate comparison report can now be shared via Publishers with other employees not on the hiring team.
See All Jobs Branding
The "See all jobs" link on the job ad can be customized to point to the customer's own website.
Rejection and Withdrawal Reasons
Show and select candidate rejection and withdrawal reasons right on the candidate profile.
Required Job Fields
Edit the visibility of job fields to make them internal or public. Select job fields that are required on the job posting wizard and in job details.