May 2016 Release
New Feature Highlights for May 2016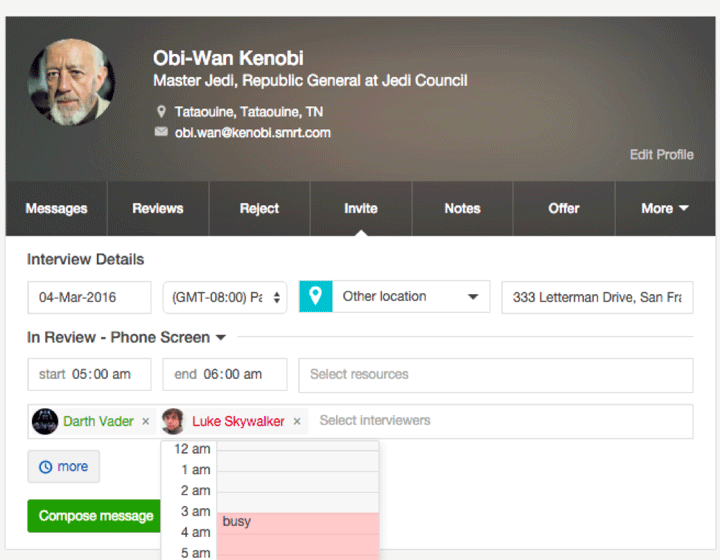 Microsoft Office 365 Calendar Integration
Easily check real-time availability of interviewers and meeting rooms, and book multiple interview types (phone, in-person, etc.) from within SmartRecruiters. Interviewer responses and interview updates automatically sync from O365 into SmartRecruiters.
Open Notes
Easily share notes with your entire hiring team. Open Notes allow everyone with access to the candidate to view the content on the candidate feed.
Analytics API Improvements
Analytics API endpoint for your candidate application data. Get a complete picture of application status, candidate contact ino, source of application and more. Pair this with Tableau for easy, robust reporting.
Marketplace Partners
Click Boarding
A robust onboarding software that delivers better new hire engagement and improved internal efficiency by guiding new hires through targeted content right from the start.
HROnboard
Employee onboarding solution that helps organizations make HR administration easy while engaging new hires before day one to help them get up and running faster.
SocialReferral by Careerbuilder
Social referral tool that allows you to build an employee ambassador program with real recruitment value.
Delightful Enhancements
Filter by Source
Filter leads and candidates by source.
Boolean Search
Use AND, OR, NOT, and ( ) operators to create advanced search queries.
Email Comments to @-mentioned People
Get notified when someone comments on a post you where you were @-mentioned.
Job Fields as Offer Merge Fields
Use job fields as offer merge fields to streamline your offer process.
Edit Accepted Offers
After an offer is accepted, edit the offer data and resend if needed.