November 2015 Release
New Feature Highlights for November 2015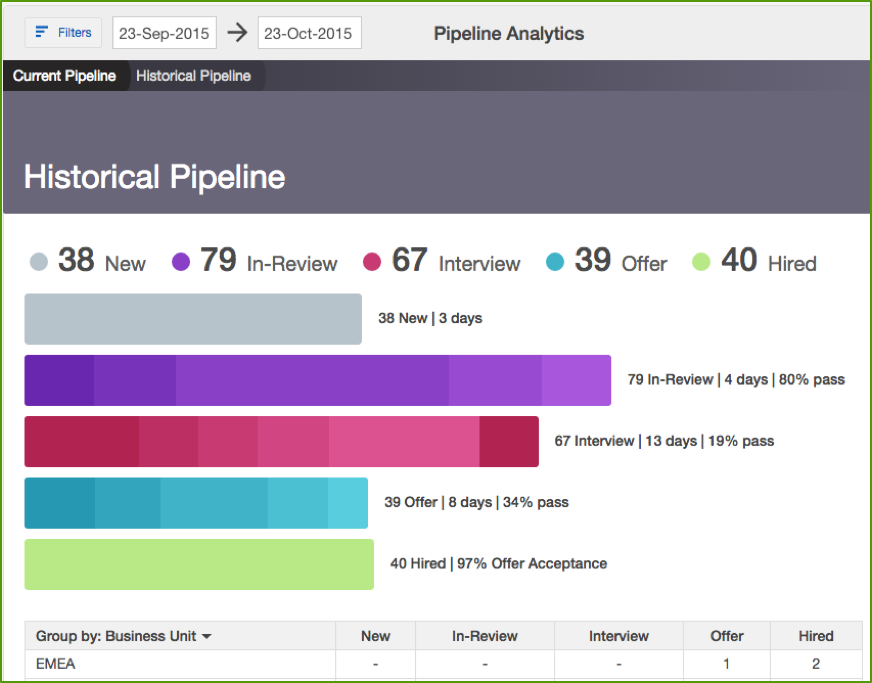 Pipeline Analytics
Gain strategic insights into your team's performance with current and historic pipeline analytics. Understand the health of your overall hiring velocity and day-to-day hiring progress.
LinkedIn Referrals Integration
Tap your employees' LinkedIn networks and boost your referrals with our newest integration with LinkedIn Referrals.
Brand Management
Strengthen your employer brand. Manage the visuals and logos that reflect each of your brands in career website, microsites, job ads and your candidate portal.
New Marketplace Partners
Increase security and employee productivity with Okta's SSO (single sign-on) and user provisioning solution. Get access to PAN's catalog of talent assessments from over 15 leading publishers. Know exactly who you are hiring with aptitude, personality and skills tests from Criteria.
Delightful Enhancements
Configure Custom Notifications for Hiring Managers
Select one step or multiple steps (e.g. Hiring Manager Review) to notify hiring managers about new candidates in those specific steps.
Set Specific Sources to Candidate Added via Public APIs
Set a custom or standard source when adding a new candidate via Public APIs. Choose from any type of sources available in the system, including referrals.
Candidate Properties Listed in APIs
Candidate properties configured in a company and associated with a candidate profile are now listed in the API to pass them over to external applications like onboarding systems.
Marketplace Email Receipts
Any purchase in the Marketplace will result in sending an email receipt containing the purchase summary and linking to a pdf receipt.
Cancel Assignments From Job Pages
Users can now cancel a recruiter assignment directly from the job page.