October 2015 Release
New Feature Highlights for October 2015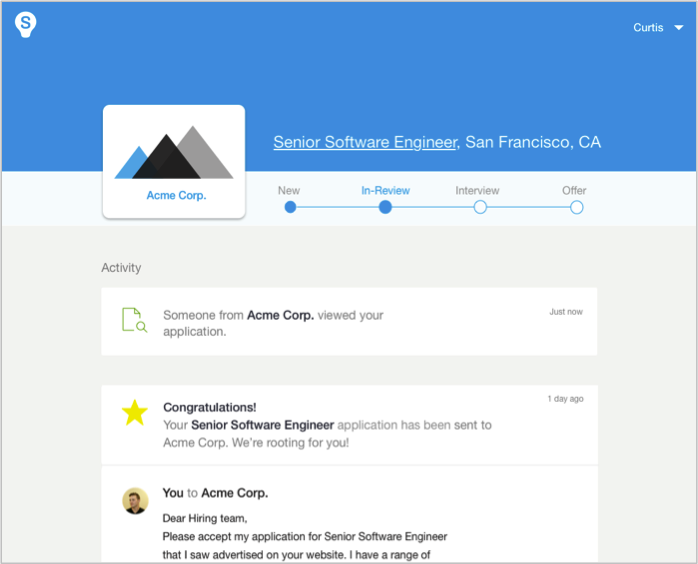 Candidate Portal
Take candidate experience to the next level. Enable candidates to check the status of their application and communicate with you in a branded, personalized candidate portal.
Customized Approval Chains
Get the right people to approve new jobs and offers. Create custom preset approval chains across your entire organization.
Position Management
Plan your hiring in advance and manage headcount. Link new job openings to specific hires and effectively track your key hiring success metrics.
Notifications Bell
Easily track hiring updates that require your attention. Get an organized list of notifications each time you log into SmartRecruiters.
Contract Management
Contract Management is now available in SmartRecruiters Team Edition. Connect and manage inventory of your major job boards in one place, and fully enjoy integrated job advertising, source and cost tracking.
New Marketplace Partners
Transition new hires to engaged, high-performing employees with SilkRoad Onboarding. Get 360-degree visibility background checks with TalentWise Screening. Integrate programmer testing assessments to your hiring process with Codility.
Delightful Enhancements
Control Email Notifications for Your Entire Organization
Admins can now configure default emails notifications for users in their organizations. Apply changes to all users, or only new ones who haven't configured their personal settings yet.
Track Location in Applicant Flow Reports
Job location is now displayed in the Applicant Flow Report, making it easier to run compliance reports on your applicant flows for different locations and offices.
Better Formatted Candidate Reviews
Preserve the original text formatting of candidate reviews after interviewers submit their comments.
Easily Add Hiring Team Members While Creating a Job
An enhanced job posting process now makes it easy to add hiring team members and also includes education on the permission levels for each hiring team role.
Mobile SSO (Single Sign On)
Also enjoy the convenience of SSO on the go. Authenticate with your SSO provider to easily login to SmartRecruiters app on iOS and Android.
Easily Unpost a Job After a Hire is Made
A shortcut that reduces manual work for recruiters. Right after a candidate is hired, SmartRecruiters notifies you if you would like to unpost the job and inform remaining candidates.