September 2015 Release
New Feature Highlights for September 2015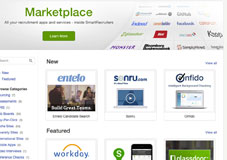 Enhanced Marketplace
The SmartRecruiters Store has been expanded and redesigned into our newly released Enhanced Marketplace. Discover and connect with pre-integrated vendor solutions, integrations and applications with a click in the redesigned Marketplace.
Offers at Scale
Extending and managing offers has never been easier. This month we release updates to the offer management process that include the ability to set up offer templates by organization field and the capability to edit the job offer before sending it for approval.
Emails by Hiring Role
By customizing email preferences based on the default hiring team roles in the system you can minimize email noise from SmartRecruiters.
Delightful Enhancements
Secure job details tab
The job details tab will only be accessible by executives, hiring managers, and recruiters. It will include job approvals, salary details, secure job fields, and notes.
Anonymous emails sent for rejection
Choose whether to reject candidates using your personal details, or send rejection message as "Acme Corp Hiring Team".
Email notifications
Email notifications when a colleague responds to your Publisher update from the app. Stay informed in real time about new replies in your hiring conversations.
API Endpoints for Candidate Fields
Public API will now include access to candidate fields for integrations and updates to your HRMS.
Enhanced User Management Page
Updated User Management page with last login information and clean, new design.