chapter six
The Future of Recruiting is Smart
Organizations that thrive during disruptive times do so because they have the right intellectual capital in place – i.e., the best people. And that's where we come in. As a partner to more than 4,000 customers around the globe, SmartRecruiters supplies the strategic recruiting components employers need in one comprehensive and sophisticated suite that connects hiring teams and the talent they seek to hire in a human way. Even better, IT departments love SmartRecruiters because we remove the logistical complexity of multiple integrations, while harmoniously augmenting customer's existing systems like Workday, SAP, and Oracle, among others, using modern, flexible, and smart technologies. As a standalone talent acquisition suite, SmartRecruiters is designed and built on industry-leading research, complemented by real consumer feedback, to provide a system recruiting teams and hiring managers actually want to use, while helping executives stay ahead of disruptive workforce challenges and connected to top talent.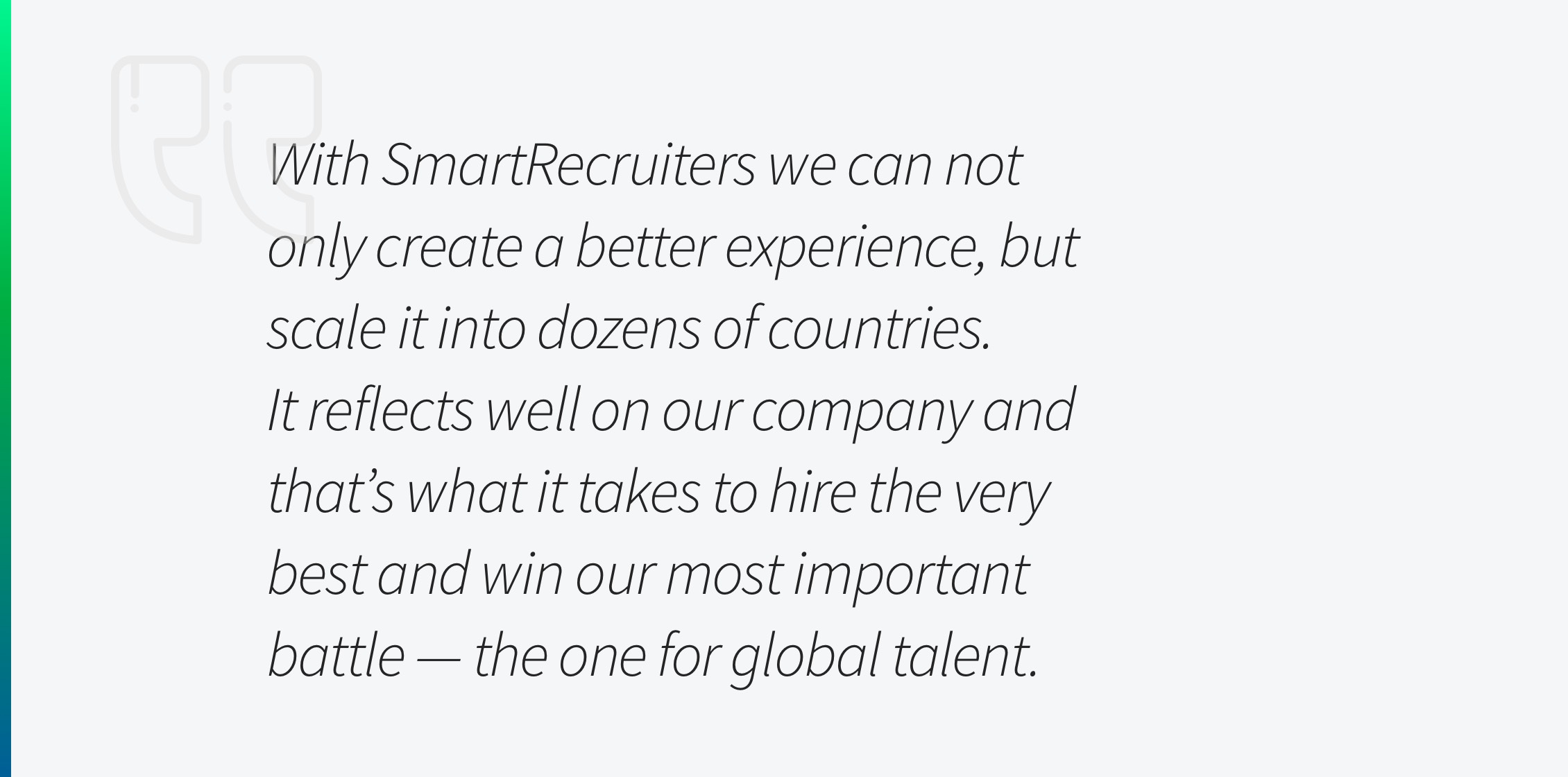 Too good to be true?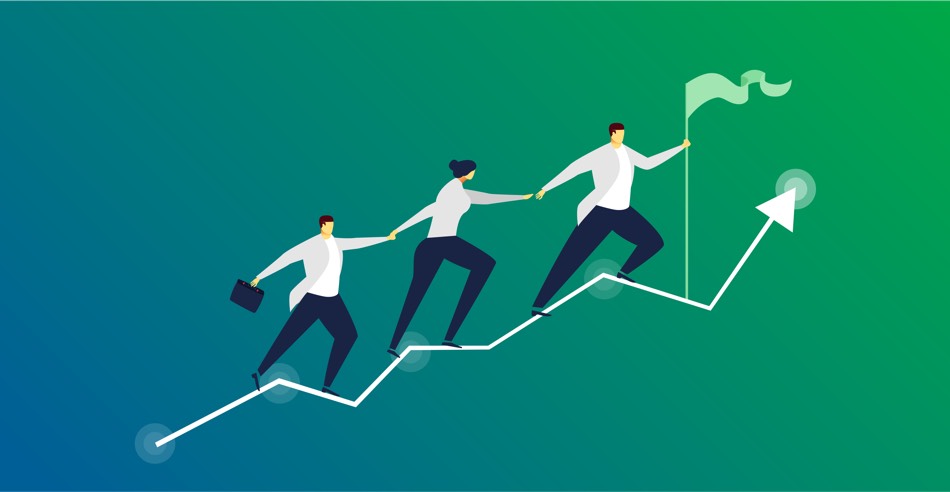 We get it. Like so many of our customers, you've been burned and abandoned by vendors in the past. But at SmartRecruiters, we have an entire product development department solely committed to delivering the absolute best recruiting technology on the planet. Unlike ERP vendors, our development and engineering teams are focused on eliminating integration issues, adjusting for data compliance needs, and providing intelligent and innovative automation IT teams can embrace, all while leveling the talent playing field to make it easier to attract, select, and hire the best talent. At SmartRecruiters, we're not just really great at delivering world-class recruiting software for industry giants like IKEA, VISA, and Bosch, we're a dedicated hiring success partner to organizations of all sizes and industries, providing previously unseen levels of support and strategic coaching to organizations looking to transform their recruiting function into a strategic growth enabler.
So, how exactly do we do this? SmartRecruiters' integrated Talent Acquisition Suite provides full-scale recruiting functionality across the entire talent acquisition funnel, from source to hire and onboard, delivered in one complete, flexible, and conversational platform that hiring teams, IT teams, and job seekers equally love.
The Only Recruiting Solution You'll Ever Need
The benefits of implementing SmartRecruiters far exceed what any ERP module or point solution could hope to deliver, including tremendous gains in recruiting efficiency, productivity and cost savings.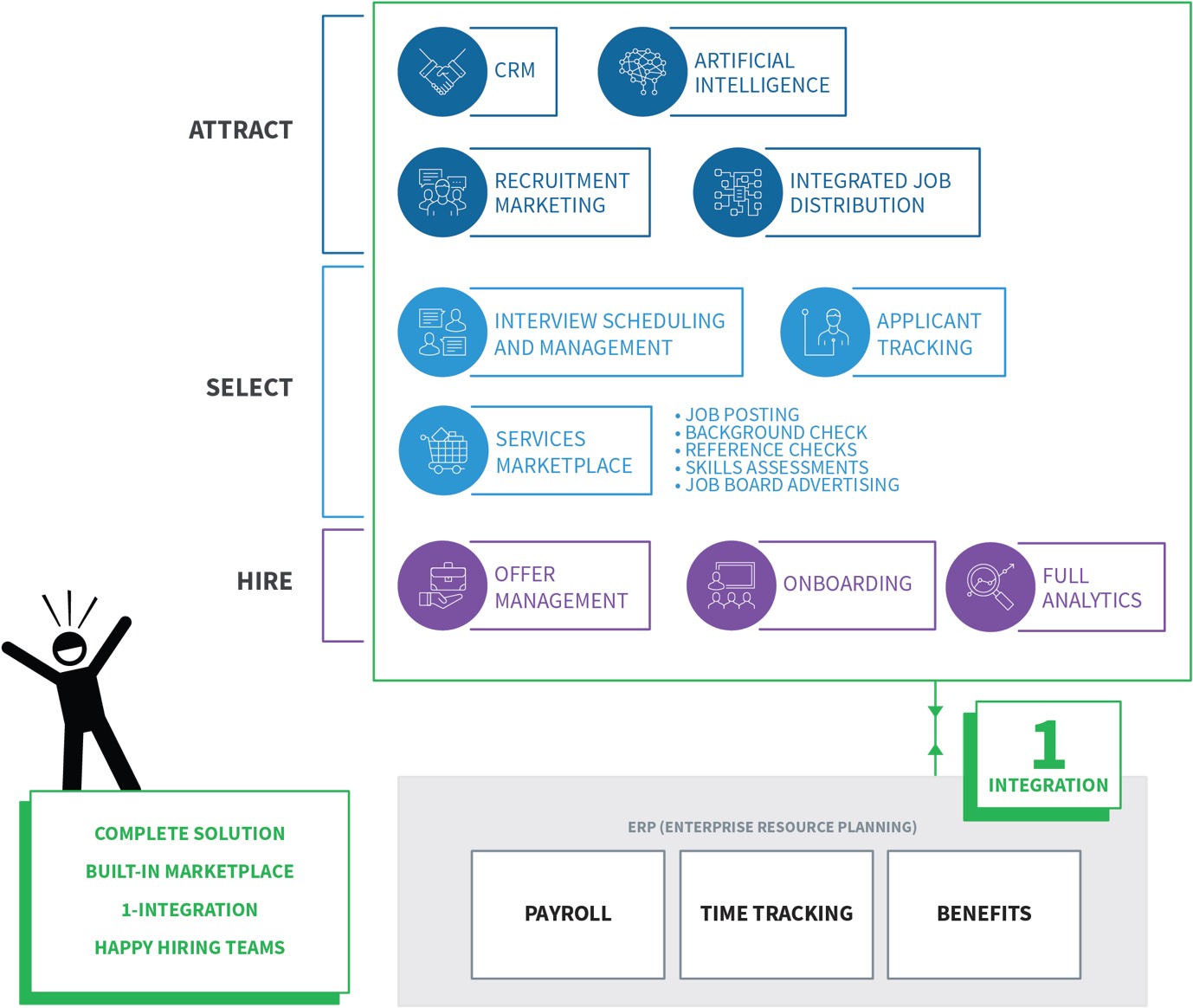 SmartRecruiters
Talent Acquisition Suite
Immediate Benefits
FULLY FUNCTIONAL SUITE
Everything needed to attract, select and hire top talent, accessible in one place.

ATTRACT: CRM, Recruitment Marketing, Intelligent Job Distribution, Complete Mobile Accessibility, Social Integration
SELECT: Applicant Tracking, Integrated Calendars, Interview Scheduling, Interview Management, Analytics and Predictive Data
HIRE: Digital Offer Management, Onboarding, World's Largest Marketplace of Recruiting Services. Everything needed to attract, select and hire top talent, accessible in one place.

Robust talent acquisition functionality without gaps, enabling customers to connect with talent ahead of demand all the way through welcoming new hires onboard. Powerfully complete recruitment functionality in one modern platform — no bolt-on's required.
ENGAGING EXPERIENCE
Designed for those who use it and those who want to use it — conversational, friendly, connected. Say goodbye to working between systems with hiring teams centered in one place, and make candidates happy with a delightful recruiting experience from start to finish. Welcome to a more human way of recruiting.
Connect more deeply with top talent and make better hires together thanks to an incredibly-friendly user experience. Enjoy increased recruiter productivity, thorough candidate evaluations, quicker feedback, and stronger hiring team engagement.
ENTERPRISE PLATFORM
A modern recruiting platform designed for organizations of all sizes and industries to accomplish their hiring goals wherever and whenever. Experience flawless global scalability, backed by enterprise-grade security and built-in privacy controls helping customers meet even the toughest compliance objectives like GDPR and Russian Federation privacy laws, among others.
Compliance is a breeze by eliminating the hassle of having data (often duplicative) across multiple systems. Easily manage data privacy and global compliance initiatives from one platform. Enjoy built-in privacy and data retention controls, reducing vendor dependency and support costs, while empowering hiring teams.
PRE-INTEGRATED ECOSYSTEM
Enter the world's largest marketplace of recruiting services and enjoy direct access to plug-and-play third-party recruiting services. Select background providers, skills assessments, reference checks, and more, launched directly from a step within your existing workflow without the hassle of integrations or vendor configuration.
Self-configure your hiring process with a convenient built-in Services Marketplace, simplifying the use of third-party services with only one (1) integration to your HR Suite. Experience the convenience of hundreds of pre-integrated recruiting services and apps at your fingertips.
EMBEDDED INTELLIGENCE
With embedded layers of artificial intelligence and machine learning deeply woven into the architecture of the SmartRecruiters platform, customers can optimize their entire talent database and prioritize the selection process with intelligent candidate matching and engagement. Activating your Recruiting Assistant delivers sourcing efficiency, reduces advertising spend, and identifies higher-quality talent in seconds.
Now, hiring teams can out-source and out-network the competition by reaching and connecting with top talent first, thanks to intelligent recommendations and deeply embedded candidate engagement tools that make staying-in-touch easy.
When it comes to recruiting, SmartRecruiters has you covered. As a complete and holistic recruiting suite, we eliminate the integration mess and expense that comes from purchasing multiple point solutions. Not to mention, we seamlessly integrate to your core HR and ERP systems like Workday, SAP, Oracle, and others, significantly reducing the time and complexity of managing multiple integrations to recruiting service providers or bolted-on point solutions. Moreover, SmartRecruiters Talent Acquisition Suite grows as you do, enabling organizations of all sizes to easily enhance and scale their hiring process in a few simple clicks, without reliance on vendor support. And given our dedication to creating the absolute best talent acquisition suite on the planet, we're confident SmartRecruiters is the last recruiting solution you'll ever need. Complete. Seamless. Easy. — that's the SmartRecruiters difference.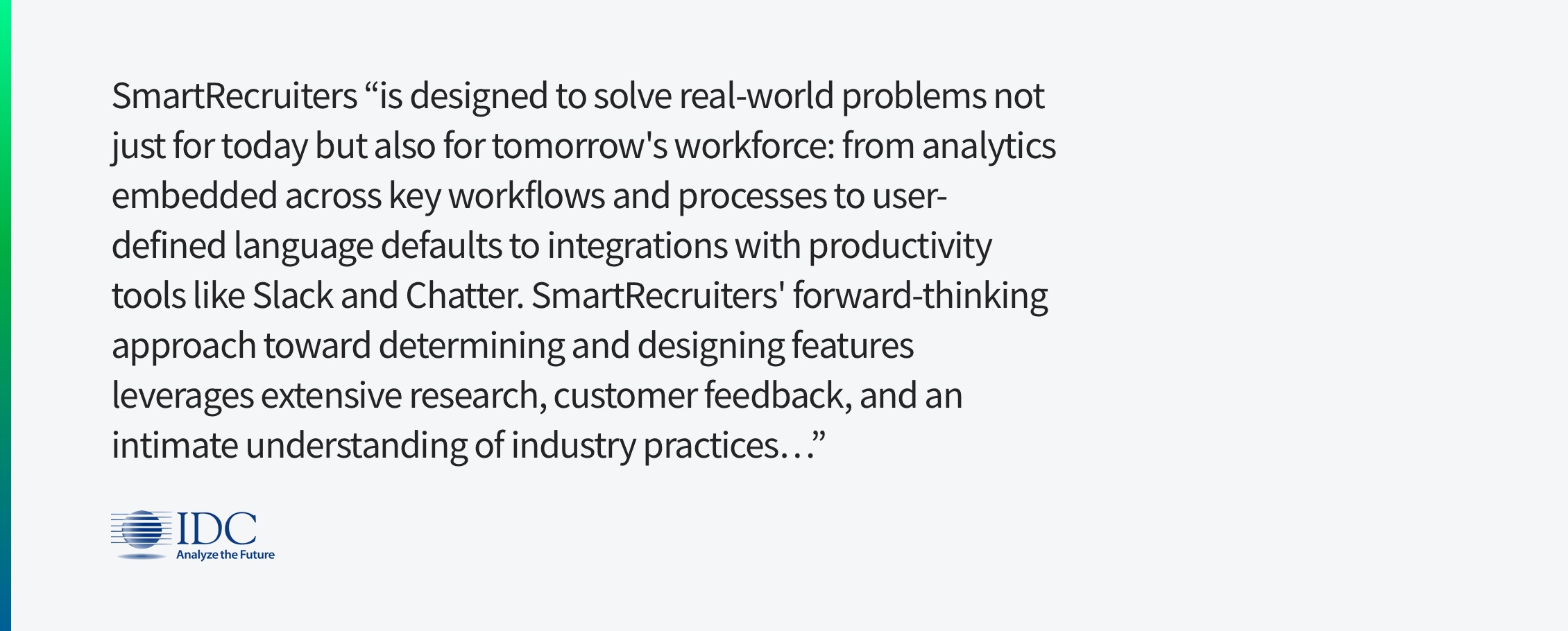 A True Partnership for Hiring Success
Making the right hire is far from inconsequential — now more than ever. So, organizations need a solution that keeps pace with market disruption and job seeker demands, as well as a dedicated partner for support along the way. When it comes to your hiring success, we're in this journey together:
Dedicated Support – Enjoy a holistic approach to implementation, ongoing product training, and end-to-end customer support from an experienced team of implementation experts, certified technical specialists, and dedicated account managers who partner with you every step of the way for self-sufficiency and lasting success.

Continuous Innovation – Your voice matters, so customers get a seat at the table when we plan our product releases, helping keep our roadmap relevant and responsive to industry trends and so we deliver what's truly needed to achieve hiring success, even as the market shifts and candidate preferences change.

Talent Acquisition Community – When you embark on your journey to Hiring Success, you are instantly joined with thousands of other SmartRecruiters customers from around the globe with opportunities to connect and share recruiting successes and challenges at product advisory board meetings, customer meetups and social events, and at our annual user conference, which attracts industry leaders from all over the world.
SmartRecruiters is Your Lifeline
As an IDC-recognized industry leader in the standalone recruiting suite classification, SmartRecruiters is highly revered as "consistently out-innovating the competition," elevating recruiting to a strategic discipline, complemented by unparalleled platform extensibility, usability, and scalability. SmartRecruiters adds value today – and into the foreseeable future – well ahead of what ERP systems and point solutions can deliver. Coupled with our robust customer success program (referenced above), SmartRecruiters is the only standalone recruiting solution that is strategically designed to help employers actively improve their overall recruiting practice and accomplish what we refer to as "Hiring Success" — which these days goes a long way when corporate longevity is at risk.
Talent is scarce, and without the right people in place corporate lifespan is significantly diminished. Recruiting is the lifeline that enables organizations to withstand impending volatility. History demonstrates the "wait-and-see" approach no longer works and complacent processes lead to devastating business consequences. After all, 9 out of every 10 Fortune 500 leaders since 1955 are now gone. To compensate, leadership must up the ante in talent acquisition and rely on technologies that help them strategically attract, select, and hire talent if there is any hope of survival. The world is changing at a very fast pace — the question is will you change with it?
Let's take the first step to Hiring Success together!