chapter seven
CRM Use Cases
CRM Use Case for Retail: Meeting Seasonal Staffing Needs and Consumer Behavior
Retail is known for its multitude of entry-level jobs, which explains why the industry has traditionally had a high number of applicants. According to the Bureau of Labor Statistics, the total number of retail workers in the US is expected to stay relatively flat at a 2% growth rate through 2026, compared to the 7% national average growth rate for all occupations. Clearly, the traditional retail landscape is under immense pressure to perform while faced with less human resource availability.
Last year's holiday sales accounted for nearly 20% of all retail industry sales. At the same time, approximately 1 in every 4 retailers are unable to hire enough temporary workers to meet the spikes in staffing needs during the holiday season. An academic study of a large US apparel chain found that 33% customers who had a poor experience cited not being able to locate sales help as the main offender, resulting in at least 6% loss of all possible sales.
Here is where CRM can ensure that retailers are adequately staffed ahead of the high-traffic holiday season to improve customer satisfaction and increase revenue:
A global athletic footwear retailer projects that the shopper traffic and average basket size per shopper for the next holiday season will increase by 20%, and plans to increase the overall number of temporary staff at the same rate in order to accommodate customer service and sales demand.
A regional manager of a key territory in Southern California decides to leverage the CRM system headquarters just deployed, by installing field recruiting apps and lead capture forms on in-store kiosks at the beginning of the year to target shoppers and brand enthusiasts who might be interested part-time work.
Throughout the year, the manager searches through the existing applicant database, filtering for student resumes, who typically have more on-demand availability while off school, and by specific cities within the region to build talent pools for individual stores. The manager also creates a connected search that automatically feeds new resumes captured by store kiosks that meet the student status or city criteria into the pre-configured talent pools.
The regional manager then schedules bi-weekly email campaigns targeted at the specific talent pools that not only promote limited product releases and new collections in stock, but also tease store-specific job openings along with larger employee discounts recently approved by head office.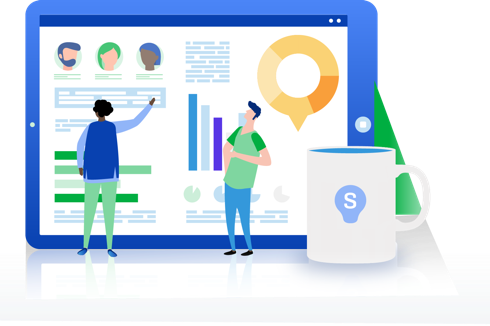 As summer approaches, the manager launches more aggressive email campaigns and posts custom social media messaging across multiple channels to attract students looking for seasonal work, for each store.
After successfully hiring several part-time retail sales associates from the talent pools who are off school on summer break, the manager hosts a family and friends-only sale event across all stores within the region to further promote the brand and attract potential candidates.
Then, as fall comes to an end, the regional manager repeats this process to engage student shoppers so that all stores in the area are sufficiently staffed for the upcoming holiday shopping season, positioning them to offer a better customer experience and increase holiday revenue.
CRM Use Case in Tech: Recruiting for Diversity
LinkedIn's most recent report on Global Recruiting Trends shows that diversity & inclusion (D&I) is selected by 78% of companies as a priority investment area, whereas financial performance is only prioritized by 62% of companies. While D&I is clearly in the spotlight, 38% of companies surveyed say they are struggling to attract diverse candidates to interview.
For technology companies—often criticized for their homogenous workforces—CRM can ensure fluid access to a skilled and diverse talent pool through segmentation and multi-channel recruitment marketing.
In the scenario outlined above, it's extremely difficult to find a high volume of qualified candidates unless recruiters are actively sourcing them. Proactive sourcing ensures that global tech companies and high-growth startups have communities of candidates closer to conversion at all times. A CRM solution paves the path for companies to achieve this.
A SaaS company specializing in digital experience optimization for large enterprise companies seeks to expand its engineering footprint in Austin, Texas, where low taxes, a strong entrepreneurial culture, and a deep pool of talented tech professionals drive the city's booming tech scene.
Company executives want to prioritize diversity hiring among the male-dominant software engineers at the new Austin office, so they implement a CRM system to strengthen the company's D&I efforts as the hiring team begins sourcing female developers and programmers.
The sourcing manager starts by launching custom landing pages on the company career site—one that promotes a meetup event for female coders in greater Austin, and another that advertises a diversity-focused scholarship program for female software engineering students at a university with a top-ranked program in the area.
Interested applicants submit their information through lead capture forms on these landing pages, which feeds their profiles into a specified talent pool created by the sourcing manager.
To further engage and nurture prospective talent, the sourcing manager works with a recruiter and social media coordinator to set up a company-branded Women at Work Facebook group, tagging the company's current female engineers to serve as admins and invite their friends to join. Within the group, the hiring team can message group members about meetup events and offer Q&A sessions—either virtually or in person at nearby offices—to talk about the company's female-friendly perks, benefits, and career programs.
The sourcing manager also creates a connected search so that any female candidate with an engineering background is automatically added to a dedicated talent pool for future engagement, regardless of the actual job she applied to.
By tracking campaign analytics, the sourcing manager discovers that emails promoting the engineering scholarship program are collecting a much higher volume of applications and email captures than other marketing campaigns. The manager then decides to increase promotion through the Facebook group during the university's freshman orientation week, in addition to organizing an on-campus event where incoming and graduating engineering students can meet with other female engineers to discuss career opportunities at the company.
As a result, the company is able to hire multiple, top-performing female engineering graduates ahead of their competitors, and this strategy provides the company with a continuous source of talented developers and programmers each year, ensuring the hiring team always has a pipeline of candidates primed for conversion whenever a new position needs to be filled.
CRM Use Case in Manufacturing: Driving Workforce Planning for New Facilities
In the manufacturing industry, recruiting is more difficult than ever. The US National Association of Manufacturers warns that 2.4 million manufacturing jobs could go unfilled between now and 2028, according to a recent joint study with Deloitte.
The reasons are threefold. First, manufacturers report a moderate to severe shortage of skilled workers. Second, a significant portion of the manufacturing workforce is nearing retirement age. And, third—which is tied to the second reason—manufacturing does not appeal to younger people entering the workforce.
This is a major challenge for many global, longstanding enterprises, as nearly 40% of the Fortune 500 reportedly engages in manufacturing. As a result, recruiters in this industry need to be extra resourceful in finding skilled workers.
For one American industrial corporation specializing in adhesive materials for a variety of sectors, the competition for chemical technicians and packaging operators is only increasing as more of the manufacturing workforce retires.
As the company began preparations to expand a labels & graphics materials facility in Northeast Ohio, nearly 150 positions for vinyl casting line operators, topcoating formulators, and maintenance technicians needed to be filled ahead of the plant's opening date.
A creative way to apply CRM in this scenario is for a recruiter to build talent pools around specific skills such as print techniques or materials handling. After setting up these communities, a recruiter can plan and execute a nurture campaign, by targeting specific talent pools with tailored messaging and information about upcoming events throughout the next two quarters.
Potential applicants can then be invited to visit company facilities at open house events, and interested applicants can set up instant meetings with hiring managers on site.
To further build out talent pools, the company can engage and partner with local community and technical colleges by participating in state-run apprenticeship programs to expose future workers to careers they may not have known existed. Other outreach efforts might include inviting students to tour the plant on special occasions like National Manufacturing Day, offering them first-hand exposure to the automated equipment and technology used in modern manufacturing.
The company's internal reporting might show that a high percentage of casting line operator career paths lead to maintenance technician roles, especially in a neighboring plant located in Pennsylvania. A recruiter can create a custom talent pool around that criteria to promote internal mobility of Pennsylvania-based workers to the new Northeast Ohio plant.
Compared to other industries in the private sector, manufacturing experiences one of the highest rates of employee tenure (5 years). Such low attrition offer companies the opportunity to relocate talented workers where they are most needed.
To that end, a recruiter can build a talent pool of internal prospects based in the Pennsylvania plant, organize a career fair day, and run a nurture program targeted at casting line operators that demonstrates the benefits of relocating to the company's midwest plant—campaign 1 focuses on relocation package, campaign 2 highlights higher salary, campaign 3 teases mortgage assistance, etc. In a best-case scenario, a significant number of attendees will be converted to hires, meeting the company's staffing needs in time for the new plant's first day of operation.
Let's take the first step to Hiring Success together!