Job Posting
Hiring Success Glossary
What is a Job Posting or Job Ad?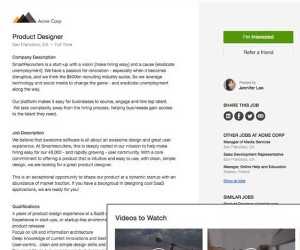 Also known as a job ad, a job posting is the primary asset available to a company for recruiting new hires. Job postings are advertisements about a new job opening. Traditionally published as "want ads" in newspapers and other print media, a job ad is now more likely to be posted online.
A job ad is created in recruiting software such as an applicant tracking system or a modern Talent Acquisition Platform. This facilitates centralized job distribution – posting across online properties such as to a company's career site, external job boards, and social media.
A typical job posting falls under two categories, depending on the target audience.
Internal Job Posting
The job ad is announced only to existing employees of the organization. This gives the employees a chance for internal mobility such as the opportunity to switch departments or take on a new role within a department. Many companies prefer internal job advertising as it saves the time and money required for external job advertising.
External Job Posting
The job ad is made known to the general public or targeted to a select segment of candidates outside of the organization. A common method of targeting external job ads is posting to specialized job boards that cater to specific industries or demographics. Companies utilize external job ads when seeking to increase the existing employee base, or bring in new expertise and experience not already available within the company.
Contents of a Job Posting
Jobs postings need to clearly describe the open position as well as requirements to be considered for the role. A well crafted job posting is essential to attracting the highest volume of qualified applicants.
Some basic features of job postings are:
Required years of work experience
The minimum education requirements or specialized education requirements
Any documents and papers required
Physical and mental requirements
A concise summary of the job, expectations of the position and any other important information
Information about the company and its work culture
The preferred method for applying to the position
Job Ad vs. Job Description
A recruiting best practice is to write a shorter job ad based on the full job description and focus on ways to more effectively brand the company and sell the position. This differs from just posting the entire job description which commonly focuses more on a list of duties and requirements.
The most effective job ads adhere to the following:
A creative job title
The right key words
Defining criteria for success
Description of requirements as part of a story
A more personal approach vs. a formal job description
With an effective job advertisement, you get the most out of your job posting by attracting more and higher quality talent with a higher application conversion rate.
The SmartRecruiters Talent Acquisition Platform recruitment marketing features allow companies to easily create fully responsive job ads for desktop and mobile.